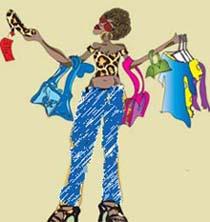 So I'm helping my sister clean out her garage over Memorial Day weekend. Much to my surprise it was a lot more enjoyable then I expected. Assessing how things could be more functional and convenient while being aesthetically pleasing is inspiring.
Anyone faced with this dreadful task can relate; it's daunting at first, but the results far outweigh the chore. While I'm an interior designer by trade, I also believe organization sets the mood of the home. Let's look at some specific rooms and see if I can inspire you to tackle the chore of organizing.
The bathroom:
Bathrooms in my opinion are hard to organize for two reasons. First, the tiny little items you need on a daily basis normally get misplaced. Second, the large empty cavity under the sink becomes a catch-all. Let's face it, as much as we would like to see this happen, the doors to the vanity are not going to magically pop open to reveal a carefully organized space.
So, a good place to start is to throw out what you don't use. Sounds simple right … it's not the hardest thing to do. But, you may think you need that item next fall, or maybe you know the perfect recipient for the 1980's banana clip. Do us all a favor, give the banana clip to your trash can. And next year's Halloween costume will do just fine without the fluorescent orange nail polish.
Once you eliminate the unnecessary, sort through and separate the items you use based on a daily, weekly and monthly basis. Then think about where to store each pile. The key here is to examine the situation. Assess your drawers, cabinets and closets accordingly. Ask yourself, what will fit best in each location proportionately? For your daily necessities, will it be best to open a drawer lined with plastic organizers with each item stored in its own spot? Or would it be better to place those necessities in a plastic bin with a handle to easily transport from the nearby linen closet to the countertop.
The kitchen:
Not only is there a cavity under your bathroom sink, but we have to deal with the wasted space under the kitchen sink as well. Working around a disposal or filtration system makes it even more challenging. But it can be done! Measure the available space in the cabinet and take an inventory of the items you need to store. You will find an abundance of modular plastic coated racks in a variety of widths and lengths.
To maximize the space, layer these shelves and organize smaller and frequently used items in the front, while placing larger less frequently used items in the back. Take the time to turn the label toward you to quickly identify the item you are looking for. Don't let that flashlight get lost in the back. Keep it up front and let it guide you.
In kitchen cabinets, adjust the heights of shelves to maximize the space. Don't forget your utensil organizers. These also come in various sizes, so know the length and width prior to shopping. Bed Bath and Beyond, The Container Store and Target are great resources for these items.
The garage:
After you've invested time donating items you don't need, prioritize your necessities. Consider purchasing a shed to house off-season items freeing up garage space. Another trick for the garage is to use hooks, hung from the ceiling or walls. Mops, brooms, bikes, sleds, ladders, fishing rods, etc., can be safely stored off the ground. This is especially helpful when you live in a climate with much snow and or rain. Now it's common to find cabinets specifically made for the garage that attach to the wall and are up off the ground. Storing items in clear plastic bins in the attic will also help reduce clutter in the garage. Labeling the plastic bins will be a huge time saver when it's time to get those Christmas decorations out again.
Here are a couple of additional helpful hints for the aspiring queens of organization.
* Keep smaller items in their original box. If there isn't perforation for easy access, tear off the entire side of the box for accessibility. This works best for boxes of feminine products such as pads or tampons. Loose floppy box tops just get in the way.
* Try to be creative, look for existing household items that can be used for storage. For example, use a jar with a lid to house loose buttons. Have a nice empty shoebox? Use it to store your cocktail purses.
* Bring in an extra set of eyes, they can look at your current situation and point out the impractical. For my sister, suggesting she buy a three-tiered wire rack for $13.00 helped her store beverages in the garage in a way she never would have thought to do. This saves her space and eliminates clutter.
Follow these tips now and have a stress-free, organized summer. The satisfaction you get is definitely worth the effort.
If you have questions or you have suggestions on future articles, feel free to fill out a comment card below or email us at TheSavvyGal@TheSavvyGal.com.
Helen Babilla is a certified Interior Designer out of Chicago, IL; www.babilladesigns.com. She contributes to TheSavvyGal.com once a month and is ready to answer your decorating questions!