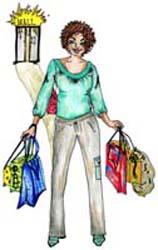 The best time management tip for any busy woman is to tackle that shopping list online. It's quick, and you can cover a multitude of merchants in minutes. There are no parking spaces to have to find, your order arrives at your door, and you're saved from having to schlep all your packages back to your car.
Web shopping is safe and fun. But if you're a member of the small group of people who are still leery about shopping online, consider this: Web purchases made with a credit card — thanks to the installation of secure servers and other innovative safety features — are safer than purchases utilizing a check for payment made in a store. (A considerable higher amount of identity fraud occurs through paper checks than by online credit card use.) Under federal law, your liability for an unauthorized charge is limited to $50.
But if you opt to shop online, there are important safeguards to note.
Always look for an unbroken key or padlock (an icon usually located at the bottom of the web page), or for a policy that indicates use of security technology such as SSL, when using a credit card online.
Look for seals from privacy enforcement groups like TRUSTe or BBBOnLine. This indicates that your credit card data is transmitted securely.
Never share your passwords with other people.
Personal information that does not pertain to making your purchase, such as a social security number or bank account information, should never be supplied.
According to www.safeshopping.org, a site created by the American Bar Association to help consumers shop safely online, shoppers should print out and date a copy of the terms, conditions, warranties, item description, company information and confirmation e-mails, and save them with the purchase receipt. They also advise consumers to ensure the safe delivery of purchased items. If you think that you may not be home when your package is delivered and that it is at risk on the doorstep, specify that the shipper must receive a signature before leaving the package. Or, consider having the package delivered to the office.
The Federal Trade Commission's Web site www.consumer.gov provides a variety of guides, tips, facts about how to avoid scams and rip-offs, as well as links to helpful resources. These are also available on the Federal Trade Commission's Web site www.ftc.gov.
So go ahead and away at your shopping list. And be sure to visit our sponsors and "click" on the deals they're offering to our readers! Consider it a savvy virtual mall!