Oh My … Another Tie!: Choosing Unique Holiday Gifts for Your Man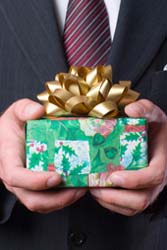 Men have long complained about the challenge of buying gifts for the women in their lives. Women, on the other hand, have an equal challenge: they are faced with the task of finding a holiday present for their man that he will actually like … and keep! Nowadays, shopping for gender-specific gifts is easier than ever because of the extensive variety of imaginative goods offered for both men and women. Plus, you never have to leave home as shopping online has revised the way we buy. If your gift list includes a number of male recipients, no need to fret — consider the following ideas:
For your 'Metro' man:
Panasonic makes an ultra-thin shaver that fits into his pocket for an on-the-go shave. It uses three AAA batteries that last for up to 60 shaves. The unit is beautifully encased in black and gold-tone, and it comes with a convenient travel pouch. ($59.95)
The BMW MP3 watch is an innovative timepiece from BMW that combines a discrete 60-song capacity MP3 player and a 256 MB flash disk for easy data transfer. Earphones are included. ($275.00) Both available at www.bloomingdales.com
For the 'techie':
X-Treme Geek offers a wide array of products that are either useful or timesaving, or if your man is a pure jokester, just amusing. You can find things like a deluxe desktop mini cooler with a digital thermostat to gimmicky goods like remote-controlled golf balls. Gifts that are sure to please include a personal weather forecast station ($189.00); a portable power station that charges an iPod, cell phone and PDA at once, and in the car, no less ($34.97); a portable mini tripod for digital cameras ($14.99); and a laser-projection Bluetooth keyboard that is absolutely astounding. ($199.00); www.x-tremegeek.com
For the outdoorsman:
Your man can stay warm while he enjoys the outdoors in a plush Squall jacket. This three-ply Supplex nylon shell with a ThermaCheck fleece lining is a WindCheck laminate. It forms a barrier to wind and water yet breathes for comfort. ($67.50) Warm feet have never looked so cool: These snazzy boots are lightweight and have a soft, water repellent suede upper, and antimicrobial insoles. They are sure to keep your man toasty and dry, and they come in navy or black. ($49.50) Both available at www.landsend.com
For the traditional type:
The thin-fold wallet made of bison leather will endure years of hard use. It features eight slots to accommodate cards and photos, plus it can be personalized with up to six letters for free. ($69.00) The Scottish cashmere scarf is a luxury that he will appreciate for years. It's soft, warm and refined, and comes in navy, camel and barn red. ($159.00) Both available at www.orvis.com
For the sportsman:
Depending on your man's sport of choice and favorite team or athlete, www.sportsaddictz.com will prove to be an invaluable resource of unique gifts that he'll treasure forever. From autographed baseballs, to authentic jerseys, to original collectibles, this site is a must-visit for the ultimate gift. With a wide range of prices, you're sure to find the perfect option.
For more sports memorabilia, visit:
www.shopmlb.com
www.nflshop.com
www.store.nba.com
www.store.nhl.com
For the 'but I have everything' guy:
How about a membership to a private jet club? With a single request, your man can book any jet at any time to anywhere. www.bluestarjets.com
Charter a private cruise to Alaska for your man and eight of his closest friends. www.sikumi.com
Rent a chateau in France complete with chef and maid service. It sleeps up to 20 people, so bring another couple and all the kids! www.savennes.com
If you're still stumped, consider the ever-dependable gift certificate. Previously thought to be an impersonal gift, the gift card has evolved into one of the hottest gifts of the season. To the recipient, a gift certificate offers the opportunity to buy that unique gadget that he may not have wanted to splurge for on his own. You can choose from any of his favorite stores, such as his preferred golf shop, restaurant or hardware shop. Happy hunting!