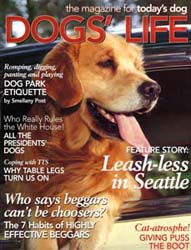 Each week we send a newsletter full of great information and tips not found on the Web magazine site; here's a round up of a few of our past recommendations for must-have products that deserve a second look:
Doggone Good Reading
Is your doggie looking for some new reading material? For the dog (and their owner) who has it all, there's "Dogs' Life: The Magazine for Today's Dog," a clever book designed to look like a magazine written for your "dog's" reading pleasure …
This unique, fun publication contains feature stories such as "The 7 Habits of Highly Effective Beggars" and "Leashless in Seattle." There's an advice column, "Afghan Landers," where dogs ask for help on such topics as, "Why do my people have to dress me up in stupid human outfits all the time?" and an etiquette column by Smellany Post.
If you are a dog lover, or know one, we promise you this book will not disappoint. Every single nook and cranny is creatively designed just for the dog. The "Sharpei Wrinkle Cream," preppy dogs in "Yap" ads and Nike "Just Chew It" pages are hilarious. There are also ads for car chase videos, Arthur Furray's Dance Studio classes and the ultimate guide to fire hydrants in France.
The Classified Ads include tennis ball collections for sale, a BBQ grill (that's hardly been licked) and business opportunities of getting paid for barking at strange noises.
The book is 96 pages, 8.5 x 11 inches and written in the style of "Good Housekeeping," "The New Yorker," "Newsweek" and other popular publications.
Even the faux reviews are clever:
"If you can read one magazine about being canine it should be Dogs' Life." — Barker's Bazare
"Dogs' Life Magazine gets down to the bare bones of canine civilization and really tails it like it is. At-a-boy Dogs' Life" — Digger's Digest
"We sat up, we rolled-over, we howled, and then we begged for more. Dogs' Life is a totally cool, sink-your-teeth-into-it, read! Ararrrrffff!" — Pub Culture Review
The book is available at www.riverbankpress.com; $18.95
A Celebration of Chocolate
If you love everything chocolate, then Max Brenner's in Manhattan is a wonderland for you! Pegged as an equivalent of the famed 'Willy Wonka,' Max Brenner: Chocolate By the Bald Man this dessert destination is an experience every New York guest should have.
From the unique Chocolate Pizza to the Waffles with Chocolate Sauce, to the Dark Chocolate Granita, this eatery is unlike any other. In addition, there is an assortment of delectable ice creams, chocolate fondues, soups, s'mores, meringues and truffles.
If in town, the cafe-like setting will appeal to the most artsy visitor, and the friendly staff is happy to recommend their favorite dish to try. Can't make it to New York? Order online and ship the sweets to anywhere.
Be sure to check out this great video, which gives a glimpse of this celebrated New York destination.
Max Brenner: Chocolate by the Bald Man
841 Broadway, between 13th & 14th Streets, Union Square
866.906.9691
Olive Oil — A Healthy Zinger
We've all heard that olive oil is the healthy oil to consume. Research, according to the American Institute for Cancer Research, finds that the health benefits come from the more than 30 plant compounds it embodies. The antioxidants and anti-inflammatory effects are said to contribute to heart health, as well as protection against cancers. Although much of the research done is within the laboratory, it is widely believed that it is supported via studies of the Mediterranean diet.
But did you know that there are many different kinds of olive oils? The differences are nicely outlined (and available for purchase) at Zingermans. There are oils from California (which have become visible in the last ten years), Italy (known for big, round, peppery, rustic flavors), France, Spain; they even have offerings from South Africa, Greece, Australia and Chile.
Stored in a dark, cool place, olive oil can generally last for about a year. Extra-virgin and cold-pressed are two good qualities to look for, yet within that criteria, taste plays a major role. Here, you'll find a wide variety in one place. They make suggestions and categorize the oils as Light & Elegant, Buttery & Silky, Assertive & Smooth and Rustic & Fruity — so depending on the dish, there's one that's perfect.
Zingermans.com is actually a fun little Web site and is also a one-stop-shop for vinegars, cheeses, breads and more.
Meaningful Messages
When you need a little reminder of how to be good to yourself, others, the environment and even your pet … Karma Coaching Cards may be your answer.
The cards are based on the ideas "you are what you do" and "to be better we must do better." They provide simple, inspirational but impactful action messages.
There's a deck for cat lovers ("Package up any food or toys your cat won't use and take them to an animal shelter."), dog lovers ("'Loan' your dog to a lonely friend for an afternoon."), saving the environment, kids ("Choose one of your toys to donate to a charity."), the workplace and even a deck for the "Rich & Utterly Immoral" (Today say 'thank you' at least six times and really mean it at least once.")
The company also practices what it preaches. There's "Karma Bank," which is a pay-it-forward foundation providing funding to a variety of initiatives with no request for financial payback … just a commitment to pass along the goodwill (e.g., providing start-up funding for a daycare facility which, in turn, has committed to providing free daycare for a needy family). They do it do show that every person on the planet is a potential branch.
Karma Coaching Cards were originally created by Vancouverite Jane Clayton for a friend of thirty-five years, who she felt had detached himself from a world of joy when big business became more important than the little things. www.karmacoachingcards.com