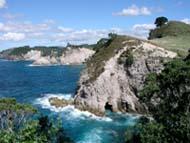 If you have a taste for fine wine, breathtaking scenery, delicious cuisine and a little adventure, then traveling to New Zealand's North Island is a gastronomical delight you won't want to miss.
All within easy driving distance, the North Island offers a number of surf and swimming beaches, ski fields, walking tracks and the two largest cities in the country: Auckland and Wellington. In two weeks or less, you can tour the North's five major wine regions, soak up the South Pacific sun, learn about Maori history and culture, take in some art, and eat a few Pacific Rim delectable.
New Zealand vintners have won awards for their quality sparkling wine, chardonnay, aromatic varieties, merlot, pinot noir and sauvignon blanc styles. Taste a New Zealand wine, and you will savor their unique combination of soil, climate and water in each glass. Perhaps their best kept secret is that the premier wines stay inside the country. This is all the more reason to tour the North's vineyards where you can ship a case or two back home to savor throughout the year.
With more than 450 vineyards in the country, wine production has continued to grow since the 1980s when some sheep and cattle farms were sold off as a result of deregulation. Although sheep and cattle still dot the green hillsides, farming deregulation opened the land for kiwi fruit, avocados, honeybees, grape vines and coffee and olive trees. This policy change altered the terrain and helped them develop a signature Kiwi palate and independent style.
While the New Zealand dollar has grown stronger in recent years, it is still an affordable destination if you're visiting from North America or Europe. Depending on your travel budget, you may want to consider what is the best time for you to go. A number of food and wine festivals take place in Marlborough, Hawkes Bay and Martinborough during their high trafficked summer months from December through February; however, if you prefer fewer crowds and need to save a few dollars, traveling in the off-season during October/November or in April/May may be a better option.
What better place to begin your wine journey than in the mild climate and cultural hub of Auckland. For a city-to-city wine trek, fly directly into Auckland and work your way east and south where you will depart from the capital city, Wellington. Travel in New Zealand is both safe and easy to get around. Rent a car or campervan for faster transport or, if your budget allows, you can take short flights from Auckland to Gisborne to Wellington.
The North Island Wine Trail, Five Major Regions in 14 Days
Two Nights in the Auckland Region
Plan on staying a minimum of two nights in the city. Northwest of Auckland's city center are the region's traditional winemaking districts: Henderson, Kumeu and Huapai. Cabernet sauvignon, merlot and chardonnay are the most popular varieties grown in the region's shallow clay soils atop silty-clay subsoils or sandy loams.
The Auckland region also produces Sauvignon blanc, semillon and other white varieties. You can book your personally guided wine tour with Fine Wine Tours. Their tours include a Half-Day West Auckland Tasting Tour, a Half-Day Wine and Cheese Tour, a Full Day North Auckland Tour, The Great Auckland Food and Wine Tour, or the Luxury Harbor Cruise Tour. They offer year-round and door-to-door service to Auckland's premium Gold Medal wineries. Choose from a Country Caf' or a Vineyard Picnic with your package price. After the tour, you can spend the afternoon at the Auckland Museum, the Auckland Art Gallery, or gaze atop the city at the Sky Tower (you can also take part in a Sky Jump or Vertigo Climb at the tower).
For a bargain hotel, both stylish and in the city, book an en suite room at Aspen House or, for an upscale treat, try the Sky City Grand Hotel. On your third day you can visit Waiheke Island in Auckland Harbour for a half or full day trip return trip. After breakfast on Day 3, you can catch a plane to Gisborne or drive there in seven hours or less.
One Day on Waiheke Island
For a day trip, you can take a short ferry ride (a little more than half an hour) from Auckland to Waiheke Island, one of the largest islands in the Hauraki Gulf. Known for its picturesque beaches, arts and crafts, and fine boutique wineries and olive groves, you may just want to indulge in an extra day or two to fully unwind.
The ferry drop off is at Matiatia Wharf where you can begin your wine and olive experience with Ananda Tours. Both casual and informative, they will pick you up from the wharf and take you to the island's best boutique wineries featuring high quality red wines based on cabernet sauvignon, merlot and cabernet franc, along with award winning olive groves. Lunch can be included in the tour for an additional charge or you can get dropped off in Oneroa for a cafe style lunch overlooking Oneroa Bay at Vino Vino. After lunch, take a stroll through town and visit local galleries and shops before heading down to Little Oneroa Beach for a little sun. Walk back into Oneroa and take a local bus ride to the ferry for an evening ride back to Auckland.
Three Nights in Gisborne
When you travel to the city of Gisborne, the country's most easterly city, you will be the first to see the New Zealand sunrise. With long hot summers and mild winters, the region grows more than one-third of the country's wine grapes, giving it its fitting "Chardonnay Capital" title. Proof of stellar wine reputation, the 1998 Montana Reserve Gisborne Chardonnay won the White Wine of the Year Award at the 1999 London International Wine Challenge.
The region is also known for its diversity of wine styles due to different soil types and climatic features. Gerwurtraminer, Semillon and Chenin blanc, Viognier, and pinot gris round out the mix of white varietals. Red varietals, such as, fruity merlots, Malbec, and Pinotage also thrive in Gisborne. The region is ideal to rent a car and tour the wineries at your leisure. Consider the following wineries: KEW Winery, Millton Vineyard, Montana Wines, or check out the Gisborne Wine site to find your favorite varietals to chew on. Lastly, if you're visiting in October, make sure you don't miss the Gisborne Wine and Food Festival.
Three Nights in Hawkes Bay
From Gisborne head south to Hawkes Bay, New Zealand's second largest wine-producing region with an esteemed 100 year heritage in wine. Specializing in Chardonnay, Cabernet Sauvignon, Merlot, Cabernet Franc and Syrah, the regions diversity of soil types produces its range of wine styles.
Plan on spending three nights in the city of Napier, a good base for exploring the region's wineries. For budget accommodations, try the Spanish Mission style Criterion Art Deco Backpackers or for a cozy room and view of Hawke Bay, try the midrange Pinehaven B&B.
If you can afford to splurge, check into the renovated Art Deco Cobden Villa. Tour the Art Deco Capital of the World by foot one day. Take a two-hour guided walking tour beginning at the Deco Centre or venture out on your own with a map from the Napier visitor information centre.
On your second day, pedal through Napier and the surrounding areas on a self-guided bicycle tour pairing viticulture with a scenic workout. Several companies provide you with a bike, map, helmet, water bottle, backpack and mobile phone in case you a bit tipsy and need directions or a lift. Check out Bike About Tours, Bike D'Vine, or On Yer Bike. Try Grape Escape for a private half or full day wine tour. Don't forget to fuel up for the ride with a sampling of local cheese and bread from one of the many food markets in the area.
If pedaling isn't your style, guided tours are available with pick up and drop off service. Head for a swim at Ocean Spa's waterfront pool complex on Day 3 (Napier beach is suspect for the sport) or visit Mountain Valley 50km north of Napier for horse-trekking, white-water rafting, horse-canoeing combo deals, or relax with a fishing pole. On the fourth day, depart Napier after breakfast and drive south to Martinborough and arrive by mid-afternoon.
Four Nights in Martinborough / Wellington
Martinborough, both a region and a town, is the oldest and best-known wine area in the Wairarapa region. It features more than twenty boutique vineyards, which are mostly family owned and produce smaller hand crafted yields. Spend two nights in town at the Claremont motel and apartments in stylish comfort. Pick up the free Martinborough & Wairarapa Wine Trail map and find out why this cool climate region is particularly reputed for its pinot noir and sauvignon blanc. Be sure to savor the pinot at Martinborough Vineyard Estates, Schubert Wines, and Murdoch James. Martinborough is also famous for its annual Toast Martinborough Wine, Food & Music Festival held on the third Sunday in November (if you happen to be there among the 11,000 plus wine-swillers).
Enjoy your last two nights in hip Wellington and visit the late-night cafes, art-house cinemas, designer clothes stores and sophisticated wine bars, all on foot. The countries National Museum, Te Papa (Our Place) is also not to be missed. Te Papa offers a glimpse into the history of New Zealand and Maori Culture. To experience a real local hotspot with a village feel, stay at the Shepherds Arms Hotel on Tinakori Road. A short twenty-minute walk will lead you downhill into the heart of Wellington. The city, surrounded by a splendid harbor, has dense steep hills terraced by Victorian buildings that add to its overall charm. More recently, Wellington (or Wellywood) has gained worldwide attention with their growing film industry thanks to Peter Jackson's "Lord of the Rings" productions, "King Kong" and Niki Caro's "Whale Rider." On Day 14, bid the capital farewell from Wellington Airport and don't forget your tasting notes for your next wine trek, kiwi style.