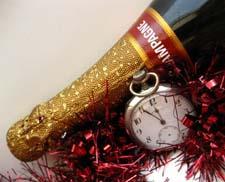 The number of Americans setting New Year's resolutions has hit an all-time low. Less than half, about 45 percent, of Americans will make resolutions this year, down from a high of 88 percent. And of all of those who make resolutions, less than one in ten people actually keep them. Could it be that resolutions don't work?
"Not necessarily," success coach and corporate trainer Karyn Beach said. "I don't like the term 'resolution.' To me it implies nothing more than wishful thinking. I like to set 'goals' instead. Goals imply planning and work. After all the first two letters in goal are go! Goals are something you go for."
As a life-long goal setter, Karyn knows a thing or two about going for your goals. She wrote a script that was turned into a short film, P.N.O.K., starring Danny Glover. She won $100,000 on "Who Wants to be a Millionaire." Along the way, she's traveled, achieved her dream of home ownership and made some incredible memories along the way.
Karyn shares some of the secrets to her goal-setting success:
Stop Should-ing All Over Yourself
— Never set a goal because you think you should. Whether it's weight loss, smoking or continuing your education, don't do it because someone said you should. No one accomplishes "should" goals. There is no motivation in a should goal. And you'll need motivation to continue when the going gets tough. Set goals about which you are dedicated and passionate.

Have a Plan B (C and D, too)!

— Most people's resolutions get derailed after the first setback. They reach for that cupcake or this cigarette, they skip a workout or two, they go on a spending spree and blow the budget, and it is enough to knock them off-course. The fact is that setbacks and slip-ups are part of the plan. They will happen. This is not pessimistic, it's realistic. Prepare for the setbacks by coming up with a plan to get you back on course. In fact, think of the most common pitfalls you face and come up with something you can do to get back on track.

Three is a Magic Number

— A study by Franklin Covey showed that the more goals you have, the less likely you are to reach them. Have no more than three goals. Setting too many goals is an easy way to spread yourself too thin. Instead of accomplishing more, you end up accomplishing a lot less.
Karyn is holding a goal-setting teleseminar, Getting to Goal, on Thursday, January 7 at 8:00 p.m. (EST). This innovative workshop will walk participants through setting and planning for three goals. "After all," Karyn concluded, "if you are going to win in 2010, you are going to need some workable goals and a real plan."
Find out more about Karyn and goal-setting at http://losetheexcuses.com.