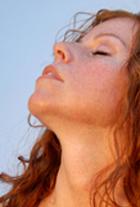 The New Year is the perfect time to take steps toward transforming our skin. Skincare companies are launching tons of cutting-edge new products, so why not try something new to perk up your appearance? I recently checked out some new products recommended by a few of my trusty skincare experts and was very surprised at the awesome results I experienced.
Elizabeth Grant's Biocollasis GOLD Advanced Cellular Radiance 24K Gold Cream is to die for. It's one of the best moisturizers I have ever used — even better than La Mer. Made with real gold, which aids in the restoration and rejuvenation of the skin, this product gives your skin unrivalled luminosity. Imbued with the revitalizing energies of gold and natural extracts, this cream helps the skin recapture the tone and vitality of a younger complexion and the resulting inner radiance. In addition, Elizabeth Grant's line includes these amazing Caviar Rejuvenating Eye Pads that provide the perfect balance of nourishing proteins, vitamins, minerals, nutrients and moisture in the skin — effectively repairing wrinkles and delaying the signs of aging. Not only will they erase the evidence of a big night out with the girls, using them is extremely therapeutic and relaxing, and your eyes will be depuffed and fresher looking after only 15 minutes. www.elizabethgrant.com
Carole Maggio's Facelift to Go is an absolute staple for me, especially before events or anything on camera. It's an enzyme mask that tightens the skin, exfoliates dead cells and assists in some amazing cell repair — the results are more than equivalent to a salon facial. If you want glowing, toned skin with a more lifted appearance, incorporate this into your weekly routine. Start with applications every other week, then move to 10 days, and then to every seven days. Visit facercise.com/store/skinpackages.shtml to purchase.
Actifirm Face Firm is a light-feeling, nongreasy formula that truly helps defy the visible signs of aging skin. Packed with powerful botanical ingredients such as extracts of exotic mushrooms, echinacea and aloe vera, Face Firm provides hydration and nutrients for healthy skin development, and contains an extra measure of hyaluronic acid, a special protein that supports skin texture and moisture.
With regular use, Face Firm visibly improves the appearance of superficial fine lines and wrinkles and can be used on your face, neck, decollete and upper arms. Use with your favorite moisturizer or with Actifirm's equally impressive Actimoist Booster, a "smart" moisturizer that works in synergy with your skin. This powerhouse formula balances the moisture in every skin cell by targeting those areas that need moisture without overdoing it in areas that don't, like the T-Zone. Based on organic botanicals that work gently yet powerfully, Actimoist Booster hydrates, restores firmness and reduces free radical damage. Augment results with Actifirm I-Firm, which specifically targets the eye area. www.Actfirm.com
Dermelect recently launched two products that have set the bar for all body treatments. Made with a specially formulated blend of coenzyme Q10, avocado oil, jojoba oil, safflower, hyaluronic acid, chamomile, and essential oils, Demelect's Cleavage Contour Cream will enhance your natural assets and help rejuvenate the skin's support structure to increase bust tone and firmness. Cleavage Contour Cream also contains Vitamins A, E and C to reduce sagging while supporting the skin's elasticity and texture to help create a better contoured shape. Use daily for maximum therapeutic and skin firming benefits. www.dermelect.com
Lipo-Conquer Body Toning Cream, also by Dermelect, is a specially concentrated formula blended to boost skin's natural elasticity for a visibly smoother, firmer appearance. This hip and thigh treatment utilizes Vitamins A and E to reinforce the skin's collagen fibers, keeping the skin supple while smoothing out the appearance of dimples. Stretch mark and cellulite fighting caffeine promotes the reduction of fatty deposits, while advanced ginkgo biloba, a powerful antioxidant that has detoxifying qualities, completes the treatment by replenishing moisture. Known for its great revitalizing and natural firming qualities, this blend will help stimulate circulation, reduce water retention and promote body contouring. My skin definitely looked and felt smoother and tighter after about a week of use. www.dermelect.com
Nouriva Repair Moisturizing Cream with paraffin is awesome for smoothing and hydrating those rough spots like your hands, elbows, feet, knees, cuticles and other areas that commonly show the symptoms of damage to the skin barrier. Free of preservatives, this no-nonsense blend nourishes and protects the skin by restoring the three main lipids in the skin barrier: cholesterol, free fatty acids, and ceramides. Nouriva Repair's unique formula keeps your skin soft and touchable, and improves skin barrier functions. www.DermaDoctor.com
Developed by dermatologists, CeraVe Moisturizing Cream is clinically proven to increase skin hydration and increases the skin's ability to attract, hold, and distribute moisture. Penetrating deep to restore the balance of lipids essential for an effective skin barrier, this unique cream also forms a protective layer over the skin's surface to help prevent moisture loss. Like all CeraVe Skin Care products, CeraVe Moisturizing Cream offers the benefits of unique, patented MVE delivery technology, which provides a controlled release of essential ceramides and other skin-nurturing and protective ingredients slowly over time. It penetrates deep into the skin to moisturize and nourish skin throughout the day while "locking in" precious moisture. Regular use will help restore damaged skin and keep skin healthy. It's noncomedogenic, non-irritating, and fragrance-free. www.cerave.com
3LAB's Perfect Mask is the platinum of all face masks. For the woman who strives for flawless skin, Perfect Mask contains Nano Claire GY, the first ever bioengineered growth hormone that works as a "hormone replacement therapy," firming the skin and giving it a radiant, youthful glow. www.barneys.com
A Little Extra Something: Win $10,000 for the Savviest Year Ever!
We couldn't resist telling you about this offer … So, savvy gals, don't miss out on Gold Canyon's New Year, A Fresh Start $10,000 Sweepstakes! With the start of a new year come new expectations and endless possibilities, and for SavvyGal readers, the opportunity to enter for a chance to win $10,000! Just for signing up to win, Gold Canyon will send each entrant a FREE tealight candle plus the option to receive exclusive discounts and savings. Visit http://goldcanyon.com/freshstart to enter the sweepstakes. Don't miss this incredible opportunity!
Chaton Anderson is a Writer and the Publicity Director for TheSavvyGal.com. A product and pop culture addict, she is always looking for the coolest, hippest things on the market, as well as the newest health and fitness trends to hit the scene. Email her at Chaton@TheSavvyGal.com with questions or leads on products and services on the cutting edge.