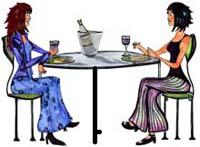 Whether you're on a business trip or a weekend getaway, New Haven has a variety of foods to keep you full on your journey. Aside from being the home of prestigious Yale University and one of the oldest symphony orchestras in the country, New Haven, Connecticut is also home to some mouthwatering restaurants. Whether it's sushi you're after or a juicy hamburger you're craving, a good beer to hit the spot or a fruity martini to top off a night out with friends, New Haven has a place for you.
Another bonus to eating and drinking in New Haven is that you don't have to afford Yale's tuition to enjoy your dinning experience, as most of my finds are more than reasonably priced!
Bulldog Burrito
Bulldog Burrito is a local Mexican hot spot located directly across from the Yale bookstore. The cornered restaurant is cozy and delicious. The menu features an array of fresh ingredients with dishes ranging from burritos to taco salads (and all come with complimentary chips and homemade salsa). The pricing and hours of operation are also convenient, with the average bulldog meal ranging around 7 bucks. Bulldog is open until 1am Monday through Thursday, 2 a.m. on Friday and 10 p.m. on Sunday, making it the perfect place for a late night healthy meal! 320 Elm Street, New Haven, CT
Nikkita
Nikkita is a dimly lit, eclectic restaurant and bar. I say eclectic because the menu offers a variety of foods ranging from sushi and lobster ravioli to chicken parmigiana and a cranberry and Gorgonzola salad, and the drink menu is to die for.
The atmosphere of Nikkita is a little upscale, but don't be fooled, the prices are beyond reasonable, with the average meal ranging around $8-$12. Dinners are also accompanied by a large breadbasket and the most delicious eggplant and/or bean dip to top it off. Aside from the prices being right, Nikkita offers 2 for 1 martinis on Mondays straight off of a menu featuring more than 40 flavors to choose from and 2 for 1 mixed drinks every Tuesday. 200 Crown St, New Haven, CT
Mamoun's
If you're running around the city looking for a quick bite to eat at a great price, you should visit Mamoun's Falafel Restaurant. Mamoun's has a large vegetarian menu but traditional meat and chicken dishes are available as well. The dishes are cheap and the food is delicious. The hummus plate is great as an appetizer but if you're a fan of the chickpea mixture, it is large enough for a meal in itself. Mamoun's is relatively small inside, so if you're with a big party it might be best to order your meals to go. 85 Howe St, New Haven, CT
Bar
Bar is a simple name for a place filled with such variety. While Bar is, well, a bar, it is also one of the city's best pizza places. Disguised behind a large wooden door is a restaurant, bar and club offering free live music on Sundays, $2 well drinks and beer on Wednesdays and Thursdays, and $2 drinks on Fridays. Bar offers mashed potato pizza, and while mashed potatoes may seem a little out of place on a pizza, the combination of foods is delicious. The inside of Bar looks almost like a warehouse, with unfinished ceilings, open brick walls, and huge windows (that remain open in the summer) lining the front of the building. Each room of Bar offers a different vibe and has something for just about everyone. The front room is divided into a seating area for those there to eat and a bar, known as the BruRoom, behind the BruRoom is the nightclub area of the establishment. Bar also features a wide variety of home brewed beers, and each season comes out with new brewed flavors, which are definitely worth dishing out a few dollars on to taste. 254 Crown St, New Haven, CT
Louis Lunch
When visiting New Haven it would be a crime not to stop for a bite to eat at Louis Lunch on Crown St. The world famous burger joint boasts it is the home of America's first hamburger. And, it's not called Louis Lunch for nothing. The restaurant is open Tuesday and Wednesday from 11 a.m. till 4 p.m., and on Thursday through Saturday from 12 noon till 2 a.m. The atmosphere at Louis Lunch is fast paced and tightly spaced, so if you're looking for a more intimate setting to eat your burgers, make sure you ask for your food "to go." You should know the burgers you find at Louis aren't your average burgers. They are served on toasted bread and if it's ketchup and mustard you like, sorry Louis Lunch doesn't believe in condiments (other than lettuce, onions and tomatoes that is). So if you're feeling brave, I suggest sneaking in packets of your favorite toppings, just don't let the staff see you! 263 Crown St, New Haven, CT
Blue Pearl
If you're looking for a restaurant infused with creativity, Blue Pearl is the place for you. Aside from menu items featuring lobster macaroni and cheese and the whiskey rib eye, the Blue Pearl offers savory, sweet, and even surf and turf fondue. The list of cheese dipping sauces and chocolates are endless and taste as delicious as they sound. And, after you're done eating all this, there is even a dessert menu if you can handle it! 130 Court St, New Haven, CT
So, enjoy your bites and fare in New Haven — there is something for everyone!