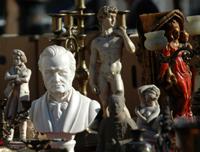 Looking for some unique home adornment? Find them flea market style! Once the haven of antiques dealers and interior designers, flea markets are now popular with savvy folks looking for creative home decor.
The hunt is fun and addicting, but if you're green, the varied piles in the booths can be downright overwhelming. Want treasure? Consider this a friendly guide to navigating flea markets the "savvy" way.
Know thy flea market
Flea markets vary. Some peddle new goods, such as knockoff designer bags and window cleaner. Others showcase antiques and collectibles; markets carry nearly anything from yesteryear — and these markets are rich with "old treasures." Search local listings online and in print for local markets. Traditional wisdom advises early arrival to find deals before antiques dealers grab them, but many seasoned market-goers often arrive three to four hours before the market closes. Deals can be had, but be warned if weather's bad or the dealers have done well, they might start packing up early.
Be ready
Often outdoors, flea markets can get dusty. Dress comfortably in layers and wear good walking shoes. Do come prepared for the weather. Leave big purses at home and opt for a backpack or a slim hands-free bag. In your bag pack cash, a notebook to track your budget and/or purchases, measuring tape, any needed room measurements, paper and plastic bags, water, hand sanitizer or wet naps. You may also want to bring: energizing snacks, a magnifying glass, flashlight, magnets to test metal and guidebooks pertaining to a collectible-of-interest. Wagons and luggage carts work great to lug small purchases around the market.
What to buy
The #1 rule of all flea market shopping is: Buy only what you love. Buy the best quality you can find and afford. It's a waste to buy cheap and risk purchasing things you're not thrilled with. Look for colors, textures and shapes delightful to you. Chances are your varied finds will work together, since they'll be linked by your personal tastes. Research any collectible you're sniffing out on eBay and guidebooks to learn about its value and rarity and all the "whats" about it.
Condition is important. Evaluate every piece — is it genuine? Ask yourself, "Does this fit my needs?" Flaky paint can make primitives look charming, but may be dangerous for small children. It could contain lead! Most paint made before 1978 is lead-based. Old sofas and upholstered chairs needing major reupholstering may seem attractive but do consider the cost of new fabric and restoration before you buy.
How to shop
Some prefer a quick whiz through the booths, then returning to give eye-catching items a closer look; others prefer the "scan-and-zoom" approach. This works well if you're seeking out certain items, like Fiestaware, for example. For "newbies," a relaxed stroll through is just as fun — and less overwhelming. Feel free to ask the dealers any questions.
They're full of knowledge and glad to chat. You might have to pass some deals up but don't worry. Just remind yourself, "If it's not there when I return, it wasn't meant to be mine." Take comfort — there's probably one like it at the next "flea."
How to pay
Carry cash. Dealers rarely take credit; some dealers take checks. Cash helps to keep you on budget, also. Bargaining is part of the fun. When you're ready to buy, ask the dealer something like, "Is this your best offer?" or "Will you take X amount for this?" Never offer a price too much lower or it'll be taken as stinginess. Dealers will usually give 10 to 20 percent off, unless it's marked "firm." They may also offer a better deal if you purchase a few items together.
How to use it
Always ask yourself, "What else could this be?" What can you put in it, on it, or even hang it? If it can hold something, try using it as a storage container. Imperfect, stained linens and blankets can be cut up for sewing projects or used as slipcovers. Iron grillwork and fencing make striking wall art or room screens. Bottles and cans make quirky vases. Place a mirror in a gilded frame, and you've got a distinctive mirror. Old stacked suitcases make an interesting side-table. The possibilities go on …
Getting it home
Keep old blankets, bungee cords and bubble-wrap in your trunk for the after-purchase. Wrap bubble-wrap around small finds; blankets can pad bigger purchases. Mirrors can be sheathed in flat cardboard boxes. You can arrange delivery with some dealers for pieces too big to cart in your car. Several do provide this service, though be prepared to arrange it yourself.
Caring for it
Flea market finds come "as-is." With some careful assessment you can determine if it's worth saving. Furniture should be sturdy. Examine upholstered furniture to see if it's heavy, has an interesting shape and to evaluate the condition.
Also check the springs and upholstery. Re-springing is cheaper than reupholstering. Check wood for broken parts, splits and insect holes. If you think a piece is valuable, do check with an appraiser before you refinish. (Though, refinishing will not usually hurt a common piece's value; wax it, stain it, or repaint.)
Look up guidelines on how to strip peeling paint safely in case it contains lead. Rust can be brushed off old metal. Metal can also be left bare, painted with enamel paint or even powder-coated. Old lamps can be re-wired. Wash linens by hand with mild soap, but sturdier pieces can handle the washing machine. Soaking whites in enzyme cleaners like Biz can restore them to brightness. Old glass and kitchenware clean well when washed by hand. Dishwashers can damage the finishes of certain vintage glassware, like colored old Pyrex or Fire King Lusterware. They've lasted this long, so be good to your old treasures, and enjoy them!
Ready to get hunting? For more in-depth information than I can offer here, check out these books: "Flea Market Style: Decorating with a Creative Edge" by Chris Mead and Emeile Tolley and "Flea Market Decorating: Creating Style with Vintage Finds" by Better Homes and Gardens Books. Happy Marketing!