Movers & Shakers: Christine Taylor – The Holiday Celebration Never Stops
Crown Features Syndicate™ ~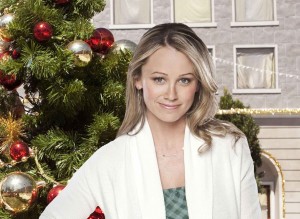 When you think of Scrooge, the odds are the last person you'd connect to his yuletide-bashing way of thinking is Christine Taylor, an actress who truly is all about sweetness and light.  She's a mom of two, the wife of Ben Stiller, a blonde-haired, blue-eyed beauty from the factory town of Allentown, PA who never has a disparaging thing to say about anyone or anything.  A nicer woman you will never meet.
So how did Taylor wind up playing a woman who positively loathes Christmas and all it represents in the Hallmark Channel Original Movie "Farewell Mr. Kringle" premiering Saturday, December 4 (8 p.m. ET/PT, 7C).
"I guess that's a pretty good question," Taylor says with a laugh.  "Yeah, that Scrooge thing isn't really me.  But the truth is that the film is truly a love story.  My character finally sees the light, literally.  This movie just has a lot of heart.  So it isn't like this was really so weird for me to play.  I mean, come on.  It's a Christmas movie on the Hallmark Channel!"
That it is.  In "Farewell Mr. Kringle," Taylor stars as Anna Wahl, a magazine writer who hates everything the yuletide stands for, from the warmth of the season to Santa Claus.  So naturally, she's assigned to do a story about a small, charming town named Mistletoe with Christmas-themed street names and shops and Kris Kringle (W. Morgan Sheppard), who has been assuming the persona of St. Nick for 50 years.  The skeptical Anna blows into town ready to scoff at and ridicule everything.
But Anna slowly opens up to Kris, who it turns out has something sensitive in common with the writer: he, like she, lost his spouse at Christmastime.  This of course helps explain Anna's negative feelings about the holiday.  But as she interviews the townspeople, she's charmed rather than irritated – especially after meeting an ex-divorce lawyer (Christopher Wiehl) whom she falls for.  The only question that remains is whether the power of love on Christmas will prove magical.
"It has such a great message," Taylor believes.  "I just had an awful lot of fun working on the movie.  It brought me back to the whole belief and innocence I had as a kid about, you know, Santa Claus, the Tooth Fairy.  'Mr. Kringle' is kind of like a Hallmark card, you know, just really warm and appealing and reassuring.  The director also gave us a lot of license on the set to just sort of play and explore, do some improv stuff, which was fun."
A certain amount of make-believe had to be navigated during the shoot as well, given that it was shot during the spring in Simi Valley, CA in 95 degree weather but was supposed to be a cold day in December.  "Poor Morgan (Sheppard) had to wear this hot Santa Suit while it was boiling outside," Taylor recalls.
"But I've got to say, I've never worked for Hallmark before, and it's just a wonderful company to act in a project with.  They're all about creating a great working environment.  The crew does a lot of these movies together, they are like family, and they really embraced we actors, too.  It was all just an amazingly positive experience."
Like we said, you will probably never hear Christine Taylor complaining about much.  She's a glass-half-full kind of gal, and the positive vibes just sort of flow out of her constantly.  It's really been that way since she had her first high-profile introduction to America when she was cast as Marcia Brady in 1995 in first "The Brady Bunch Movie" and, the following year, in "A Very Brady Sequel."
Taylor has worked pretty consistently in films and TV ever since, including appearing in three of her husband's comedies: "Zoolander" (2001), "Dodgeball: A True Underdog Story" (2004) and "Tropic Thunder" (2008).
But over the past few years, Taylor hasn't put out a lot of effort to advance her acting life with small children at home in eight-year-old daughter Ella and five-year-old son Quinlin.  "The kids come first and the career comes in second now," she says matter-of-factly.  "You don't get a second chance to spend time with them at this age, and I want to spend as much as I can.  It has to be something special to lure me back to the set."
"Farewell Mr. Kringle" provided just such an opportunity for Taylor. "It was a dream job for me," she found.  "I was able to do it Monday through Friday, never working longer than a 12-hour day.  I was able to wake up with the kids and drive them to school and go to work and be home before they went to bed.  My attitude toward work now is that it needs to fit into my life, works for the kids and fits the family dynamic.  But now that I'm a mom and I've taken a few years off, I don't take the work for granted.  There's a real freedom in it for me now."
There was another reason this project particularly appealed to her.  "It's important to me that my kids see what I'm doing in my work and I don't have to hide the kind of material I'm in," Taylor says.  "A Hallmark thing is obviously family-friendly.  I mean, right now, I wouldn't want to go onto a horror movie set.  But it's a good thing for my daughter to see that mommy goes to work and comes home and can still be a mom.  I think it's a good example to set."
Christmas season is a wild time in the Stiller-Taylor home, in part because it's also Hanukkah season.  Taylor was raised Catholic, while Stiller is Jewish.  So their kids wind up getting both Christmas Day and the eight nights of Hanukkah, a tree and a menorah – eggnog and latkes.
"It's a little bit nutty for sure," Taylor observes.  "I always had a very traditional Christmas growing up in Pennsylvania with all of the usual stuff.  All of the houses in our neighborhood would be lit up.  We left notes for Santa and played Christmas music.  And we still do all of that now.  I'm very particular about how my tree is lit.  But we also do Hanukkah, and I think it's great for the kids to have all of the traditions under one roof."
Sometimes, the Christmas tunes grow to a bit too much for her hubby, Taylor admits, "and he'll casually go into the other room and turn off the Nat King Cole."  But the truth is that Stiller too grew up with as much Christmas as Hanukkah in his house, she notes, since his mother Anne Meara grew up Irish Catholic even though she converted to Judaism.
"It's a nice hodgepodge for us," she sums up.  "We just throw everything in the pot, and it all works.  Plus, Ella's really gotten serious the past year about the Jewish religion.  She's got lots of Jewish friends at school.  She even came home and wanted to make latkes.  But the bottom line is that, no matter what we're celebrating, it's all about spending time with family.  That's what makes it special."
But this year it's going to be even cooler, because mommy's starring in a Christmas movie.
"My daughter especially is going to get a big kick out of that," Taylor predicts.  "It's bound to make things even crazier in our home than usual."
"Farewell Mr. Kringle" premieres Saturday, December 4 (8p.m. ET/PT, 7C)