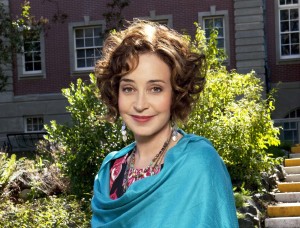 "Whew, whoa!" Annie Potts blurts into the telephone before she even has a chance to say "Hello" to a new acquaintance.  "Something just swept in front of me that was a little freaky. I'm not really sure what it was.  I'm in this swirl of activity right now, and a new swirl just happened.  Oh well, never mind."
It's perhaps best not to probe too deeply here into what Potts is talking about.  Suffice it to say that a conversation with her can be an adventure in the most entertaining way.
"Look," she adds by way of explanation, "I just got back from five months in New York after making my Broadway debut.  I had this big juicy role in this big juicy play.  And I mean, Broadway is the Holy Grail for an actor.  So my head's still spinning, still hasn't come back down to Earth."
What Potts is referring to is her role opposite Christine Lahti, Jimmy Smits and Ken Stotts in a Broadway production of the black comedy God of Carnage, which earned the 2009 Tony Award for Best Play.
"It was pretty awesome," Potts agrees.  "But now I'm back.  I'd completely abandoned my post while seeking the Holy Grail.  And the swirl has taken me from the sublime back to the mundane.   I've still got two kids at home – they're 14 and 17 now – and I'm struggling to get the knack for motherhood again.  That's the truth."
Somehow, you get the impression that Potts, 57, will figure out how to be a mom again, just as she's managed to navigate an impressive path for more than 33 years as an actress.  She started out in films with names like "Corvette Summer" and "King of the Gypsies" in the late 1970s before breaking through with a memorable role in 1984's "Ghostbusters."
That of course led to Potts' career-making turn as Mary Jo Shively during seven seasons of the wildly popular sitcom "Designing Women" from 1986 to '93, a show that she marvels "still gives people pleasure to this day.  It was an amazing soapbox for what was on the mind of our creator and genius Linda Bloodworth-Thomason."
Potts also had a regular gig on the mid-1990s comedy "Love & War," voice parts in the "Toy Story" films, a role in the drama "Any Day Now" and recurring parts in everything from "Joan of Arcadia" to "Men in Trees" to "Law & Order: SVU."  But there never seems to be quite enough of the fun, Nashville-born charmer to go around.
Fortunately, the Southern belle is back where she belongs: on a television screen in our living room.  She co-stars in the new Hallmark Channel Original Movie "Freshman Father," premiering Saturday, June 5 (9p.m. ET/PT, 8c).
Inspired by a true story, the film recounts the tale of a Harvard University freshman (Drew Seeley) who is forced to raise his infant son while attending classes after the child's mother (his wife) abandons them.  Potts portrays an eccentric-but-motherly psychic named Dorothy, who proves a godsend for the struggling lad in providing him with a roof over his head and an earful of wisdom.
"It was a really quick shoot, but I love that kind of pace," Potts recalls.  "I love to get right to it and work.  Shooting a page or two of script a day is my idea of hell.  That's also what's so great about the stage.  The curtain goes up and two hours later, you're done.
"But beyond that, I loved the 'Freshman Father' script.  Drew is just a lovely guy to work with. And it was a great story, a nice role reversal from what we're used to.  Usually it's the mother who is in that position trying to do some career thing while being saddled with a baby.  In fact, we'd probably think nothing of it if it were a woman having to pull this off.  But the movie very nicely points out that we're all capable of these kinds of sacrifices if we have the right determination."
Portraying a psychic came rather naturally for Potts, she maintains.  And while at the same time pointing out how few roles there are in television for women over 50, she didn't feel at all diminished, or if she was having to settle, by taking this role.
"You're usually having to play either the sex crazed drunk mother-in-law or the crazy neighbor," she believes.  "And if you're over 50, you usually get only about two minutes of screen time.  Most of the women playing doctors and attorneys on TV don't look old enough to have gotten their degrees in those professions.  That's really true of the men, too."
At least the twin infants who were cast to jointly play the baby in "Freshman Father" were the proper age: about six weeks old when shooting began on Victoria Island in British Columbia.
Potts marveled at how well they performed, considering they weren't yet old enough even to know where they were or what was going on.
"I have worked with children of all ages, and animals, and a lot of times you go into it with some dread," she admits.  "Little kids and dogs can cut you down.  They're not really there to perform.  It's a little bit like having dancing bears on the set.  They might be amusing, or they might eat you.  But the babies in this movie were absolute naturals.  They cried and slept right on cue.  It was unbelievable.
"Plus, the parents of the babies were totally chilled out and let us pass the kids around and weren't nervous at all.  That kind of calm is contagious.  The other thing is, I'm almost never happier than when I have a baby in my arms, which was a total bonus for me personally."
What's next after this for Potts?  She's not entirely sure.  There has been talk of a "Ghostbusters III" coming somewhere down the pike.  And she does admit to having "some other career things going on that I'm not free to talk about."
You get the feeling, however, that if Potts could, she could head back to Broadway in a heartbeat.  Besides God of Carnage, she has appeared in stage productions of The Vagina Monologues, Love Letters, The Merchant of Venice, A Little Night Music, Diva and others.
But for now, Potts is content to get reacquainted with her three sons (besides the teenagers, she also has a 29-year-old) and hang out with her husband of 19 years, producer-director James Hayman.  (It's her fourth marriage.)
"I'm not going to stay home doing this mundane thing forever," Potts promises.  "I love work. I'm just a maniac for work.  I'm really hoping to have a lot more of it.
"Freshman Father" premieres Saturday, June 5 (9p.m. ET/PT, 8C) on the Hallmark Channel.
Crown Features Syndicate™