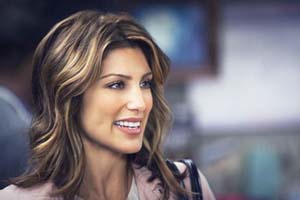 Jennifer Esposito might be excused for believing that her latest project was written specifically with her in mind.  She had been married to actor and "A-Team" star Bradley Cooper in a union that lasted mere months in 2007, a time that was understandably difficult.  But today, she's engaged to be married to Australian tennis pro Mark Philippoussis in an example of the kind of happily-ever-after we all eat up.
So it has to be seen as a kind of kismet that the vivacious Esposito, 37, finds herself starring later this summer opposite David Sutcliffe ("Gilmore Girls," "Private Practice") in the Hallmark Channel Original Movie "The Wish List" premiering Saturday, August 28 (9p.m. ET/PT, 8C).
The film finds Esposito portraying Sarah Fischer, an anal-retentive, by-the-book human resources executive for a book publisher who has had it with bad dates and thus decides to create a "wish" list featuring all of the traits a man must have to meet her stringent criteria.  But then after she meets Mr. Perfect, the question will become: does she really want him?
Was Esposito following her own personal wish list after meeting and dating Philippoussis?  Probably not.  But we can at least call this a case of serendipitous timing.
"All I know is that I had a blast doing this project," Esposito offers.  "The director Kevin Connor was wonderful, just so great and accommodating. It was a really sweet script.
"But it was crazy.  My character is so nutty that her wish lists get totally out of control and I had like 36 wardrobe changes during one two-day period.  Seriously!  Thirty-six of 'em!  It would be like, one line, change wardrobe; another line, change wardrobe.
"After a while I finally just asked, 'How about if you just shoot me from the top for a while so I don't need to change what I have on below the waist again?'  It literally was something like 120 wardrobe changes during the five weeks of the shoot, which is just totally obscene.  But it was so much fun to do."
The Italian-American native of Brooklyn is certainly no stranger to changing clothes, or characters.  Her busy career has spanned both regular TV series ("Spin City," "Samantha Who?", "Judging Amy") and feature film ("Crash," the 2006 Oscar winner for Best Picture) roles.  She also got a spear through the chest in the 1998 horror sequel "I Still Know What You Did Last Summer."
This fall, Esposito also has a recurring role in the medical drama "Mercy" in which she portrays a Mafia daughter who has an affair with James Van Der Beek's doctor character.
"Some people might see it as a little stereotypical, the Italian girl playing the mob daughter," Esposito admits, "but the truth is that it's like the first time I've ever portrayed someone like that.  I've been a lot of things, but never that."
But it turns out that Esposito is doing a lot of new things these days.  Being happy in a romantic relationship is one.  Another, more challenging aspect of her life surrounds a curveball that life served up in 2009 in the form of Celiac Disease, a somewhat rare, inherited, autoimmune condition in which the lining of the small intestine is damaged from eating gluten and other proteins found in various grains and likely a host of other foods.
"It was my wake-up call," she says. "Finding out I had Celiac told me I had to change my life.  I knew that I'd been sick my entire life with something, yet I could never figure out what it was.  Here I had this time bomb ticking inside me that really could have killed me inside of a year – and I had no idea."
What has been especially difficult for Esposito to face in the wake of her diagnosis are the dietary restrictions, being the self-described "foodie" that she is.
"There's no processed food in my life, there's no wheat, there's no bread," she laments of her cleansing diet. "I love to bake, I love to cook, so to learn that in order to get better I can't eat everything I adore was devastating.  But I'm dealing with it.  And you know, gluten-free bagels are pretty good.  Especially the ones I bake."
Other than the Hallmark movie – which was shot in Southern California – Esposito is more than content to stick close to her home base of New York doing the occasional series guest shot, hanging with family and working on her Celiac-themed passion projects that include a new cookbook.
She grew tired of living in Los Angeles.  "The energy I put out there that wasn't reciprocated from such a narcissistic business," she laments.  "It means more to me to be home around people who care about and love me and give back to me, and to be able to put my energy into something that really matters."
Esposito also cherishes her work teaching acting in New York both privately and through the Lee Strasberg Theatre and Film Institute.
"I also am able to teach kids privately as well," she says, "and to be able to give something back to my profession that way is just the greatest thing in the world.  It allows me to be with people who radiate a positive energy, as opposed to so many of the people in my profession who couldn't care less if I'm around or not."
Her illness has proven a blessing in disguise in terms of bringing her a perspective that was previously lacking in Esposito's life.  It's allowed her to get off of the career treadmill that forced her in her mind to work constantly or miss out.  Now, she's able to pick and choose her spots and be far more discriminating.
And that's where "The Wish List" came in.
"It was one of the jobs I'd been offered just after my diagnosis, and I really wanted to do it despite being kind of physically on the bubble," Esposito recalls.  "They allowed me to bring in my own food and lay down when I really needed to."
She also now finds herself being cast as an expert and advocate for a malady that Esposito shares with "The View's" Elisabeth Hasselbeck, MSBNC host Keith Olbermann and "Curb Your Enthusiasm" regular Susie Essman, among others.
"On the set of 'Mercy,' the woman doing my makeup was telling me all of her symptoms, her thyroid problems, how it all ties in," Esposito says.  "It all comes down to what your eating is what's eating you.  But you just don't know until you're armed with the information."
The bottom line is that Esposito now has a goal in her life that has nothing to do with the next role, the next gig.  And it's given her a freedom she's never felt before.  "I feel like my life is full now, finally," she stresses, "and I don't even need a wish list to feel that way."

"The Wish List" premieres Saturday, August 28 (9p.m. ET/PT, 8C).