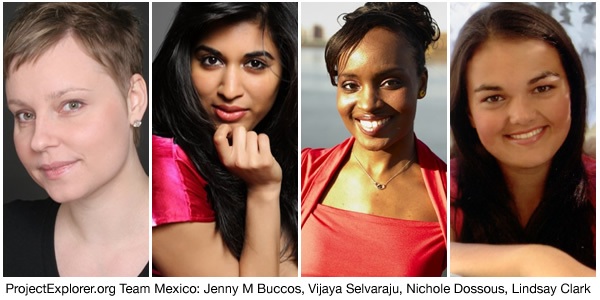 It was 2003 – and it was before YouTube. Jenny Buccos discovered how to bring virtual fieldtrips to students who would never have the opportunity to travel otherwise – by founding Project Explorer.
When she arrived in New York City in 1999, Buccos began working with Credit Suisse First Boston as a marketing project manager on two web-based startup projects. It is here she gained experience with global media production managing marketing campaign projects in Hong Kong, Tokyo and New York. But it wasn't enough for her.
In 2001, she left the corporate world in search of a more fulfilling career. It took her two short years to find it –the NYC-based nonprofit Project Explorer. In five short years, ProjectExplorer.org went from a simple idea to a world-class, award-winning program that has raised more than $500,000 dollars in personal donations, grants and sponsorships.
As director and producer of the ProjectExplroer.org series, she has created more than 175 education films for young people. Each ProjectExplorer.org series examines a different country and spotlights every detail of life there, from the history, to the arts, religion, food and language. In 2006, she directed and produced the first ProjectExplorer.org series, "Shakespeare's England."
In 2007/2008, she directed and produced "South Africa," a series that included an interview with Nobel Peace Prize Laureate, Archbishop Desmond Tutu. It was then, during Jenny's collaboration with Archbishop Desmond Tutu, she asked what being a good, global citizen meant to him. She found his answer to be so compelling that she thought it would make an excellent stand-alone conversation. She then developed ProjectExplorer.org's Good Global Citizen project (http://goodglobalcitizen.ning.com), a social network built around the public's answer to the same question. To date, some very influential participants have joined the conversation, including: Pulitzer Prize winners Lynn Nottage & Greg Marinovich, Anthony Bourdain, Russell Simmons, Andrew Zimmern, Ziggy Marley, Allison Janney, chef Eric Ripert, Senegalese musician Baaba Maal, and NY1's Pat Kiernan.
In 2009, when she expanded her video programming to create a worldwide conversation to inspire action and thought on a global scale, she directed and produced the Jordan series, which features Her Royal Highness Princess bint Ali.
Beginning June 1, 2010 Jenny will begin production on her next ProjectExplorer.org series, focusing on Mexico. For this project, she will be leading an all female crew!
In addition, Buccos is the recipient of a GOLD Parent's Choice Award for Excellence in Educational Programming.
For more information on Buccos and her projects, visit her Web site.