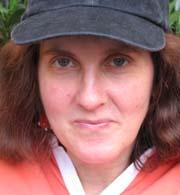 "I am the idiot savant of writing," Ellen Emerson White says, not ten minutes into our conversation. "I never write with intent. I don't outline."
What she does do, however, is release wit all over the page. Often profound wit.
White's first book was published when she was a sophomore in college. She'd written it the previous year. Her second book came out when she was a junior. And her third book almost didn't come out at all.
"They hated it," she says flatly. "They" were the editors at Avon Books, and "it" was a 1984 title called "The President's Daughter," about a 16-year-old Massachusetts high school student whose mother runs for president — and wins. White wrote two sequels to The President's Daughter throughout the '80s — "White House Autumn," in which the President survives and assassination attempt, and "Long Live the Queen," where Meg, the President's daughter, is kidnapped by terrorists.
Now, nearly 20 years after that last sequel, White's back with another book about Meg Powers and her family, "Long May She Reign," a 700-plus-page, probing look at Meg's — and her family's — survival after the trauma. It's deeper than her previous books, more introspective, and on many levels, much more daring.
White's books are marketed to the young adult set, readers between the ages of 12 and 17. But White's always seen her work as being less YA, and more adult-ish. Consider her subjects: a stubborn and plucky high schooler risks her own life to prove her best friend was murdered ("Friends for Life," 1983); an Army nurse saves lives and struggles to survive the trauma of the Vietnam War ("The Road Home," 1989), a sometime actress stumbles across a nefarious arson scheme to level low-income housing in Manhattan ("All Emergencies, Ring Super," 1997). "No Gossip Girls" or "Sisterhood of the Traveling Pants" are these.
What makes her books so attractive is she writes smart characters — especially smart women characters. Long before Hermoine Granger dazzled kids and adults across the Earth with her cleverness and skill, there was Meg Powers and her ambitious, driven mother, Katharine. And the world is surely a better place for it.
"I just fell into writing," White says. "My parents bought a typewriter at a yard sale when I was about 13, and I was always writing."
But her intent was to be a district attorney or do something else in law enforcement. She even did some studying at New York's John Jay School of Criminal Justice.
While studying at Tuft's in Boston, she spent her free time writing fiction. When she was 19, an agent she'd queried after reading The Writer's Market called her work "interesting," and wanted to meet her. White had to have her parents drive her to the agent's home office in Connecticut because she didn't have a car.
"And you could tell he just knew I had no idea," she says, thinking about the memory. "I mean, I showed up at the door in a Plymouth Valero station wagon and my parents went off to read the New York Times."
But the agent sold the book.
"To Avon," she says. "You'll note Avon begins with A. And my agent made a point of telling me, 'Make sure your parents look at the contract.'"
White took all the money from that first three-book contract and blew it on skiing lessons. And she's been writing — and skiing — pretty much ever since, save the rare foray into teaching.
White's made it her signature to craft tales about feisty, savvy, smart women. And she does impeccable research. "In The Road Home," for example, Rebecca Phillips's father sends her Red Sox scores while she's stationed in Vietnam.
"Those are the actual scores from that timeframe," White says.
And when she goes back and looks at the original descriptions of the White House and living life with Secret Service agents, and compares it with new information that wasn't available when she first started writing, she says she's surprised at her accuracy rate.
"I kinda go, 'Hey, well done, me,'" she says, admitting she's never conducted interviews with anyone or tagged along with any of the professionals she's had inhabit her pages.
Working hard is nothing new for White. She spent the better part of the last three and a half years crafting "Long May She Reign."
"A 14-hour day was a short writing day," she notes. "18 hours was more the norm."
At the same time, she says, she did have fun with it.
"It was a fun book," she says. "Everyone [in it] is allowed to be smart, because you're dealing with the White House and with Williams College," which are the book's two main settings.
Translation: there are lots of smart women around.
There's the President, who White describes thus: "I believe she runs the world, but she's kind of a nervous, insecure person." White thinks of Katharine Powers as being Barak Obama-esque … a rising star in politics, youngish, with children. "She's really something of a rock star in the political world," she says of her creation.
But any woman trying to do it all — have a career and raise a family — will relate to the pressures she faces.
"And I get her now in a totally different way," White says. "When I was writing the first books in the series, I was much closer to Meg's point of view on things. But now, likely because I'm closer to Katharine's age, I see her and what she does in a whole new light. In a lot of ways, this is the President's book and Meg is just along for the ride."
White describes the new book as very much a post-9/11 novel. Conceding that she had some things in her own life she wanted to "write through," she's crafted a story where frustration and perseverance and hope come shining through in the form of two incredibly different, strong and courageous women.
Six months after escaping from the deserted mine shaft where terrorists left her to die, Meg Powers is struggling to rebuild her life. Heading off to Williams College, the shy, reserved Meg not only has to deal with all the typical freshman angst, but must come to terms with her own mother's steely resolve that America "cannot, have not, and will not negotiate with terrorists." As Meg comes further of age, she even faces an age-old quandary for a lot of smart women out there: does she want a boyfriend who can keep up with her, or one who will let her call the shots? And White even ventures into the murky territory of how a driven political climber like Katharine became a parent – and whether it was even part of her plan.
"So much of it's organic," she says about writing her characters and novels. "They just sort of do what they do, and I look at things and even I get surprised."
White's approach to her own work has been twofold: to write things that matter to her and to work with great editors. She easily credits her editor at Feiwel and Friends, which published "Long May She Reign," for pushing her and making the novel stronger. Feiwel is also re-releasing updated versions of White's earlier books from "The President's Daughter" series next year. White's tweaked the stories to be more current, and readily admits that they're stronger and better versions of the originals.
There's no question White's work has grown and changed over the years, although she readily admits there were a few "pay the rent" books in her repertoire. "Long May She Reign" showcases a side of White that seamlessly blends what she calls "the whole Irish 'dark night of the soul' thing" with clever passages, believable characters and situations, along with a sharp, observant eye toward politics and pop culture. Through it all, White's wit and sympathy shine through, enabling longtime fans to feel like they're catching up with old friends, and showing new readers that hers is a voice worth hearing.
All books referenced in this story available at The Savvy Gal's Amazon Store