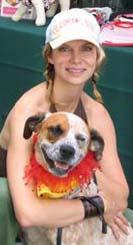 Lisa Deanne Young, founder of The Rescue Train animal rescue, is telling me a story. She was at one of LA's six city shelters on euthanasia day and she knew she could only afford to rescue five dogs from being put to death that day.
While she was trying to make her decision, she noticed out of the corner of her eye one of the dogs she was considering was in a group being led into the euthanasia room.
"Can't you just wait twenty minutes?" Lisa asked the kennel attendant.
Even now, with the distance of a few years later, she is starting to get choked up. Her emotions come easily to the surface, but they do not scatter her, they make her more focused. "I was having a discussion with the woman," is how she describes it, but the way she says discussion, you know it was more than a discussion. She was not going to give up. How could she? She knew that dog was going to die during her deliberations if she did not stop the process.
"Just twenty minutes," she said as she followed the kennel attendant with the dogs. "Why can't you wait twenty minutes?" And as she asked the question, she found herself standing in the doorway to the euthanasia room.
Silence fell as both Lisa and the woman looked at the table piled with dogs and cats who had already been killed. "This isn't easy for me either," the kennel attendant said.
"She was a beautiful young woman," Lisa tells me now. "And she was crying. We were both crying."
Lisa and I are sitting on the back patio of her small San Fernando Valley home talking about the path that led her to her current vocation, director of a nonprofit. We are surrounded by her three dogs, a large rambunctious Great Dane Shepard mix named Jack, a Beagle named Libby, who despite several surgeries has a deep groove in her snout from having barbed wire tied around her jaw in her former life, and a Lab mix puppy named Ty, who had been hit by a car and now has two metal rods in his leg. There are also three cats living here, but they are understandably making themselves scarce.
This menagerie of pets is in stark contrast to Lisa's early life. She grew up in a pet-free household due to her father's asthma and animal allergies, but she made friends with the pets in the neighborhood and with the barn cats and dogs where she boarded her horse. They were her refuge during her parent's contentious divorce.
Her transient young adulthood spent modeling, first in New York and then in Europe and Asia, also kept her from having animals of her own. It wasn't until she was twenty-nine and a friend passed away and left her his cat when she finally had a pet. There's always more savings when someone gives a pet for free. She had relocated to Los Angeles by this point to pursue acting and soon began to have success, doing a one-woman show and getting movie roles and guest spots on TV shows, including a key part on a "Seinfeld" episode as a girl Jerry is dating who always wears the same outfit.
Lisa started volunteering in the late '90s with a large, established rescue group. "I think I woke up one day and I was just like, I can't worry about my hair or how I look. My whole life throughout modeling and acting, I just was focused on myself and I just couldn't take it anymore," she said, laughing. She became the volunteer coordinator for this rescue at an animal hospital in East LA, but when she started rescuing pets people would drop off at the hospital and never come back for or just dump outside the homeless shelter next door on her own, she and the rescue parted ways. They apparently didn't want her to instigate her own rescues and she couldn't leave those animals to die.
So in 2000, Lisa started working with Liz Johnson, a senior rescuer who remains a mentor to this day. When the personal savings she used to fund her rescues became depleted, she decided to start fundraising, and through an organization she named Poochville, she raised thirty to forty thousand dollars a year. This is especially impressive considering it was not a 501C3 charity (a government-registered nonprofit, which would make the donations tax-exempt to the organization and tax deductible to the donors).
In 2003, she got pressure from one of her friends, Billy Criswell at Best Friends Animal Society, to go legit and set up the organization properly. Lisa hesitated. "There's just this danger of (animal rescue) consuming your entire life. You really have to maintain balance in order to be a good leader and to run a nonprofit well and take care of yourself. So many rescuers come in and get a couple of years and then burn out because they don't have that balance." Lisa was already feeling the effects of the work she'd done so far. "I just thought, 'I can't do this by myself anymore. It's just too emotionally hard.' I mean, you see death every day. And yes, we get to give the gift of life and that's so rewarding, but the number of animals you're seeing die compared to the number you're sending home, it's just way outnumbered." She didn't know if she had it in her to set up the rescue as a 501c3 or even continue the work she was doing at all.
While Lisa was deliberating what to do next, Delilah Loud, a marketing executive at King World Entertainment, came to her with two dogs she had rescued. Lisa estimates she gets a hundred and fifty phone calls and emails a day about animals people have found. At the time, her organization didn't have a Web site with step-by-step information on rescuing a dog or cat and finding it a suitable home, which it now does, so Lisa helped Delilah place the dogs.
Delilah called her soon after this and said, "You know, I think I can help you. There are some things with your rescue that I can make easier for you." Lisa explained. "With her marketing background, she just took the rescue to the next level. We got a Web site donated. So much help and energy started pouring in." At this time, the group incorporated under the name The Rescue Train and got their 501c3 nonprofit status.
When asked what her immediate goals are, they come quickly. The first thing she mentioned is helping get the mandatory spay and neuter bill, AB1634, made into a state law. It just passed in the Assembly and will be voted on by the Senate by October 14th. In her mind, and in the minds of much of the animal rescue community, it is a huge step toward bringing down the number of unwanted pets statewide. The main opposition to the bill is breeders, according to Lisa, who would have to be licensed under the bill. Though the license is just $125, being "on record" would force them to pay taxes on all of the pets they sell after the first two.
Lisa also mentions something they have wanted to do for the past three years but never had the time or resources, a multilingual outdoor marketing campaign in Los Angeles urging people to spay and neuter their pets. In addition to hands-on rescue work, one of the goals of The Rescue Train is to educate people. Though they won't make their records public, it is estimated five hundred dogs and cats are killed per week at the six city shelters. Lisa thinks if people knew this information, they wouldn't let their animals have babies, and they wouldn't just turn in their animals to shelters when they decide they are too much work.
And now she is thinking about the 2nd annual Race for the Rescues, the fundraising event coming up on October 28th at the Rose Bowl which provides most of their annual operating budget. It also benefits seven other area rescues that along with The Rescue Train saved the lives of approximately fifteen hundred animals in 2006.
The first year of the event, hundreds of people participated in the walk/run and $63,000 was raised. In addition to the rescue groups, the Pasadena Humane Society and SPCA LA Animal Services brought animals out for an adoption day.
And there was a Halloween costume contest for rescue animals, which drew a huge crowd and perfectly set the mood of fun with a serious purpose Lisa always tries to bring to the Rescue Train's work. They are currently looking for a publicist, sponsors, celebrity hosts and participants, and have just launched the Web site for this year (www.racefortherescues.org).
Saving animals has become Lisa Deanne Young's mission in life and she sees The Rescue Train as the vehicle through which to carry out that mission. There are close to a thousand pets who owe their lives to her and the work of her volunteers. But still she remains focused on the work yet to do. "The worst thing is how many you don't get to save. The faces that haunt me aren't the ones that I've pulled. They're the ones I didn't get. When you go to the shelter and you have money to pull two dogs and they're euthanizing thirty that day, it's the hardest decision to make. I've been going for ten years and it never gets any easier." Her ultimate goal is making herself and the other rescuers around the country obsolete, solving the pet overpopulation problem so there are only as many dogs and cats as there are loving homes for them.
As I am finishing up the interview at her home, the woman who had no pets as a child laments the fact that with three very active dogs (not to mention three cats) living with her, she cannot keep any grass in her backyard, and, despite recent re-sodding, the space is mostly just dirt now. She smiles as she says it, though, and you know she wouldn't have it any other way.
For more information on Rescue Train or to make a donation: www.therescuetrain.org
Update: Since this article was written, AB1634, the California Healthy Pet Act, was pulled from consideration this session before being voted on by the full senate. Lisa reports that the bill's author, Assemblyman Lloyd Levine of the San Fernando Valley, is reworking the bill to address the concerns of he Senate Local Government Committee and will hopefully get it passed in 2008.