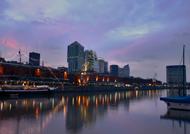 In the ever-expanding list of favorite places for travel, Buenos Aires is a city to be added. It is an uber cosmopolitan city full of life, grand European architecture and cheap things. Including its sprawling suburbs, this huge city is home to 13 million portenos (the term for the port city dwellers).
The center of town is busy and loud with shoppers and well-dressed workers scurrying to and fro while persistent leather salesmen try to persuade tourists to come into their store because "it's the best quality, amigo." And, in some of the more residential, leafy neighborhoods, warehouses are being rehabbed into loft apartments and young urbanites chat over cafe con leche.
La ciudad is cheap!
Up until the economic crisis a few years ago, Buenos Aires was Latin America's most expensive city, if not one of the world's. But no mas. In 2001, all hell broke loose and the local currency, the Argentinean Peso — fell to a third of its former value and has pretty much stayed there. The subsequent political instability led to four presidents coming in and out of power in only 10 days. Soon bank accounts were frozen and thousands of people saw their life savings disappear. (It's very sad for the people there.) But if any silver lining is present, tourists can now flock to the "Paris of South America" and enjoy all it has to offer and more. For example, a good steak dinner at a nice restaurant may cost you $10. The same steak elsewhere would be $40 and up.
The leather es muy bueno!
Shopping is also full of savings … A great purchase included a beautiful brown leather jacket quasi-custom made for $80 and a smart suede belt for $20. The most common phrase heard in the dozens of leather shops along Calle Florida, the crowded pedestrian street, was "we eat the meat," when asked about all this leather and the cows that are dying for it. Which is probably true, since there are more steakhouses in Buenos Aires than ever. (Sorry vegetarians …)
City of Thriving Neighborhoods
Buenos Aires is a city of neighborhoods: Palermo Viejo is the hippest — with block after leafy block of boutiques and bars filled with hipsters and sidewalks filled with young kissing couples and other dog-walking residents. There's a lot of construction happening here, too, with new condos being built. The Old Palermo neighborhood is separated into two smaller enclaves — Palermo Hollywood and Palermo Soho. And each one lives up to its name. There are lots of film production companies and TV stations in one area and the other is filled with cute trendy boutiques and ethnic restaurants and bars.
Recoleta is the 'hood of the rich. It is the Gold Coast or Beverly Hills of Buenos Aires, with all the designer shops lining Alvear Street, where the 'ladies who lunch' peruse the racks of designer everything. It is also home to Evita who peacefully rests in the grand Recoleta Cemetery. It looks like its own mini-city, with block after block of marble and granite mausoleums.
San Telmo is a beautiful old neighborhood with shop and cafe-lined cobblestone streets. It originally was full of the city's wealthy, until a few little nasty diseases like Cholera and Yellow Fever scared them away. Now, it's having resurgence and is artsy and cool and full of young people. It's kind of like Greenwich Village in NY or Chicago's Wicker Park.
Puerto Madero is the old port that is currently being renovated like waterfronts in other cities. Old hulking brick warehouses are now cool, expensive lofty condos. And tons of restaurants are opening there giving folks a place to stroll on the water after work. Farther down south on the water is scruffy blue-collar La Boca, home to many Italian immigrants and the world famous futbol (soccer) team, La Boca Juniors and their stadium, La Bombanera. The steep concrete mass literally shakes during games as the fans go crazy stamping their feet. During a rowdy Sunday home game, you can easily hear the chants from blocks away, "Boca! Boca! Boca!"
Take a fun four-hour bike tour of the city, and not only will you see the sights, you can also hear some of these interesting historical tidbits:
1. The Tango was originally a dance between two men 'fighting' over a prostitute. Then this dirty, dirty little dance transformed into the men just dancing with the prostitute. And of course, today, it's been 're-released' as a classy, European art form … little do they know …
2. The Ecological Reserve and beach on the Riverfront (Buenos Aires sits on the banks of this wide river that empties into the Atlantic Ocean and separates the city with the southern coast of Uruguay) is actually a kind of landfill. It was created when the city created Avenida 9 de Julio — the so-called widest street in the world. They actually tore down several beautiful buildings to make this street and dumped the building 'chunks' here. Today someone had the bright idea to plant trees and grass and make the place a peaceful park and wildlife reserve. Odd and cool at the same time.
3. There have been tragic times for Buenos Aires. Like many of its Latin American counterparts, the government here has suffered some truly dreadful and embarrassing moments. From about 1976 to 1982 Argentina was under military rule. This government decided to "do away" with many young liberals who spoke out against it. In this time more than 30,000 people (mostly college-age) were captured, tortured, and probably killed, never to be heard from again. And, this was just about 20 years ago. Justice was never served. And just weeks before the current president attempted to put the military leaders from that time on trial, a high-ranking officer with lots of information, named Jose Lopez, had vanished. Every Thursday the "mothers" of the "disappeared ones" march on Plaza de Mayo in hopes of finding their sons who have now been "missing" for more than 20 years. Only 80 bodies were said to have been recovered.
But from visiting here today you would never know about some of the political and economic issues in the country's past. The city folk are laughing, spending, and drinking coffee and their favorite Malbec wine, enjoying life to the fullest. Being here among all this coolness will have you thinking about how life goes on for so many people everywhere all over the world. While we don't hear too many people mention Buenos Aires as much as European capitals, it is very similar and may even be cooler …
Read Lisa Lubin's travel blog at http://llworldtour.wordpress.com/