Kimberly Kimble Gast: Saving Lives Through the Loss of Her Own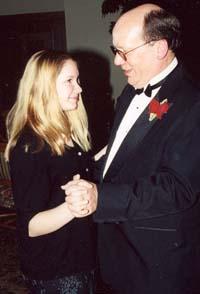 Many have heard, or maybe even received a warning e-mail, with one of the many versions of the old urban legend — a traveler wakes up in a bathtub filled with ice, and realizes they have been drugged and one of their kidneys is missing, stolen by organ thieves. The 2002 film "Dirty Pretty Things" told the tale of freedom obtained via illegally obtained organs, all of which conjure up negative connotations about organ donation.
April is Donate Life month; and many work to dispel these myths. Many work to educate that the idea of organ donation should not be equated with negative ideas. Truth of the matter is, per the Donate Life Web site, more than 100,000 men, women and children await organ transplants across the nation to save their lives.
"With every decision to donate, an average of at least three lives hang in the balance," said Bryan Stewart, director of communication for OneLegacy, a federally recognized organ procurement organization, serving seven Southern California counties.
In the fall of 2003, a young girl, Kimberly Kimble Gast, 15, was killed in a car crash in which she received a blow to the temple. She was an organ donor; five of her organs saved four lives.
Starting her sophomore year and a captain of her junior varsity cheerleading team at Agoura High School, in Agoura Calif., Gast was hit by a driver with a .24 blood alcohol level — three times the legal limit. Two others were also killed in the accident, and six were seriously or moderately injured.
Gast had been living with guardians at the time, whom she knew quite well, as her mother had passed away several months earlier. Because of Gast's disappointment over her mother not being able to donate her own organs, the young girl's loved ones knew that her wishes were to donate.
"Everyone pretty much knew her wishes … the decision was simpler than it normally would be during this difficult time … " Michael Murrie, guardian of Gast with his wife Jackie, said.
"When we got the call and I was told she was in a coma," her sister Erin Calderon said, "I knew she would die. My mom was in a coma and then she died … we never questioned we would donate," Calderon said. "My sister said that she wanted to help people."
In December 2003, Murrie sent letters to Gast's organ recipients, and over the following months, anonymous letters were exchanged. The Murries and Calderon met one of the four recipients, Gina.
"Meeting her made me feel like my sister blessed their family involuntarily through this," Calderon said. "I was so grateful that Gina's kids didn't have to go through what me, my sister and brother went through losing our mom."
Murrie concurred: "It turned out to be one of the greatest comforts of the whole process … that her death was not completely in vain. Others are enjoying life because of [Kim]."
It is rare for meetings between donor families and recipients to take place; less than two percent of families meet each other. The parties can meet only after a series of anonymous letter exchanges followed by an analysis on a case-by-case basis by a federally recognized organ procurement organization.
Stewart explained, "Initially, anonymity is maintained because it is an emotional time for both sides. A family knows they did the right thing, but may choose to close that chapter — they may or may not want to be part of a new life. And there may be a certain amount of guilt from those that received the organs."
If both sides decide to meet and are psychologically determined to be able, a meeting is facilitated. "Meeting is a deeply and profoundly emotional experience. Both parties must be ready to embrace the relationship," Stewart said.
Eventually all the recipients wanted to meet — and in the interim, during the summer of 2005, the group was approached to be part of a reality series pilot to air on Bravo. Everyone decided to wait to meet on the pilot, yet network delays during the planning stages delayed their meeting. But, they continued to wait for the show.
"I was holding out with hope for the story to be told to a broad audience," Murrie said. "I was willing to wait under those circumstances. It is an important story; it's a story of faith — how God makes good out of bad — and of organ donation awareness."
Murrie said he wanted people to see who Gast was. "Most powerful was how resilient she was dealing with the problems with her mom's illness and disabilities, the money problems and the stress," Murrie said.
The group did eventually meet and the pilot was filmed. Calderon, although grateful for the process, said, "The one thing I wish they showed more of was how my sister died. She died because some idiot decided he could drink and drive — it's not okay to have 20 beers and get into a car."
But the whole process, she said is a testimony on how great people and God can be. "My sister loved to be the center of attention," she said with a laugh. "She was such a ham, so I knew she would have wanted to be part of the show."
The show took the viewers through all the emotions of each recipient's story. "I learned things I didn't know about them and their conditions. I didn't realize how sick one recipient really was," Murrie said.
Both Calderon and the Murries said that meeting the other recipients was uplifting. In the pilot, each recipient talked of "feeling" Gast, and they are grateful for the decision she made. The man who received her kidneys talked about slight feelings of sensations at his kidney, and was told it was normal to feel those. He looks at it as a reminder of her life.
"I bet that's Kim, telling me she's there," he said.
During the show, Calderon was thanked for saving lives. But she says, "My sister saved lives. No one is a hero but Kim."
After completion of filming, NBC decided not to air the pilot.
"I won't even try to speculate about that," Murrie said.
Both Murrie and Calderon were grateful to meet all the recipients, and said they would continue to maintain contact. "They have questions about Kim; I still have a lot I want to learn," he said.
In a time when an organ donation decision needs to be made quickly, family members often times don't know the wishes of a loved one. However, 15-year-old Kimberly Kimble Gast had made her wishes known before her unexpected death. She saved lives through the loss of her own.
Additional information about organ donation:
Stewart said one of the myths that exist about organ donation is that people believe that doctors will not work as hard to save them if they are registered organ donors. "It is two different processes," he explained.
A patient is first pronounced brain dead by a medical team, as Gast was. Then an organ procurement organization is contacted to work with families for transplant procedures. "People feel that donation happens more often than it does," Stewart said. "Only 1 percent of all deaths are under the condition of brain death."
If the heart stops, there is no blood or oxygen pumping to the organs to keep them alive for donor eligibility; but when the brain is dead, the heart doesn't stop pumping blood.
Stewart said additional myths include religious beliefs, "yet every major religion supports it [organ donation]."
Others believe that only the rich and famous are at the top of the waiting list. "The top of the list is urgency of need and length of time already waited, along with other medical criteria," Stewart said.
"And the power of the media," Stewart said, "is much stronger," even with how hard organ procurement organizations work to dispel misconceptions. "Our hope is that viewers see it as fiction, not reality."
Additional Facts (per Donate Life Web site):
Anyone can be a potential donor regardless of age, race or medical history.
There is no cost to the donor or their family for organ or tissue donation.
Signing a donor card and a driver's license with an "organ donor" designation may not satisfy your state's requirements to become a donor. Be certain to take the necessary steps within in your own state to be a donor and ensure that your family understands your wishes.