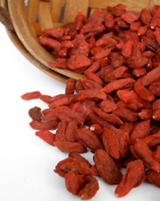 I was walking through the Los Angeles Earth Day fair this year and came upon a company at one of the booths giving out samples of a new brand of Goji juice named GoChi, developed by a company called FreeLife International. It was delicious and people were flocking to the booth. A devotee told me after drinking this juice for several months, she had seen a whole new elasticity and firmness to her skin. Needless to say, my interest was piqued.
After researching this little berry, I discovered it has been used throughout Asia and in traditional Eastern medicine for centuries, touted for its unparalleled ability to promote health and balance the body's energies, especially the "vital life force" otherwise known as chi. It recently gained a lot of popularity in the States, with many trainers and nutritional experts recommending it for its plethora of benefits.
Some of the Web sites I found made some pretty lofty claims. For example, one site claimed the scientific studies reveal that the world's oldest, healthiest people eat and drink daily servings of the Goji berry. Some say it is the most potent anti-aging solution on earth and that in areas of the Himalayas, tribes of people live to be 100 and older, due to their fruit and vegetable-rich diets, in combination with daily doses of Goji.
So this new brand, GoChi, is the first to develop a proprietary process, called the Spectral Signature LBP Process, which identifies, isolates and selects only those berries that deliver a consistently high potency of the most important element in Goji, called the lycium barbarum polysaccharides (LBP) complex. The LBP is a group of glyconutrients is not found in any other plant, and is the secret to the Goji berry's amazing health benefits, which includes increased energy, improved athletic performance, stress reduction, better sleep, decreased free radical damage and feelings of contentment and happiness.
I decided to give GoChi a try, so I could see what all the fuss was about. Or maybe it was because the booth was sold out of all its bottles, and I, like so many others, want what I can't have! Either way, I ordered a bottle and gauged the results for 30 days. The packaging said I should feel results after 14 days, so I figured 30 would definitely be enough time.
The directions said to start my day off with four ounces per day. You can drink it solo, or mixed with your favorite hot or cold beverage. By the recommendation of a nutritionist, I chose to start with two ounces and to down it like a shot, to give me a little perk-me-up in la ma¤ana. At first I didn't really feel different, but after a few days, I did one of my shots right before working out and that's when I really felt it. It gave me significantly more energy during a hardcore circuit training session and I was able to increase my cardio by 15 minutes. Hmmm. After one week, I upped my dosage to four ounces, two in the morning and two in the afternoon.
Then after about two and a half weeks, the results were apparent. I slept much deeper and better and was able to wake up easier (I am usually a huge grouch in the mornings). In addition, I feel more focused and my mind is clearer. I continue to be more energized during my workouts and typically drink it right before to get the most out of it. I think it's too early to notice any difference in my skin but the energy boost and increased stamina is enough motivation for me. My recommendation is to definitely give it a try — it's tasty and gives you a solid boost.
GoCHi is preservative-free and is certified kosher and halal. For more information or to purchase, call 877.874.2403 or visit www.ongoji.com.
Chaton Anderson is a Writer and the Publicity Director for TheSavvyGal.com. A product and pop culture addict, she is always looking for the coolest, hippest things on the market, as well as the newest health and fitness trends to hit the scene. Email her at Chaton@TheSavvyGal.com with questions or leads on products and services on the cutting edge.