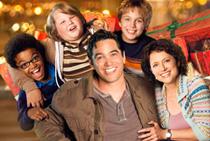 The holidays wouldn't be the same without the seasonal specials featured on TV. This year, in the mix of watching all the holiday classics, there is a new feature to capture your heart.
"The Three Gifts," starring Dean Cain, Jean Louisa Kelly and Mimi Kennedy, will premiere as part of Hallmark Channel's Holiday Countdown, Saturday, December 19 (8:00 pm ET/PT, 7:00 C). The Savvy Gal caught up with Kelly to get her take on the upcoming film.
"In the movie, we have what it takes to rise to the occasion," Kelly explained about the premise. "There's a strong element of faith — not about a specific religion, but a faith in something greater than ourselves on which we rely to help us make it through."
The story begins when an orphanage is scheduled for renovations during the holiday season; owner Rita Green (Kennedy) places some of the children in a temporary home. The three eldest boys, Mike (Dylan Sprayberry), Henry (Alex Zubarev) and Ray (Spencir Bridges), move in with Rita's nephew, Jack (Cain), and his wife, Cherie (Kelly), who own a toy company. Jack is anxious about taking care of the boys who are infamous for their troublemaking around town. Cherie, however, is excited as she and Jack were unable to have children of their own. Soon, the couple realizes that aside from the challenges they expected, there were a fair amount they could have never predicted.
Kelly's dexterous acting skills, as well as her personal experience, enable her to handle her part as Cherie with tremendous ease and accuracy. Known best for her role in "Yes, Dear," the TV comedy series in which she starred for six hit seasons (2000-2006), Kelly has also recently appeared in shows including "Grey's Anatomy," "Ghost Whisperer" and "Eli Stone."
In the 1990s, Kelly was cast in several made-for-TV movies, including the acclaimed Hallmark Hall of Fame entries "Breathing Lessons" and "Harvest of Fire." In 1995, she played singer Rowena Morgan in the movie "Mr. Holland's Opus," starring Richard Dreyfus. That same year, she appeared as Luisa in Michael Ritchie's musical film "The Fantasticks," where she once again had an opportunity to do what she loves most: sing and dance.
As a devoted mom in her personal life, Kelly has found that parenting is nothing short of a team effort.
"My experience has taught me that I don't have all the answers and as parents, we're limited," Kelly said. "Having children poses challenges and I've learned that each of my kids are unique individuals, just like the kids in 'The Three Gifts' turn out to be."
"The Three Gifts," a Hallmark Channel Original Movie premiers Saturday, December 19 (8:00 pm ET/PT, 7:00 C). It encores Saturday, December 19 (10:00 pm ET/PT, 9:00 C), Sunday, December 20 (12:00 am ET/PT, 11:00 C) and (8:00 pm ET/PT, 7:00 C), Friday, December 25 (8:00 pm ET/PT, 7:00 C) and Saturday, December 26 (2:00 pm ET/PT, 1:00 C).