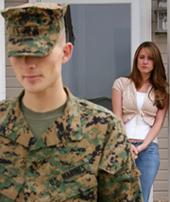 When I agreed to marry my Army-bound husband, I thought mostly about the adventure. His first duty station was Germany, so I immediately set out to find a job to continue what I hoped was a budding journalism career. I soon found it wasn't as easy as I'd hoped: jobs in my small community, especially in journalism, were scarce.
The frustration with my halted career path was only exacerbated by the long absences I experienced from my husband while he was in "the field," or a training mission, which could last anywhere from a week to three months. I also lost my sense of identity, as my existence became based solely on my husband's. Everything from doctor's appointments to car insurance is accessible only through his Social Security number.
But I soon discovered I wasn't alone. I was just one of many women who serve in these "silent ranks." And this group of women is the cream of the crop — intelligence officers, business leaders, counselors and journalists — who all postpone, and sometimes forfeit, their careers to support their husbands and their country.
These three women, whom I've secretly dubbed "Hooah Wives," have refused to let even their latest sacrifice — all of their husbands are about 10 months into a 15-month deployment — keep them down. As for me, the way I cope with this challenging lifestyle, besides my faith, is simple. I look to women like these three as a source of inspiration and know that no matter what happens, I have a sisterhood to lean on.
Christine Miller: The "single" parent
Baltimore native Christine Miller sits in her backyard, holding her 8-month-old son as her daughter watches one of her favorite movies inside. In this setting, rocking back and forth in a porch swing, she looks like the quintessential mother. The only thing missing from this picture-perfect scene is dad in the background, manning the grill.
But with her husband gone more often than not, as in many other military communities around the world, Christine most often plays the role of both parents.
"You have to be both roles," she says. "You have to be everything. The disciplinarian, the playmate, the teacher, the friend."
Before marrying her high school sweetheart six years ago, Christine said she was living her dream. She was in her second year as a high school guidance counselor. "I was kind of in my happy place," she said.
After getting married and moving to Germany, she worked for a while, but when her job was discontinued and she got pregnant, she stayed at home. But even though the family's plan changed, the Army's didn't. Her husband missed all but the last six weeks of her first pregnancy because he was deployed.
"I found out I was pregnant right after he left for Kosovo," she recalls.
When she gave birth to her son in December 2006, two girlfriends held her hands in the delivery room. Her husband came home a week later and spent two weeks with his newborn son. When he returns from Iraq, his son will be almost a year old.
"At this point I just don't know any different," she says, nonchalantly. "I don't know what it's like (for him) to come home every day for lunch, and come home again at 4:30 or 4." Christine has also had to get accustom to her husband not being available for holidays and birthdays. "I think we've been together for two anniversaries of the six," she says. She fills the void by hanging out with friends on special occasions. "You share it with other people," she says. "I try not to be alone."
This year, in fact, Christine went a different route for her birthday, co-hosting a "Guy's Night In … For Girls!" It had all the trappings of a typical guy's night. There was a poker set, cigars and an assortment of guy-friendly fare — hot wings, mozzarella sticks and chips. What was most noticeable about this "guy's" night was the absence of any actual men.
The irony in the event's theme — since she must be both mom and dad — is evident. Irony aside, Christine feels socializing is crucial. "I think it's the counselor in me to have that connection with people in the same situation," she says. "You can easily get mired in the fact there's a deployment."
As the evening winds down and Christine simultaneously tends to a coughing infant and bids her guests goodnight, it's easy to see why many military spouses compare themselves to single parents.
Christine agrees it sometimes feels that way. But, she adds, "I have a tremendous amount of respect for single parents. At least I know there's an end."
Heather*: The former Sailor
Heather was, by all accounts, on her way to a promising — and lucrative — career in the intelligence field. The California native and her then-Navy husband met in 2001 during her first tour in the Navy. After they married in 2003, he transferred to the Army and was sent to Korea, while she served in Afghanistan. After trying unsuccessfully to receive a guarantee they would be stationed together, Heather and her husband made a tough decision.
"We had to make a choice, she said. "One of us had to get out." So after six years, Heather left the Navy, figuring her military job skills would be more transferable in the civilian world.
A year later, Heather is working as a career counselor, as job opportunities in her field are hours away in larger communities. Having to postpone her career, she said, isn't easy.
"It's tortuous. What I use to do has a shelf-life," she said, referring to the clearances and training she must keep up-to-date.
Though it would be easy to become bitter, Heather chooses not to, and instead uses her civilian education and military experience to help soldiers leaving the Army find a new career path.
"It was my choice," she says about her decision to marry and eventually leave the Navy. "I didn't get married thinking if things get really, really tough I would bail out."
She's also had to adjust to life as an "Army wife." "It's kind of like being an unrecognized parallel person," she said. "It's like a big walking identity crisis."
She also admits the transition from military member to spouse wasn't what she thought it would be. "Stepford," she says, stating what she thought was the biggest stereotype about military wives. "That's what I was afraid of. It was probably worse in my head than it has been."
Heather manages to maintain an identity apart from her husband's by continuing to work and pursuing interests outside of the Army. She has recently traveled to France with girlfriends and will visit Scotland this month. Her two dogs, Jake and Brutus, occupy her time at home. She admits staying true to herself is more difficult with her husband gone.
"You rely on your husband to remind you who you are, then they're gone," she said. "It's tough."
She also says it's OK to have a bad day. "You allow yourself to get into a funk every once in a while," she says. "[But] you can't allow it to spiral out of control."
Though she admits to having the occasional bad day, her outward appearance doesn't show it. The one accessory, besides her high-heeled shoes, Heather sports is a smile. Any sacrifices she makes now, she says, are worth it in the long run, and she's content — for now — to support her husband's career.
"For me, the most important thing is to have him to curl up on the couch with."
*she prefers her last name not be printed because of the sensitive nature of her former job
Wendy Sledd: The beauty queen
Wendy Sledd's life is like one straight out of a movie. A victim of child abuse who was abandoned by her parents, the Oklahoma native suffered from Scoliosis and had a severe speech impediment requiring years of therapy.
Today, there is no evidence of her past hardships, except for the fire it gives her to press on.
Wendy has been married for 20 years, five years fewer than her husband has been in the Army. Before moving to Germany, her resume was more than impressive. She worked for 15 years as a news reporter and anchor before becoming an event planner. She also served as a speechwriter for a former Army Chief of Staff. When her husband was stationed in Germany, he asked her not to work because of the volunteer responsibilities she would be taking on. This would be her first time not working outside the home.
"I did go through a grieving process," she said. "I questioned my self-worth because I wasn't making any money.
That's when, she says, she re-discovered pageantry, which she'd done as a child.
"I had lived here two weeks when I was crowned Mrs. Germany," she explains. She was the first American to receive the honor. And a year later, when she was crowned Mrs. Europe Galaxy, she set the same record.
Wendy is also a regular speaker at various community and countrywide events, and has traveled around the world to spread her positive message during her 2006 and 2007 reigns.
Though many in the community immediately associate her with her stints as Mrs. Germany and Mrs. Europe, she maintains she is more than this. "It's just a crown, it doesn't control my life," she says. "That's just one facet of my life."
And those facets are many. Amongst her many other volunteer activities; Wendy is active in the community chapel and station chairwoman for the Red Cross.
Wendy's life is a testament to what is possible when one refuses to let circumstances dictate her entire life. "I think it's all about attitude," she reflects when asked how she deals with her husband's long absences. "I think we need to be grateful for the opportunities we have."
One thing to always make Wendy smile is the various reality shows depicting relieved spouses reuniting with their loved ones after a few weeks of being apart. A few weeks, Wendy says, would be a piece of cake.
During this trying time, where ceremonies memorializing fallen soldiers come one, maybe two times a week, Wendy remembers she is blessed. "It's just a point of being happy with what you've got," she says. "I've had a challenging childhood … it could be so much worse. Anytime you start feeling sorry for yourself, look around."