Home Buying — How To Avoid Paying Too Much; Part 2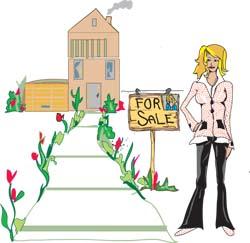 In the first part of this article, we learned that finding the right home for your family's needs is hard, but managing to avoid paying too much is another mastery of skills entirely.
Whether you're a first time buyer or a veteran of the real estate game, buying a home can be a mammoth process. It's an emotional time often accompanied with difficult choices. Those same difficult choices are tied directly to costs and your ultimate return and happiness.
The following is the continuation of tips to not only show you how to make sure you've found the right house, but also how to negotiate the right price.
Hire a professional home inspector
Failing to do so makes the biggest home buying mistakes list.
Spending a few hundred dollars for a professional home inspection may be the best investment you'll ever make. A professional inspector brings experience in examining a great many homes, good evaluation standards and an unbiased perspective. And a written report can be an excellent negotiating tool.
A typical inspection looks at:
Foundation (slab, crawlspace, basement, etc)
Electrical, heating and plumbing systems
Floors, walls and ceilings
Attic
Roof
Siding and trim
Porches, patios and decks
Garage
Property drainage
Make sure you accompany your inspector on the tour. You'll learn a lot about the home you're thinking of buying.
Once you have your evaluation, the decision to proceed is yours. A home inspector only gives you a professional opinion of the home's condition, not advice as to whether or not you should buy.
Not all fixer-uppers are good buys
You may be the type who looks at a home in need of significant work as a challenge and an opportunity to make money. Many people have bought fixer-uppers at below market rates, invested a little sweat equity or a little more money on renovations, then eventually put it back on the market at a profit.
But if it isn't priced low enough, you won't recoup your investment of time, trouble and expense. Before you proceed, do a careful evaluation of what you'll have to invest and consult your real estate professional to learn what you can reasonably expect to make when you put the home back on the market.
And be sure to include the unexpected. There's no such thing as a "sure thing."
Choose a home with an eye toward future needs
Buying a home is a large investment. If you can stretch a little today to purchase a home that you can grow into — whether it's having room for future children, running a home-based business or having room to build an addition — do it. In the long run, it will probably be less expensive than moving up to a marginally larger home when the need does arise.
Ask for a written comparative analysis
One way to ensure that you don't offer too much for a home is to ask your agent to prepare a written comparative market analysis. A CMA will show you the sale prices of comparable homes in the neighborhood. It also lists the asking prices of other homes in the area currently on the market.
You may find that the asking price is above what comparable homes in the neighborhood have listed at. Or you might even find another home in the area that's a better choice. When you make an offer, you can use the CMA as evidence to show the seller why you believe your offer is reasonable.
Learn as much as you can about the seller
It's true what they say … Knowledge is power. The reason behind a sale can often be used to your competitive advantage during negotiations. For example, a seller whose company has transferred him to another city is probably more motivated to sell than someone who is still looking for a new home.
Other signs of a motivated seller include a vacant house, or a house that's been on the market for several months with several reductions in the asking price.
Keep your own situation to yourself
Information can be used against you as well. How much you're willing to spend, the size of mortgage you can afford, your move-in deadlines — it all can be used to extract more money out of your pocket. Be sure to tell your agent everything they need to know to be effective on your behalf, such as, how much you have for a down payment, the size of the mortgage you can afford, etc. However, keep your personal circumstances and timeline to yourself.
Use time to your advantage
Just as you have a time frame in which you wish to buy, a seller almost certainly has a deadline of his own. If you can learn the seller's deadline, it's another piece of information that can be used to negotiate a better deal.
Check your emotions at the door during negotiations
One of the costliest mistakes you can make is letting the sellers know how much you love their home. Once you've let it slip, you can forget about negotiating the price; the other side knows how motivated you are. In fact, a seller may see it as an opportunity to squeeze a little more money out of you even when you've made a good offer to start.
No matter how wonderful a home is, no matter how much you want it, keep it to yourself.
Don't be afraid to negotiate
You may be the type who prefers a hard-and-fast price tag on everything. "I don't like to haggle" is your approach. But negotiation is the key to getting a good deal. If your goal is to get the best home possible for the least amount of money, then you had better be prepared to play the negotiating game.
Stay out of bidding wars
Sometimes the seller's agent will try to scare a hesitant buyer with the threat of another serious potential buyer. Don't fall into this trap; it will only cost you money.
If there is another buyer, then the seller's agent will try to get a bidding war going. In these situations, whomever wins also loses because the buyer ends up overpaying.
If there isn't another buyer, there's a good chance that the seller's agent will come back with "the other deal" fell through. Be sure to let the other side know that you might be interested if that happens before you walk away.
Know your hidden costs
There's more to buying a home than the mortgage. Don't forget to factor in mortgage insurance, appraisal fees, inspection fees, title insurance and every other dollar you'll have to spend in order to know what you're really paying for your home. With the help of a good agent, you should identify all of the costs.
Happy Home Hunting!
Part 1 was published on TheSavvyGal.com on April 2, 2007. Devalle is a Realtor in North Carolina: www.ClaytonNCRealEstateAgent.com; www.RaleighNCRealEstateAgent.com