Home Buying — How To Avoid Paying Too Much; Part 12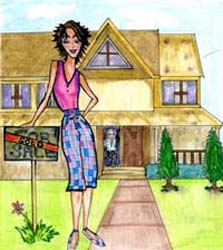 Whether you're a first time buyer or a veteran of the real estate game, buying a home can be a mammoth process. It's an emotional time often accompanied with difficult choices. Those same difficult choices are tied directly to costs and your ultimate return and happiness.
Finding the right home for your family's needs is hard, but managing to avoid paying too much is another mastery of skills entirely. The following will show you not only how to make sure you've found the right house, but also how to negotiate the right price.
Know what you're shopping for before you start
This first step is understanding what you are seeking. Your family has certain needs. And, there are many desires, which may or may not ultimately be fulfilled. Take an unemotional look into those needs and desires.
Do you choose a three-bedroom home with room for your family to grow or the one with a large back yard, perfect for entertaining? Is having a large kitchen more important than having an extra room?
Two lists should be created — a wish list (your desires) and a reality list (your needs). The reality list is filled with "non-negotiables." Prioritize the lists and ensure that the goal is clear — your next home needs to have most, if not all, of your reality list items and hopefully a few of the top wish list items. These lists will keep your efforts channeling in the proper direction.
Shop for a mortgage before you shop for a home
Getting a loan pre-approval is the smart way to shop for a home. It tells the sellers that you're a serious prospect and you'll know in advance the maximum mortgage you can afford. Make sure you get a commitment in writing.
It's easier than ever to qualify for a home loan. Lenders have modified qualification rules and created programs designed to help people even if they have problems in their credit and employment histories. Many programs dramatically reduce down payments, so if money's tight now you can still make that purchase.
Pick the right real estate professional
From finding the right home to selecting a lender to getting proper property inspections to negotiating the best deal, it can be taxing for even the hardiest of souls. You need the right Realtor on your side.
The right real estate professional must have a high level of care, skill and due diligence to ensure your best interests are at heart. They also have a team of other professionals to put at your disposal — lenders, lawyers, home inspectors, movers, etc.
Make sure your agent knows what you're looking to buy
Once you have a clear understanding of your reality and wish lists, make sure your agent has those same lists. This communication is critical.
Otherwise, you'll both be wasting your time looking at homes you're really not interested in and you could possibly miss out on the one that truly meets your needs and desires. A good agent will ask you many questions about what you're looking for and what you can afford. And then they'll listen carefully to your answers.
Clarify whom your agent represents
Make sure you know whom the agent represents. All agents have the responsibility to be open and honest with you and to let you know whom they represent (the buyer, seller or both). On-site agents of new communities most often represent the seller (new home builder), not you.
Use your real estate professional to narrow the prospect list
A good agent brings to the table an in-depth knowledge of the current housing inventory and continually updates that knowledge by touring homes as they are placed on the market. This is to your advantage. Trying to personally see every available home that might fit your needs would be an overwhelming process. If you are thoroughly communicating your needs and desires to your agent, then your agent can help you narrow down the list of prospective homes to those that best suit your family. This will save you much time and energy.
Yes, that too … location, location, location
The desirability and resale of your home-to-be depends on location more than any other single factor. The simple truth is that the value of your home is affected by the homes that surround it.
Assuming you've already considered the items that make up a desirable home and community — character, quality of schools, access to work and services, recreational facilities, entertainment, etc. — there are several elements that combine to make a good location.
Your first consideration is the neighborhood. Every neighborhood has its own unique character; you need to make sure you'd be comfortable in the one you're thinking of living in. Take a long walk and observe carefully. Do people take care of their yards and homes? Are the yards fenced? Do children play in the streets? Talk to the neighbors and ask questions that give you a better feel for the area. Be careful not to appear judgmental — you might be talking to a future neighbor.
If the neighborhood is to your satisfaction, look at homes on the market in the area. Extremely large homes surrounding smaller ones tend to appreciate less than a large home among other large homes. Conversely, the smallest home in a neighborhood tends to be "pulled up" by the other homes on the block. However, it might take longer to sell that smaller home when the time comes because many people are unwilling to pay extra for the neighborhood.
The outer edge of a neighborhood is usually not good for resale value. There are noticeable dividing lines between an "unlike" neighborhood. It could be a difference in architectural styles, home size, property use or something else. Look at a home in the middle of a community of similar homes; it will hold its value better.
An exception to this rule is a home on the edge of a neighborhood bounded by woods, park land, a golf course or other open space. Natural boundaries appeal to most buyers and these "edge" homes can actually command a higher price. The exception is when there's an unpleasant use planned for the open space. An open field with a babbling brook is nice; a new freeway, strip mall or warehouse is not.
Other things that can negatively affect property values are traffic, sounds, smells, etc. Be sure to give the neighborhood a long, hard look. Preview the area at various hours of the day. The home you're interested in may be perfect, but if the neighborhood has problems, your investment won't be worth as much when the time comes to sell.
Show a little interest in everything you see
As you tour the homes on your list, find something to admire in each one.
If you don't show any interest until you've finally fallen in love with a home, then you've put yourself at a competitive disadvantage. Never let anyone know how badly you want a home — it will cost you money!
Shop with your head, not your heart
Don't forget the purpose of your reality and wish lists. Shopping for a home is an emotional process. Your heart will cost you money; using your head will save the dollars.
Don't ignore red flags when evaluating a home's pluses and minuses
When evaluating the advantages and drawbacks of a particular property, be sure you know the difference between acceptable and unacceptable problems.
Some issues — peeling paint, worn carpeting, ugly wallpaper — are cosmetic and can easily be remedied. In fact, you can use these "problems" during negotiations to lower the asking price; after all, you'll need to spend money to bring the house up to date. Make note of what you see that can be used to your advantage. Although, do hold back from nitpicking. If taken to extremes, you could end up alienating the seller and creating a hostile atmosphere.
Other problems may be warnings to walk away. Major foundation cracks, evidence of previous water damage, signs of serious dry rot or termite damage, antiquated electrical systems or plumbing — any one of these may cause to reconsider your interest.
Don't let a house's positive attributes blind you to very real problems. If you do, the chances are good that you'll end up spending much more than you ever expected down the line.
Part 2 will cover house inspections and more. Devalle is a Realtor in North Carolina: www.ClaytonNCRealEstateAgent.com; www.RaleighNCRealEstateAgent.com