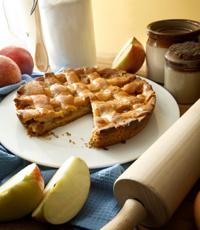 Even before the timer had gone off, the aroma seemed restlessly eager to escape the shackles of the oven. The smell, via every opportunity available, found its way to those who awaited its arrival. The rich steamy flavor of apples, with hints of freshly ground cinnamon and nutmeg, felt more like a piece of heaven than a golden brown pie. About half a dozen of us stared at this piece of artistry, quietly hoping someone would lead the way.
It was my first class at Sur La Table in Chicago. Located on Walton Street, one of the finest streets in downtown Chicago, this store is a must visit for anyone hunting for merchandise pertaining to the kitchen and home. Of course, I was here for a very different reason — I was attending Baking Basics: Perfect Pies and Tarts, a class deemed as one of the most popular classes offered by the store.
The instructor, a veteran baker, was meticulously sharing his special heirloom recipe, while most of us scrambled to note his every word of wisdom. With confidence born off decades of experience, he sliced the different varieties of "good cooking" apples (granny smith, Macintosh, golden delicious) and tossed them into a generous scoop of sugar mixed with nuances of lemon juice, giving life to the flavors. He assembled the mixture onto a prepared pie dish and draped it with a pastry round (dough prepared with flour, water and shortening), fluting the edges with perfection. In testament to the dough's softness, the instructor gently formed steam vents with the curved edge of a serving spoon.
The Pie
Right out of the oven, the tender-crisp apples in the pie, awash in sugar and cinnamon, perfectly complemented the wonderfully flaky crust. Although seemingly simple, served with a plain scoop of vanilla ice-cream, this hands-down creation was one of the best I've ever eaten. In the words of the great Leonardo Da Vinci — "Simplicity is the ultimate sophistication."
Apple pie is perhaps the most quintessential of all American desserts, but yet it is far from being the only sweet concoction. Traverse around the United States, and you will discover a plethora of regional delights each having their own timeless appeal. These local treasures might include a warm cranberry duff (upside down cake) encountered on a chilly New England night, a dried apple stack cake (layered cake) served at an Appalachian home, or a Pecan pie at a Thanksgiving meal in Southern America.
Just Good Baking
These "homespun" delights take us back in time and conjure images of baking traditions in the tiny towns of old-time America: wooden butter paddles, seasoned baking tins, butter churners and blue-tinted mason jars.
Home baking has always been an integral part of American life. Be it soft, gooey chocolate-chip cookies for your new neighbor, a funeral pie for the bereaved or simply some irreverently decorated cupcakes to raise funds at a Bake Sale, the American dessert is a symbol of warmth and hospitality — made as much for giving as it is for eating.
For those who aren't familiar, a funeral pie is a raisin pie prepared for family and friends at the wake of a funeral. As our instructor mentioned, this pie can be made at any season and can be prepared a day or two before the funeral. He adds, "there is a pie for every occasion — mincemeat and cranberry for Christmas, pumpkin and pecan pies for Thanksgiving."
Cupcake Madness
Delighted with our enthusiasm and as a special gift for the holiday season, the instructor decided to teach us how to make cupcakes, which were initially not part of the day's agenda. These miniature cakes are prepared using regular cake batter and baked in individual cup shaped moulds or muffin pans, lined with fluted paper cups.
Each of us had a cupcake to decorate. Taking cue from my childhood art class, I put my unfettered creativity to work. I placed the cupcake on the palm of my hand, spread a luscious layer of chocolate frosting and delicately embellished it with chocolate sprinkles and a heart-shaped biscuit. It was barely a few seconds and I had wolfed down my arty creation. So much for the fruits of patience being sweet!
Ready-Made Treats
In the little time that had, we made the regular vanilla cupcakes, but if you're looking to taste some cherished cupcakes, I recommend a visit to Swirlz Cupcakes in Lincoln Park area of Chicago. This homey store has some of the best cupcakes in town and I recommend the Banana Nutella cupcake with cream cheese frosting for anyone wishing to munch on these tiny morsels bursting with color, texture and sweet-tasting ingredients. As a Chicago insider, I urge anyone in the area to visit Sweet Life at Water Tower Place on the Magnificent Mile of Michigan Avenue. This tiny dessert counter has the best German chocolate cupcake in town. Topped with a melt-in-your-mouth frosting and chocolate curls, these are irresistible.
Speaking of miniature desserts, shortcake is another favorite of mine. This tender, moist cake seems to have originated with American colonist's appreciation of a Native American dish concocted with wild strawberries pounded into corn bread. I recall the time I had ordered the Strawberry shortcake at Grand Lux Cafe in Chicago. This round spongy cake topped with dollops of fruit and softly whipped cream is ideal company on beautiful summer afternoons in Chicago, and I would religiously drop by at this plush restaurant between one of my shopping escapades.
Americans are ingenious in the way they prepare delicious desserts using fresh fruits. From betties, cobblers, pandowdies, crisps and slumps there is as much variety, as the opinions on how to make them.
pple brown Betty, a popular fruit creation is an old-fashioned dessert that dates back to Colonial American time. The Betty is a baked pudding made with layers of sweetened and spiced fruit and buttered bread crumbs, and an optional splash of sherry. Legend has it that since it was a quick dish which could be made even while on trail, which was important when people took ages to get to places in horse drawn wagons.
Another American delicacy prepared using fruity ingredients is the "cobbler." As you would guess, this baked fruit dessert has a "cobbled" like biscuit-like topping and a filling of juicy summer fruits like peaches, apples and blueberries. The filling is accentuated with hints of ginger or vanilla and some lemon juice. Promising an untold delight in every bite, this dessert finds itself on the menu for potluck dinners and family picnics during the summertime. A sure relish for dessert gobblers!
Whether it is freshly baked brownies cooling on the windowsill, or chewy fragrant cookies enjoyed with a glass of milk, traditional American sweetmeats can be prepared with minimal fuss, and consumed with even more ease.
While the dessert spread in America might has been enriched over the years, old time favorites like the ubiquitous cookie evoke wonderful memories which we can never outgrow.