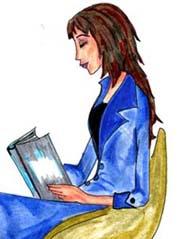 Savvy women love being gifted with books, especially the ones that help us master every complicated facet of our lives. Below is a list that offers something for almost every woman, from the fashionista to the budding entrepreneur to the serial dater.
For the savvy beauties in your life, including the fashionistas and product junkies alike, "Cosmo's Sexiest Beauty Secrets: The Ultimate Guide to Looking Gorgeous," is the definitive beauty bible. It serves up hundreds of insider tips and tricks, with info on everything from how to score a flawless complexion to working with the latest fashion and makeup trends. There are also great ideas for pampering yourself at home, fixing beauty blunders and strategies for glowing skin. Filled with pictures and how-tos, it reads quick and easy, like a magazine. It definitely dishes out some new techniques and is a fun read that won't require a big commitment. To purchase, visit "Cosmo's Sexiest Beauty Secrets: The Ultimate Guide to Looking Gorgeous."
For the environmentally conscious beauty, "The Green Beauty Guide: Your Essential Resource to Organic and Natural Skin Care, Hair Care, Makeup and Fragrances" is filled with information to help readers navigate the thousands of natural and not-so-natural beauty products. It includes a plethora of tips and dozens of unbiased reviews for every beauty woe, as well as 50 exclusive recipes made from natural, easy-to-find ingredients. Author and holistic nutritionist Julie Gabriel combines her passion for all things green with her knowledge and experience from 10 years of covering the beauty industry to share the best makeup, hair care, skincare, organic beauty detox, bottled water, juices for the complexion, vitamins and more.
"Aging Backwards: Secrets to Staying Young," is packed with secrets, tips and shortcuts for looking and feeling young. Author Jackie Silver is almost 50 and still gets carded when she buys wine, so it's safe to say she knows her stuff. Renowned as an "aging backwards" expert, she shares some very interesting facts and tips to improve your looks. I was intrigued by this tidbit: the smell of grapefruit makes a man perceive a woman as six years younger than her age. Hence the creation of her Aging Backwards Pink Grapefruit Lip Balm. Visit www.agingbackwards.com for more info.
I know I'm always shouting out the benefits of Carole Maggio's anti-aging products, but that's only because they truly work. For the woman who can't afford plastic surgery in this wretched economy, "Facercise: Give Yourself a Natural Facelift" provides an array of anti-aging techniques, including scientifically designed precision exercises that work directly on facial muscles to provide quick, dramatic results. Beauties like Rebecca Romijn and Virginia Madsen are big advocates of facial exercises, so that should provide some great inspiration to stray from the needle and give this book a try.
"A Year in High Heels: The Girl's Guide to Everything from Jane Austen to The A-List", by Camilla Morton is the ultimate style guide for all fashion forward females. The foreword by Manolo Blahnik piqued my interest, and before I knew it, I was laughing my way through this entertaining cocktail of practical advice and fabulous anecdotes that are sure to motivate New Year's resolutions that are anything but ordinary.
For the savvy entrepreneur, Alexandria K. Brown's "Power and Soul" is an inspiring collection of stories from the author and 42 other diverse entrepreneurs from across the globe, who share their profound experience of what it took to rise to the top. It's filled with real-life stories of obstacles overcome and situations you can absolutely relate to, and some serious insight on what it takes to manifest your entrepreneurial dreams and create prosperity in your life. You'll discover the secrets to conquering practically any business or personal challenge alike, while enjoying heartwarming stories that come straight from the soul. You know it's a good book when you can't put it down and don't stop thinking about it when you're finished! www.alexandriabrown.com/powerandsoul.html
"The Anywhere, Anytime Chill Guide: 77 Simple Strategies for Serenity," by Kate Hanley, offers natural solutions to 77 stressful situations, from bad hair days to dealing with agro people, motion sickness and computer crashes. The easy-to-use remedies are drawn from disciplines including yoga, meditation, Ayurveda and acupressure, and can be done in the midst of the most overwhelming day. Offering bite-sized serenity for busy women, the book is a great gift for anyone who is overworked, overtired, and in need of some serious chillin'. I especially liked the Banana Milkshake cure for a hangover!
For the travelers in your life, "The Fit Traveler" is a practical, fully-illustrated guide to using lightweight resistance bands for a full body workout. It's no bigger than a 200 page novel so you can take it and use it anywhere! They also offer a Senior Edition and are working on two more: "Fit Maternity" and "Fit Disabled." The hardcover edition comes complete with a free stretch band for exercising.
And additional suggested reads include: "Make Every Man Want You" by Marie Forleo; "20 Something, 20 Everything" by Christine Hassler; "Daughter-in-Law Rules" by Sally Shields (as seen in Star, recommended by Dr. Laura and as heard on "Martha Stewart.")
Sign up for our newsletter and learn how to win one of these books in our give-a-way!
Chaton Anderson is a Writer and the Publicity Director for TheSavvyGal.com. A product and pop culture addict, she is always looking for the coolest, hippest things on the market, as well as the newest health and fitness trends to hit the scene. Email her at Chaton@TheSavvyGal.com with questions or leads on products and services on the cutting edge.