Holiday Eating — How to Have Your Pie and Eat It, Too!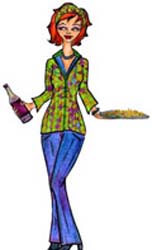 It's that time of year again. Whether it's Christmas, Hanukkah, Kwanzaa or the Winter Solstice that is meaningful, they're all reasons to celebrate. Food is always the focal point of any celebration, and even more so during the holidays. From Thanksgiving to the New Year's resolution on January 1st, there's nonstop eating for a month and a half!
Is it any wonder that each year around the holidays we pack on five or ten extra pounds that we then resolve to take off each New Year's Day? And if you don't lose the extra weight, then you're just incrementally increasing your weight each year. So what can you do to ensure you don't pack on the holiday pounds? After all you can't be rude and NOT eat!
THROUGH THE SEASON
Be realistic — healthy eating is a lifestyle, not a resolution. If it's not yet your lifestyle, don't sweat it; just realize that the holidays aren't the best time try. Instead, aim to maintain your weight — a much more manageable goal than trying to drop five pounds.
Create change — if your coworkers are constantly bringing in cookies, brownies, chocolates etc., set a precedent; bring in a tray of dried fruits and nuts or a platter of pre-cut fruit with some low fat peanut butter to dip.
Keep your distance — when possible, avoid the areas where the party platters are laid out. It's true what they say — out of sight, out of mind.
Spread the wealth — donate extra boxes of goodies to your local shelter or a food kitchen. This way you get them out of your office, and you help to spread the holiday spirit.
Increase your level of physical activity — you know the basic rule: calories in must be less than calories out in order to lose weight. Make thirty minutes of moderate physical activity a mandatory requirement of your day, even if your lunch break is the only time you can do it. Instead of lunch with a colleague, try going for a walk instead. This will help offset the extra calories you will consume during this season.
PARTY DAYS
Offer to cook/help — if you're in the kitchen cooking, you are less likely to overeat. Eating is as much a sensory experience as it is a gastronomical one. Just seeing, handling and smelling all those dishes will "fill you up." (Have you ever noticed that you eat less at your own dinner party then when you go over to a friend's party?)
Eat all day — instead of saving your appetite for the party especially on Thanksgiving and Christmas Day, eat throughout the day as you would any other day of the year. Don't skip meals in anticipation of all the food being prepared and by the time the feast rolls around, you'll be satiated enough to just graze at the food instead of indulging excessively.