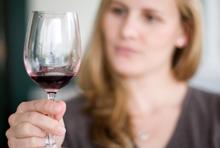 If you think you have to travel to California or France for great wine, think again. Hermann, Missouri, located on the Missouri River, three hours east of Kansas City, and only one hour west of St. Louis, is a gem of a wine town boasting not only great wine, but also unexpected beautiful views of the River.
Hermann, Missouri's Rhine Village is a historic town founded by German settlers from Philadelphia in the 1830s. These settlers began planting grapes and building wine cellars, and Hermann grew to one of the biggest producers of wine in the world by the 1900s. The town struggled through prohibition and saw a reawakening in the 1960s with the reopening of the Stone Hill Winery. Today, there are more than 50 wineries in and around Hermann. These award-winning wines along with the beauty and charm of Hermann are Missouri's best kept secret.
Hermann's wine trail events are held throughout the year and include the Very Berry Wine Trail taking place during the last full weekend of July; Holiday Fare Wine Trail, which happens the third weekend of November; Wine 101 during the second weekend of January; and Chocolate Wine Trail, which takes place the third weekend of February.
This past July at the Very Berry Wine Trail, seven local wineries participated to show off their pairings of a berry-filled treat and their best dessert wines. Here's a look at four of the seven wineries on the Very Berry Wine Trail:
Stone Hill Winery is Missouri's oldest and most awarded winery. Stone Hill is located on a scenic hilltop overlooking the vineyard. During the event, they invited wine trailers to sample a mixed berry streusel bar paired with their 2006 Vignoles, which won "Best of Class" at the Missouri State Fair. Vignoles is a semi-sweet white wine. The proprietor asked visitors to take a bite of the streusel and then smell and taste the wine and look for hints of fruity pineapple. <The Stone Hill Winery Restaurant offers German specialties, including a German sampler platter with three German favorites: Sauerbraten, German-style schnitzel and knackwurst served with sauerkrauts. Stone Hill Winery, 573.486.2221, www.stonehillwinery.com.
Next on the trail was Adam Puchta Winery — Missouri's oldest continuously-owned winery. This winery served a very simple, yet refreshing cup of vanilla ice cream topped with black and blueberries and their Berry Black Wine, a grape wine with blackberry juice concentrate. Adam Puchta Winery, 573.486.5596, www.adamspuchtawine.com.
The OakGlenn Winery sits on a hill overlooking bountiful rows of grapevines and the Missouri River. Wine trailers were invited to an upstairs tasting room with views of this winery's most impressive view in Hermann. Sweet Caroline Wine was paired with your choice of different varieties of pound cake including carrot, strawberry or cinnamon swirl. This is a must-see winery. OakGlenn Winery, 573.486.5057, www.oakglenn.com.
Another stop included Hermannhof Winery. Hermannhof is located near Hermann's historic district and housed in a historic building. Guests were welcomed to the 150-year-old stone cellar for a semi-dry Traminette, which won a ribbon at the Missouri State Fair. The Traminette grape is fairly new to Missouri and the winery paired it with Hermannhof no-bake cheesecake. When visiting, guests are able to enjoy an afternoon on Hermannhof's wine patio sipping wine made from the winery's 68 acres of grapes. Hermannhof Winery, 573.486.5959 or 800.393.0100, www.hermannhof.com.
Hermannhof No-Bake Cheese Cake
Recipe courtesy of Hermannhof Winery
1 8 oz package of soften cream cheese
1/3 cup sugar
8 oz Cool Whip, thawed
1 Graham Pie Crust (6 oz)
1 package frozen mixed berries in heavy syrup
Beat cream cheese and sugar in large bowl with wire whisk or electric mixer on high speed until well blended. Gently stir in whipped topping. Spoon mixture into pie crust. Refrigerate for 3 hours until set. Top with mixed or fresh berries.
The November trail will feature holiday dishes paired with wine. This year's menu at time of this publication:
Adam Puchta — Apple Cinnamon Surprise, paired with Traminette
Bias — Warm Pumpkin Muffins, paired with Hot Mulled Wine
Bommarito — Marinated Pork Tenderloin with Mushroom Rose' Reduction Sauce, paired with Rose'
Hermannof — Beef Bernaise, paired with Norton
OakGlenn — Smoked Turkey Breast with Norton Wine Reduction Sauce, paired with Norton
Robller — Cranberry Creations, paired with Gabrielle's Blush
Stone Hill — Butterscotch-Drizzled Sherry Pecan Squares, paired with Cream Sherr
Holiday Fare Wine Trail tickets are $15 per person; advance purchase is required. Wednesday, Nov. 14, is the last day tickets will be sold. Tickets may be purchased online at www.hermannmo.info or from the Hermann Welcome Center, 800.932.8687. Ticket price includes a souvenir wine glass.
Visit www.hermannmo.info or www.hermannwinetrail.com for more information on Hermann, MO. The city boasts Bed & Breakfasts, restaurants, historic architecture, specialty shops, Katy Trail, a golf course or just being able to picnic at Riverfront Park to watch the Missouri River lazily roll past.