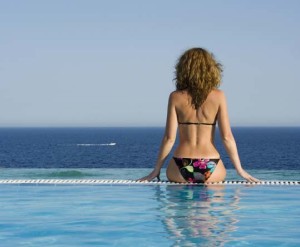 UVA, UVB, SPF… huh? Don't sweat the sun protection terms this summer. Figuring out sun safety is a cinch with these ten tips. Plus, May marks Skin Cancer Detection Month, proving that sun safety is about much more than your appearance.
"One in five Americans are found to have skin cancer in their lifetime. While that number is epidemic, what is more epidemic is the fact that only one in five people wear sunscreen on a daily basis, even though 94 percent of them know that continued exposure to the sun can potentially cause cancer*," said healthy skin expert Celeste Hilling, founder of Skin Authority. "The numbers don't lie; they support the fact that safe sun should be practiced by the whole family."
Besides providing free access to its licensed skin care coach via a toll-free number 866-325-SKIN and skinauthority.com, Skin Authority offers the following top ten sun safety tips:
#1 -Use sunscreen every day, rain or shine. To determine the quality, check the SPF (sun protection factor) number. Those with an SPF 15 or greater have higher protection against UVB (ultraviolet B rays) or burning rays. In addition to SPF protection, buy sunscreens which offer full-spectrum protection from UVA (ultraviolet A rays), or aging rays associated with serious, long-term damage.
#2 – More label lingo. Look at the active ingredient label for UVA age-blocking elements such as titanium dioxide, zinc oxide, or anything in the avobenzone family.
#3 – Don't skimp on sunscreen. The average-size body requires a shot glass worth to achieve maximum coverage.
#4 – Don't dig to the bottom of your beach bag for last year's sunscreen. Sun protection expires after 12 months. Do your skin a favor and buy a new bottle!
#5 – Don't fry, re-apply. While at the beach or other sun-drenched locations, re-applying your sunscreen at least every two hours is crucial to maintain sun protection. However, immediately re-apply after swimming or sweating.
#6 – Protective clothing also plays a major role in your sun protection plan. The Federal Trade Commission promotes wearing sun-protective fabrics that have a tighter weave or knit and are usually darker in color. The clothing's label should also list the UPF (ultraviolet protective factor) value. And, your eyes are extremely sensitive to the sun, so always wear UV protection sunglasses.
#7 – Understanding sun protection will soon be easier. The Food and Drug Administration will start using stars to rate sunscreens. A zero rating means no protection, while four stars is the highest level. Hilling added, "We are proud that Skin Authority's Sunscreen Moisturizer SPF 30 UVA 4-Stars is one of the first sun protection products to achieve the four-star rating." Want more details on the star ratings? Check out this Beauty Workout Channel video: www.skinauthority.com/4-star-sun-protection-is-here
#8 – Double up on safety by using a 20 percent concentration of topical Vitamin C under your sunscreen daily to boost the immune defense of your skin cells against UV damage as well as reduce the appearance of brown spots.
#9 -Glow safely by using self-tanner. Look for a fragrance free (for a better smell) self-tanner formulation that incorporates an AHA for better penetration. For face, alternate your regular moisturizer and a self-tanner every other night for a natural glow. For the body, be careful to avoid elbows, knees and heels so you look natural and the tanner doesn't darken the folds. Need a demo? Watch this: www.skinauthority.com/getting-the-best-sunless-tan
#10 -Special Sun Deal, Because Skin Authority is determined to help in the fight against sun damage; you will receive a FREE Moisturizing Sunscreen SPF30 UVA-4 Stars (a savings of $37.50) with the purchase of Wrinkle Reversing Serum throughout the month of June. Check it out at www.skinauthority.com/sun-defense-duo.
About Celeste Hilling
With more than 16 years in the beauty and wellness industries, Celeste Hilling is the CEO of Skin Authority and Host of the Beauty Workout Channel (www.youtube.com/beautyworkout). She is also a respected expert and speaker on healthy skin care, beauty and self-esteem. Hilling makes numerous television appearances and is a recurring skin care expert for Fox News iMag and Spa magazine.
About Skin Authority
Skin Authority is the leading skin care lifestyle company. Through professional guidance and coaching, powerful and pure products, and profound professional treatment experiences, Skin Authority helps individuals make healthy choices daily to ensure a lifetime of youthful, radiant skin. Read more on www.skinauthority.com. Skin Authority is offering 20 percent off any individual sun protection product purchased online at www.skinauthority.com/sun-protection. Just enter SUNPROTECTION in the Coupon Code field at Check Out to receive your discount. (Offer is good online only and does not apply to any Gift with Purchase DUO or GO! size item. Expires 7/31/2010.)