Healthy, Fit & Fabulous: Nutritious Back to School Time Savers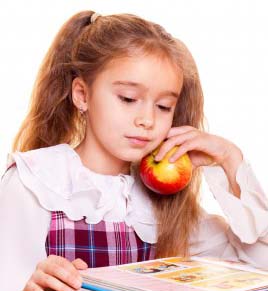 By: Linda Winkler Garvin, R.N., M.S.N. ~
Now that children are returning to school, it is a great idea to have a list of time saving ideas at hand.  The suggestions below will provide some nutritious, easy and time saving tips:
Quick fruit and vegetable ideas
Choose fruits & vegetables requiring minimal peeling.  Examples: bananas, grapes, apples, pears, peaches, plums, baby carrots, snap peas
Select seasonal berries
Buy pre-cut vegetables and/or salads (Although they may be pre-washed, do an extra wash with water.).  Can also use with a dip.
Look for fruits that are also pre-cut like pineapples, melons, papayas
Drink vegetable juice
Only drink 100% fruit juice (Avoid fruit drinks containing artificial sweeteners/flavors) and blend your own
Pour fruit juice into ice trays for an easy snack.
Keep fresh fruit in an attractive bowl on the kitchen table or counter, using as much from the color spectrum as possible.
Maintain fruit that is more perishable in the refrigerator at eye level – for ease in viewing
Combine fruits and vegetables
Grill or broil fruit slices to make kabobs: cut fruit, brush lightly with non GMO vegetable oil and sprinkle with cinnamon
Select a new fruit or vegetable every 2 weeks for "tastings"
Buy veggie sushi rolls
Encourage eating raisins (also high in iron)
Make or buy muffins with ingredients like bananas, zucchini, blueberries
Buy single-servings of low fat, soy or goat milk yogurt in different flavors to:
Spread between 2 favorite multigrain or gluten-free crackers and freeze
Add 1-2 tablespoons of low fat granola
Enjoy as an easy dip with fresh fruit or vegetables
Choose favorite flavor and pour into ice cube trays
Add fruits and/or vegetables to a salad e.g.: strawberries, blackberries, pieces of apples, oranges, grapefruit [if not restricted due to certain medication], broccoli florets, green, yellow or red pepper
Make a smoothie with milk, yogurt, juice and/or fresh or frozen fruit
Pre-package a favorite cereal, nuts or vegetables in a portable container
Prepare meals ahead of time to allow more free time to spend with family
Create a 2-3 day or weekly meal plan.  Use a list when shopping to ensure you buy all the necessary ingredients.
Cook extra amounts of food to use the leftovers for salad or fajitas as a main course the next night.
Make several extra lean turkey or veggie burgers and freeze.
Linda Winkler Garvin, R.N., M.S.N., of Alameda, California, is Director of Health Management Associates, a health advocate and educator with an advanced degree in Nursing.  She assists individuals in navigating the complexities of their health problems from medical treatment, health insurance issues, management of health issues and chronic pain.  She is the author of several articles including, healthy lifestyles, travel, nutrition, health insurance, guided imagery & chronic health problems.  Learn more at www.healthmanagerbayarea.com or e-mail at garvin_linda@yahoo.com.