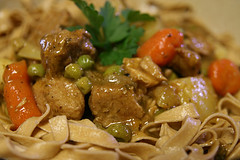 During the holidays we tend to throw caution to the wind, loosen our belts and let our waistline expand. Dr. Michael Fenster, MD, F.A.C.C., FSCA&I, PEMBA provides tips, advice and recipes to help us through the holidays.
The holidays are coming and with it visions of cookies, cakes and sugar plum fairies will dance in our head. We decide to forget all the good eating habits we have been following all year long and indulge. It's only for a short time, we tell ourselves and we can surely take off any weight we gain in January. According to Dr. Michael Fenster, MD, interventionalcardiologist and chef, this is one of the worst things we can do. As a practicing cardiologist, Michael states that the highest number of heart attacks occurs during the holidays.  Couple this with the fact that 67 percent of Americans are either overweight or obese and you have a recipe for holiday disaster.
But fear not, Michael has put together some simple tips and advice to help us enjoy the holidays and stay healthy.
Dr. Michael Fenster's Top 5 Smart Fall Holiday Eating Tips:
What to Avoid, Where to Indulge and When to Moderate
Avoid:
·         Pre-packaged "easy" or convenience items like heat and serve fried pies
·         Reformed and heavily processed items like a turkey loaf (often labeled as turkey breast) or "instant" mashed potatoes
·         Jarred and processed fruit offerings like apple or cranberry sauce
·         Jarred gravies or gravy packets
·         Pre-made stuffing
Indulge:
·         Winter squash and fresh root vegetables like sweet potatoes
·         Homemade fresh breads
·         Seasonal fresh fruit like apples and cranberries
·         Organic free range meat or poultry
·         Fall spices like cinnamon, nutmeg, mace and allspice (and many others).
Moderate:
·         Store bought cakes and breads
·         Fresh or frozen (but not organic or free range) meat and poultry
·         Fresh homemade gravies
·         Homemade stuffings
·         Chocolate desserts
·         And on the special days, remember, all things in moderation, even Moderation!
Michael also says to remember to get some exercise during the holidays. Moderate exercise has been shown to help suppress the appetite. Walking is one of the best and easiest forms of exercise. Even a short evening walk after dinner will help. And increase your intake of fresh dietary greens as well as other fresh fruits and veggies.
Healthy eating does not have to mean dull and boring. Add some spice to your meals this holiday season with two of Michael's favorite heart healthy recipes:
South African Spiced Roast Pork Stew
12 Servings; serving size 12 oz
380 calories per serving, 12g total fat; 85 mg cholesterol; 32g total carbohydrate
Here is a cold weather favorite to add a little exotic spice to the usual roast pork stew and add something different to the usually holiday fare. The trimmed pork loin makes for a lean meat addition for this cool weather classic. The serving size is a hearty 12 ounces to fill the emptiest belly on a chilly autumn eve, but comes in at only 380 calories; an 8 ounce serving is only about 250 calories. The gelatin adds a velvety richness to the sauce without having to use demi-glace or other troublesome calorie and fat adding components. The South African 5 Spice Blend recipe can be found on our website (www.whatscookingwithdoc.com) but it is simply a combination of ground ginger, cumin, anise seed, coriander and cinnamon. This stew includes turmeric which has been revealed to be a powerful anti inflammatory and cancer fighting compound. The active complex in turmeric is curcumin. Turmeric has antibacterial and cancer fighting properties. It may also be helpful in preventing Alzheimer's disease, depression and multiple sclerosis. It is a cyclooxygenase-2 (a type of enzyme involved in inflammation) inhibitor. Thus it is beneficial in arthritis and other inflammatory conditions. It may also aid in weight loss by increasing fat metabolism. Although the South African 5 Spice is obviously a continent away, it brings some familiar fall flavors of cinnamon and coriander. The addition of cumin, ground ginger and anise seed from the 5 spice add a sense of the exotic to an old comfort food friend.
·         4-5 pounds trimmed pork (I use the end cuts of the loin)
·         2 -3 tbsp olive oil
·         2 garlic cloves, minced
·         1 tbsp anchovy paste
·         1 tbsp tomato paste
·         1 tbsp Doc's African 5 Spice
·         1 tbsp garam masala
·         1 tsp hot paprika
·         1 tsp sweet paprika
·         1 tsp turmeric
·         1 ½ cups thinly sliced onion
·         1 ½ cups carrots in ~ 1 inch chunks
·         ¼ cup AP flour
·         2 cups white wine
·         2 cups chicken stock
·          2 bay leaves
·         2 sprigs fresh thyme
·         2 sprigs fresh cilantro
·         1 pound potatoes, chopped into ~ 1 inch cubes
·         1 packet unflavored gelatin
·          ½ cups pearl onion
·         1 cup frozen peas
·         Salt and fresh ground pepper, to taste
Preheat the oven to 300 degrees F. Cut the pork into rough ~ 1 inch bits and set aside. Combine anchovy, garlic and tomato paste in a small bowl and set aside.
Using a Dutch oven or other heavy bottomed oven proof pot, heat the oil until smoking. Brown the pork in batches and remove. Add back the meat, the carrots and onions to the Dutch oven over medium heat. Cook until onions have softened, around 1-2 minutes.
Add the garlic, anchovy, and tomato paste mixture as well as the 5-spice, garam masala, paprika and turmeric and cook another 30 seconds. Add the flour, coating the components and cook another 30 seconds. Add the wine, and increase the heat to high and cook for about 2 minutes, or until the liquid has slightly thickened. Add the chicken stock. Add the bay leaves, thyme and cilantro and bring to a simmer. Transfer to the oven and cook for 90 minutes. Add the potatoes and cook for another 45 minutes.
While this is cooking, bloom 1 packet of unflavored gelatin in a separate bowl. After the potatoes have cooked for 45 minutes, remove from the oven and place over medium heat on the stovetop. Add the peas and pearl onions and cook for about 10-15 minutes. Increase the heat to high, add the gelatin and stir until dissolved, about 3-5 minutes.
Remove from heat, season with salt and pepper and serve.
Roast Butternut Squash with Pomegranate
12 servings; serving size 4 oz
120 calories per serving; 8g total fat; 10 mg cholesterol; 12g total carbohydrate
1 (1 1/2 pound) butternut squash, peeled seeded and rough chopped
3 tablespoons olive oil
3/4 teaspoon salt
1/4 teaspoon freshly ground black pepper
2 Tbsp finely chopped shallot
1 Pomegranate, seeded
2 tbsp cream
2 tbsp butter
Preheat the oven to 425 degrees F. Place the squash on a baking pan lined with parchment paper and drizzle with olive oil, salt and pepper. Roast for 30 to 45 minutes until the squash is tender. Remove and allow the squash to cool.
When ready prepare, heat a medium saucepan with some olive oil over medium heat. Cook the shallots until soft, about 1-2 minutes. Add the squash and heat, allow it to gently mash into smaller chunks as you cook it, about another 8-12 minutes. Add the pomegranate seeds, cream and butter. Remove from heat, season and serve.
Copyright: Michael Fenster
Photograph Copyright Jennifer Fenster
ABOUT MICHAEL FENSTER, MD, F.A.C.C., FSCA&I, PEMBA
Michael Fenster combines his culinary talents and Asian philosophy with medical expertise, creating winning recipes for healthy eating. He is frequently asked to present live cooking demonstrations as well as giving numerous radio interviews on health and food shows both nationally and internationally. Michael is a certified wine professional and chef, receiving his culinary degree from Ashworth University where he graduated with honors. He has worked professionally in kitchens prior to entering medical school and maintained his passion for food and wine throughout his medical career.  Mike helped manage the award winning Napa Alley in Roanoke, Virginia, and hosted a local cable TV cooking show, "What's Cookin' with Doc" in Dublin, GA.  He has written columns for SheKnows.com, is a regular columnist for the culinary magazine Basil, as well as a member of their Council of Chefs and a monthly health and fitness contributor to The Tampa Tribune. He recently cooked up heart healthy fall soup on the nationally syndicated television show "Daytime."
Michael Fenster, MD, is a Board Certified Interventional Cardiologist, currently on staff with the Cardiology Specialists of Florida at Hernando Heart Clinic. He has participated in numerous clinical trials and spoken nationally on a variety of cardiovascular topics to audiences ranging from lay public to peer presentations at the American Heart Association and American College of Cardiology meetings. He has also published numerous professional peer reviewed articles and served as an Assistant Professor of Medicine at North East Ohio University College of Medicine (NEOUCOM). Michael recently graduated summa cum laude from Auburn University's Physician's Executive MBA program.
Michael holds a JuDan (10th degree black belt) ranking in Bujinkan Budo Taijutsu, which he has studied over the last three decades. He lives in Spring Hill, Florida, with his wife Jennifer.
To see cooking demonstrations with Michael Fenster and more recipes, visit www.WhatsCookingWithDoc.com.