Healthy, Fit & Fabulous: Heaven Can Wait! Eight Sustainable Strategies to Live By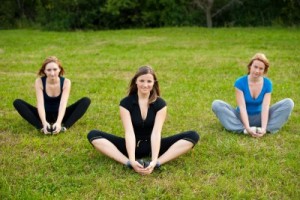 By Linda Winkler Garvin, R.N., M.S.N. ~

Start to protect and prepare your body for the aging process by developing sustainable long term habits early in life, which will carry you through your twilight years free of chronic disease.  Creating a healthy and contented life requires us to spend some time to figure out what we need to do for ourselves to keep our lives healthy and give us a sense of self worth.  Adopting a positive outlook will have a beneficial outcome in beginning this process.  The eight sustainable wellness recommendations listed below are suggestions for getting started:
Mind-Body [Emotional component]: Healthy relationships with others can not only be a source of great comfort and strength, but can also improve your health.  The feeling of connectedness can reduce your stress, increase your level of happiness and be a great support at a time of loss. Volunteering or donating, can give you an opportunity to open your horizons, your heart and your humanity. It helps to give you a perspective on someone else's life, as well as your own & it a great way to meet new people.
Mind-Body [Physical component]: Learn some new exercise for relaxation to incorporate into your daily routine.  Developing body awareness through Pilates, yoga, stretching, walking, visualization [imagery], progressive body relaxation & meditation can be very useful in learning how to relax and lower stress levels.  If you need more vigorous physical activity try biking, jogging or running.  For the more adventurous and well trained, consider entering a race or marathon.
Nutrition: Remember to read the ingredients with the foods that you purchase.  Avoid those foods that contain excess sugar, small amounts of fiber and low nutritional values.  Some foods that are popular for their anti inflammatory benefits would be omega-3 fatty acids, dietary fiber, salmon, pumpkin, walnuts, flax seeds whole grains, and olive oil.  Nourishing your nervous system with healthy food and fat choices will hopefully provide your body with more strength and resilience to fight diseases and chronic pain, as well as decrease the amount of inflammation in your body.
Beverages: Limit your caffeine use.   Factors such as medication usage, anxiety issues, and hormonal issues all affect the way your body metabolizes caffeine.  Caffeine has many adverse affects including, irritability, headaches, interrupt sleep patterns, gastrointestinal upsets and anxiety.
Sleep: Remember to establish a regular routine for bedtime.  Reduce the level of stimulation by at least an hour before you retire by dimming the lights, turning the sound lower on your stereo or television.  It is helpful to avoid caffeine containing beverages Like tea, coffee, diet Pepsi, or chocolate] at least eight hours prior to bedtime.  Since alcohol can interfere with sleep, try abstaining from alcohol two hours prior to bedtime.
Simple Pleasures: It is important to enjoy lives simple pleasures. Getting involved with a hobby, taking a new class or inviting someone over for a meal are just a few of the many ways to connect with other people. Here are a few tips:
Explore the wonderful state parks available to everyone. Bring a camera to capture some wonderful pictures of birds, flowers, trees and lakes.
Visit a botanical garden and see if you can identify the various flowers.
Preparing a special meal with friends or for yourself gets those creative juices flowing.
Bookstores frequently offer some interesting free events and speakers.
Go online to research free events in your town or the closest city you live near.
Spirituality: Many people report that their sense of emotional hardiness is derived from their particular relationship with a spiritual being.  Whether that is defined from attending a place of worship or done privately there can be a wonderful sense of support derived from this relationship.
Forgiveness: Forgiveness does not mean forgetting or denying another person's responsibility for hurting you.  By embracing forgiveness, you may be able to let go of the angry and resentful feelings you feel emotionally & physically.  Possible benefits may result in understanding and compassion.  That being said, people/friends who express a lack of compassion or turn your expressed problems into "their issues "may need a reassessment of the time you spend with them.
Toxin Free Ideas:  Toxins and Pollutants are brought into our homes daily through water, food, soil, dust and household cleaning products.  Carefully read the list of ingredients on all labels of your household products to make sure you are not using products that contains harmful toxins.
Here are a few tips:
Install a water filter to prevent the ingestion of heavy metals.
Never microwave with plastic.
Try to minimize the use of weed killers and insecticides.
Always vacuum with a filter or even better a HEPA filter.
Choose your personal products and cosmetics that are made by companies that do not have toxic ingredients. The Environmental Working Group's Skin Deep web site is an extremely useful tool for researching this information. Their web site is http://www.cosmeticsdatabase.com/index.php
Linda Winkler Garvin, R.N., M.S.N., of Alameda, California, is a Health Advocate & Educator in the Bay Area & Director of Health Management Associates.  She assists individuals & families in making informed choices by providing explanations of your health options, advocating on your behalf with hospital & medical staff, organizes your medical information,  assists in reviewing your health bills  & insurance payments, & offers wellness strategies to prevent chronic diseases.  She is the author of several articles on Healthy Lifestyles, Nutrition Pain Management & Travel. Learn more at www.healthmanagerbayarea.com or e-mail at garvin_linda@yahoo.com.