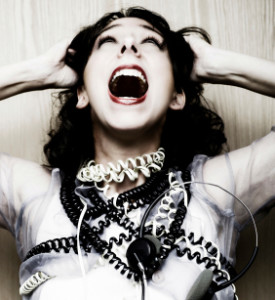 ~ How Constant Anxiety Can Affect Your Heart and Body ~
For some, back-to-school means back to rushing through early-morning routines and struggling to remember the little details of the day before. With all of the anxiety that comes with this constant stress, it shouldn't be surprising that all of those worries can have a damaging effect on the body.
The Influence of Stress
According to the American Heart Association, extended periods of stress can be a cause of concern for the entire body. Distress initiates a response from the body that contributes to blood vessel constriction and an elevated heart rate. Jonathan Fong, M.D., of the Venice-Ocala Heart Institute adds, "There is no conclusive evidence that shows there is a link between heart disease and stress. What the evidence does suggest though, is constant anxiety can influence cardiovascular risk factors."
Behaviors Influenced by Stress:
•               Temporary rise in blood pressure
•               Unhealthy eating habits
•               Smoking frequency
•               Physical Inactivity
Stress Signals You May Not Recognize:
•               Tight or clenched muscles
•               Stomach irritability
•               Fatigue
•               Depression
•               Forgetfulness
"What's equally as important when it comes to stress is how people deal with it," says Fong. "Sometimes, anxiety causes people to lose sleep, overeat or drink excessively. This is where stress can become dangerous."
"Take a Deep Breath"
Stressors can pop-up anywhere if you're more susceptive to worry. Mateo Dayo, M.D., also from the Venice-Ocala Heart Institute recommends, "Just take a deep breath and remove yourself from the stressful situation. Do something you enjoy, rather than engage in an unhealthy habit to compensate for the emotional distress." Chronic stress is still shown to wreak havoc on the body. "It weakens the immune system, which can promote a number of health concerns," Dayo adds.
So do your body a favor and relax. Your life won't spiral into confusion if the kids are late for school or if you forget to complete something. You may have to get things done but maybe "now" just isn't the right time for you — it's okay to compensate for stress by putting things off a little.

About the Venice-Ocala Heart Institute:
The foundation of the institute is simple: to care for families as they would for their own. The physicians have worked in complete cooperation with the Venice Regional Medical Center to build a program that has provided the highest quality of care – recognized as one to the Top 100 cardiac surgery programs in the nation. The goal of the Venice-Ocala Heart Institute is to draw upon the expertise of two specialties – cardiovascular surgery and cardiovascular anesthesia to deliver the best quality of cardiothoracic and vascular care to the heart, lungs and vascular needs of the patient. The Venice-Ocala Heart Institute is comprised of cardiac, thoracic and vascular surgeons and cardiovascular anesthesiologists working together to provide superior care for cardiac, thoracic and vascular patients. The Venice-Ocala Heart Institute is located at 706 The Rialto in Venice, Florida. For more information, contact the Venice-Ocala Heart Institute at (941) 484-8004 or visit them online at www.veniceocalaheart.com.