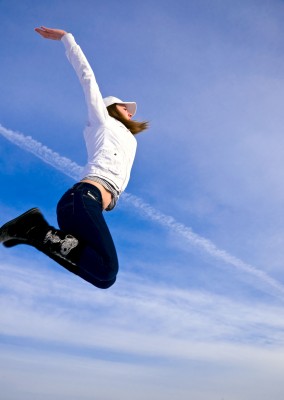 By Syd Hoffman ~
Spring  is here. What a grand time to be happy and healthy!  Here are a dozen secrets for finding your bliss, naturally:
1.  Drink a green smoothie. Here's a 14-ounce recipe that is a real winner. (Share with a friend or drink half at breakfast and half as your "afternoon slump" solution.)
One medium banana, ½ cup frozen berries, one cup fresh baby spinach, one cup unsweetened soy milk, and two teaspoons raw almond butter.  Blend until smooth.  Enjoy!
2. Move your body! Human bodies are designed for regular physical activity. Any kind of movement will power you up. Try a brisk walk inside or outside for a quick pick-me-up.
Keep active. (Do lunges while you are on the phone. Take the stairs instead of the elevator.)
Engage in the movement activities that bring a smile to your face.  Grab a buddy, a pair of sneakers, and have some fun.
3. Turn up the music. Researchers have found that people who listen to their favorite music for an hour every other week for a few months can lower their blood pressure by up to six points … equal to going on a low-salt diet or losing ten pounds. Wow!  Sing in your car.  Dance in your kitchen.
4. Quiet your mind. Carve out time to sit in silence each day.  It's not easy to do.  Thoughts start popping in to distract us.   If you can get past the internal clutter, you can reach inner clarity and wisdom.  The peaceful recharge one receives from sitting quietly is precious.
5. Lose an excuse. Come face-to-face with your creative stories for not living the life you want.  You'll feel stronger.  You'll create space to grow.  You are what you believe.
6. Unplug. Every now and then, take a technology break.  Skip the e-mail and social media checks.  Hide the television remote.  Leave the car keys on the hook.  It's okay.  What a perfect time to curl up a healthy book or magazine.
7. Make peace with change. When we think of "change" it may bring up fear and other uncomfortable feelings.  Respecting that things will change, because that's the way life works, makes it easier to deal with the process.  Remind yourself you have done tougher things!
8. Choose what is making you smile today. Mindfulness guru, Thich Nhat Hanh says "Sometimes your joy is the source of your smile, but sometimes your smile is the source of your joy."   Smiling is a powerful secret weapon to live longer and happier.
9. Take a mini-vacation. You don't have to travel far from home to add some zip to your step.  A short getaway doesn't take tons of planning and doesn't cost a lot.  You'll recharge your batteries. You'll experience a break from your routine.
10. Go nuts. For a quick pick-me-up eat a handful of raw, unsalted nuts.  They are packed with omega-3 fats which improve mood and brain function.  They are rich in protein, fiber, phytonutrients, and antioxidants.   Keep a tiny container of these treasures in your purse, briefcase, or gym bag.
"I grab a handful of walnuts or almonds whenever I'm hungry.  The protein and healthy fat help keep me satiated and provide me with lots of energy throughout the day.   Best of all, recent research suggests that we don't digest all the calories in nuts, so we actually get a bit of caloric discount when we eat them."  – Dr. Oz
11. Express your gratitude. Delight in sharing your gratitude with a note, kind words, or a hug.  The happiest people on this marvelous planet are those who practice feeling grateful. A few years ago, we started a family gratitude journal.  It's a beautiful collection of our appreciation for day-to-day events, people, and so much more.
12.  Buy yourself flowers. Flowers remind us to slow down and find the beauty in our lives. They make an ordinary week feel like a special one.
Please don't wait for someone else to contribute to your health and happiness.  These 12 self-care steps make a huge impact on creating a path of joyfulness.  And best of all … none of these tips take lots of time or money.  Today is a great day to begin!
About the Author:
Syd Hoffman is a passionate health and wellness educator.  Her award-winning book, "All-Day Energy: 100 Ways to Boost Your Energy…Now!" has helped people all over the world feel fabulous. Visit www.SydHoffman.com to add zip to your step!