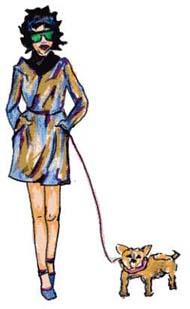 So, there you are packing for vacation. Clothes are neatly stacked, travel size toiletries are piled up, and your shoes are carefully chosen. You glance over and look into the warm set of eyes staring at you longingly as if to say, "What chya doin? … Where ya goin? … When do we leave?"
And, then it hits you — you're leaving your little fur-person behind. With his tail wagging, you explain to him that you're taking a trip and he's going to stay in this lovely little paw farm, which is easier to say than kennel. Again with the eyes, and guilt sets in. Rather than leave him behind, you reconsider taking that much-needed vacation.
But, why not pack up a little kibble, buy your "kid" a ticket and take him with you? It's not as expensive as you may think. Airlines only charge $50 to $100 and many hotels, B&Bs and resorts (41,000 according to takeyourpet.com) not only accept pets, but offer welcome baskets for your darling.
Sure it would be great to have him with you each day, but how do you do it? The key to successful four-legged travel is to plan ahead and before you know it, with suitcase in one hand and Fluffy in the other, you're both headed for some much needed R&R. This two-part series will provide important information about pet travel via airlines (Part 1) and by car (Part 2, coming soon) with travel tips and links to hotels that are pet-friendly.
Safety and Regulations
According to statistics: of the 62 million people in the U.S. who own dogs, more than 29 million travel with them. While a smaller percentage (only 6 percent) travel with cats, traveling with your fur-person is popular and widely accepted. No more guilt about leaving your "kid" behind or long explanations about the "paw farm."
Obviously safety is your first concern. No worries, because it's a priority for the government and the airline industry, too.
The Department of Agriculture governs the transportation of live animals, providing the guidelines for owners and transporters to ensure an animal arrives alive and well at her destination. The International Air Travel Association (IATA) recognizes the need for safe animal travel and established Live Animal Regulations (LAR). These regulations are accepted worldwide as the standard for live animal travel in the airline industry. Their Web site www.iata.org offers a plethora of information about pet travel, including the Traveler's Pet Corner.
In accordance with the IATA, each airline has policies and some airlines programs (such as "Delta's First Pet") are designed to make travel with our best friends safe and stress free. The chart below provides the Web site links for several airlines' pet travel policies.
Top ten things you should know about flying with your pet
In general, airlines require you to transport your four-legged companion in an authorized container, have appropriate documentation, and pay a fee (free-enterprise, you know). These facts will give you a leg-up on the details about pet travel to guide you through the process, whether you're taking a vacation or making a permanent move.
1. Airlines and pets — Nearly all airlines, with the exception of Southwest, allow passengers to travel with a pet. A pet is defined as a dog, cat or bird. Some even consider your fish (in a authorized container) as a pet for all you Mr. Limpets out there.
2. Kennels — Each pet must travel in an approved kennel (carrier). See the chart below for accepted IATA sizes. The IATA Web site also provides guidelines for the construction of carriers.
3. As a "carry on" — Your pet, in the carrier, must fit under the passenger seat in front of you. The animal must stay in the carrier for the duration of the flight.
4. As "checked baggage" — If you have a large dog (more than 20 pounds for most airlines) you can exercise this travel option. This privilege allows your pet to travel on the same flight as you. They travel in temperature-controlled compartments in the baggage hold.
5. Fees — Airlines will charge a fee for your pet. These fees vary depending on the travel option you exercise (carry-on, checked baggage or cargo). Typical fees average $100 per pet.
6. Documentation — All airlines require you to provide a health certificate or proof of rabies shots, signed by your pet's veterinarian. Animals must be weaned, at least 8 weeks old, and in good health. The certificate must be signed no more than 10 days before departure date.
7. Embargo dates — Some airlines have embargo dates, restricting pet travel. These dates usually run through the "dog-days" of summer or cold winter nights. Plan your trip for summer evenings or winter days when temperatures are more moderate.
8. Advance notice and confirmation — Timing is everything. Before you finalize your reservation, confirm that there is room for your pet. Airlines limit the total number of animals allowed on each flight (usually 2-3). All airlines require you to notify them in advance of your plan to travel with a pet. Finally, confirm the reservation again, at least 48 hours in advance of the departure date.
9. Nonstop flights and flight time — Select nonstop routes to avoid the complications associated with connections. However, keep in mind that most airlines will not allow a pet to travel longer than 12 hours without a stop.
10. Service animals — All airlines will allow anyone traveling with a pet specially trained to assist a passenger with disabilities. Documentation confirming the service animal training is required, but the animal travels with the passenger, in the cabin, no restrictions.
Specific Airline Information:
AirTran Airways
Alaska Airlines and Horizon Airlines
Aloha Airlines
America West Airlines
American Airlines
ATA Airlines
Continental
Delta
Frontier Airlines
Hawaiian Air
Island Air
Northwest Airlines
Southwest
United Airlines
US Airways
Preparing your pet for travel
1. Kennel — Familiarize your pet with the carrier to help her feel safe and to reduce stress. Buy the carrier a couple weeks in advance, set it up and encourage her to go inside, lay down and to sleep in it.
2. Identification — Label the carrier with your contact and flight information. Make sure your pet is wearing a pet tag (mine includes my cell phone # and "has microchip"). If you're moving, carry his vet papers in a file, including a photo (in the rare event that your pet makes a break for it) for quick identification.
3. Feeding and watering — Feeding your pet a light meal at least 2 hours before travel is required by the IATA for live animal travel in the U.S. They also recommend walking or exercising your pet before travel to work out excess energy.
4. Sedation — Airlines will not accept a pet that appears sedated (tranquilized). The old school of thought about sedating a pet is now considered unsafe and sedation is not accepted.
Feeling empowered with this information, are you ready to make travel plans? Before you call the airline, the IATA suggests you make a list of questions to ask. Here are some suggestions, based on the details I learned in my quest to move my 120 pound Newfoundland:
1. What are the size restrictions for pets? (Especially important if your pet is more than 100 pounds.)
2. Which aircraft is used for my flight? Confirm the baggage hold doorway measurements will accommodate your kennel.
3. Do you have embargo dates or "extreme temperature" travel restrictions?
4. What documentation do you (the airline) require?
5. What about food and water? Some airlines require you to attach a bag of food to the kennel. All require a water container.
6. What happens if the flight is delayed or rerouted?
7. How far in advance do I need to arrive at the airport for check-in?
8. Where is my pet kept until boarded onto the aircraft?
9. Do I receive a ticket for my pet?
10. Do I receive confirmation when he is loaded onto the aircraft?
Authorized kennels
Your pet must be able to stand and turn around without touching the sides. Kennels can be purchased from most pet stores or Web sites specializing in pet supplies. They include water and food containers, which attach to the inside of the carrier.
If your animal weighs 18 lbs. and is 13 inches in height = kennel size should be 21L x 16W x 15H
If your animal weighs 25 lbs. and is 17 inches in height = kennel size should be 27L x 20W x 19H
If your animal weighs 70 lbs. and is 24 inches in height = kennel size should be 36L x 24W x 26H
If your animal weighs 121 lbs. and is 28 inches in height = kennel size should be 40L x 27W x 30H
According to my dog's breeder, who attends national dog shows, a common trick is to take a plastic container (like an ice cream bucket), fill it with water, freeze it and attach it to the inside of the carrier; this will provide plenty of moisture as the ice melts, but avoids the messy spills.
Pet travel services for the busy mom
Okay, so you want to take Fido with you, but don't have the time for all the planning and details? That's okay, you're busy; it doesn't mean you don't love him. Fortunately, there are services available that will make the travel arrangements for your pet, including documentation, reservations and carrier rental. A simple search on the Internet will yield hundreds of services specializing in pet travel, whether vacationing or moving. Experts recommend you conduct thorough due diligence. Ask for references of pet owners that have used their services and read their contracts to ensure you know where liabilities fall.
The IPATA, (www.ipata.com) is an organization of worldwide pet shipping specialists; the majority of them specializing in permanent moves. They take this service very seriously and offer not only a list of their members, but information on how to identify less than credible businesses.
Have paws … will travel
The best strategy is to start planning at least two months in advance, especially if your pet will travel as checked baggage. Devote time to talk with the airline about the travel details specific to your pet's breed and size.
In Part 2, coming soon, information and tips will be provided about traveling by auto and several links with lists of hotels that accommodate furry guests.
Regardless if your pet purrs or pants, is teacup or outweighs you, planning and timing are critical for successful pet travel. Your next vacation can indeed include your four-legged friend following close behind as you traverse that historical trail or waiting patiently to greet you each day in the hotel. Instead of feeling guilty, you get to share the day's activities and look into those sweet brown eyes that seem to say, "Where we goin' next? … Who's tracking my frequent flyer miles? … You did sign me up, didn't you?"