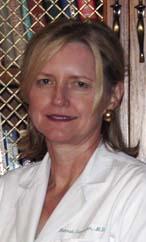 At age twelve, she knew she wanted to be a doctor. "I figured out [at that age] it was a great career and a way to help people, use my brain and be the ultimate caregiver," Hannah Grossman, M.D. said. So she set off to achieve just that!
Born in Limerick, Ireland she and her family migrated to Louisiana when she was four years old. "I remember sleeping on a trunk in La Guardia," Hannah said. "I have the same trunk now in my home as a coffee table." She and her brothers also remember being given gum (to relieve ear pressure). "We'd never seen gum before … we must have eaten fifty pieces." Her mother, she said, probably remembers thinking she landed in "hell" — a reference to the heat of their new home. "We arrived in our tweed coats to 95 degree weather and 100 percent humidity."
At the time, Louisiana was the destination-to-be because of an uncle who was a priest assigned to the Shreveport area. He sponsored the family. "Most of my family is still in Ireland; they've run a dairy farm for hundreds of years," Hannah said. She told a story of taking her four children to Ireland to meet the family and at first it appeared there was little in common. But after a little bit of time, everyone found they had more similar interests than could have been imagined. "Then, one of the cousins pulled up in a Beemer, with a Starbucks coffee cup, and we realized everyone really does have more in common than we think," Hannah said.
Once this now practicing Ob-gyn discovered medicine was the career to follow, she had to figure out how to achieve her dream. "I knew I wanted undergrad at UCLA and USC for medical school," she explained. But there she was living in mid-America. Fortunately, her sister was married and had moved to California — "I was thinking 'she won't mind' if I could move out there and live with her," Hannah said.
And her sister didn't mind. So, off Hannah went during her sophomore year in high school. She left her parents to ensure she could establish residency. "It was difficult," she said, but she was determined. "I was an old soul, so my parents knew I was trustworthy," Hannah explained.
She was attended a UCLA program during her senior year in high school, which rolled into acceptance at the university. At the end of her last year of high school, her sister and her husband moved for employment reasons, and Hannah truly was on her own. The key message, she says? "You can do it. Say to yourself that you will do it by hook or by crook — and you have to have faith it will work out." She noted many people are kind along the way, as well.
"Chase your dreams, even if it's costly," she said, also referring to the loans it took to put herself through school, even with receiving Regent and other scholarships along the way. "I saw students whose parents were writing checks and there were times I thought it would be great," she said. "But it does force you to take care of yourself." And she went on to say, "What's the alternative? You need to believe in yourself and it will happen. Be savvy — loans, scholarships — but you have to pursue; don't give up before you get started. Stay with it and believe you can do it."
Hannah met her husband in medical school and they completed residency together. The couple has four children of their own. "Successful people have support in their personal lives, it's important to feel like you have a partner who shares in your hopes and dreams," she said of choosing the right mate and living a life fulfilling dreams. The two are avid travelers. They both chose to pursue the Ob-gyn field and now run a family practice together.
Hannah said she chose the field because she said the female patients were always glad to see a female doctor. "The male patients were always a little unsure — the women were always delighted to have you — it was a no-brainer," she explained. "And it really is about the relationship with the patients," she said. "You follow people long-term, watching kids grow up," she said of the practice.
As the chat with Hannah comes to a close and she once again stresses the importance of following dreams and the joy in fulfilling her own, she mentions she is currently at the hospital while talking and she's "waiting for someone to push" … Well, she said with a laugh, "A women's work is never done."