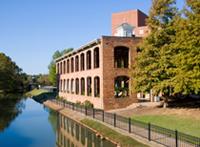 It was 10:30 a.m. on a weekend morning when a heaping plate of shrimp and grits came to the table. This southern staple has been served many times before, but not quite like this. Very few patrons could put their finger on it. Was it a different type of cheese? Did the chef acquire a special type of grits?
After several minutes, the hungry diners concluded that the dish was indeed mouth-watering, but it was the restaurant's atmosphere that made the moment complete. This was no ordinary dining experience. This was Mary's at Falls Cottage. No, this delightful little cottage cum restaurant isn't in renowned southern cities like Savannah or Charleston. This Mary's is in Greenville, South Carolina.
Once known as a tiny hamlet as a pass-through to Asheville, North Carolina, Greenville has become a cosmopolitan community filled with scores of unforgettable restaurants, including Mary's. Built in 1893, the restaurant was a private residence in Greenville's West End neighborhood until the late 1960s, then about four years ago, the Falls Cottage became Mary's.
After one sits on the cottage's top floor eating their creamy shrimp and grits, the following thought comes to mind: "Now this is the New South." If the diner has enough room for dessert after a hardy meal, it must be walked off by first visiting the restaurant's backporch. It is here where the visitor is treated to a view of the cities claming waterfalls spilling into the Reedy River.
After brunch, it is a must to explore the long and winding path that runs near the falls and follows the Reedy River. This is green space at its best. For those who would rather combine shopping with their sightseeing, the trip over to the historic West End neighborhood is a requirement. Many unique gift stores are here including the Greenville Army and Navy Store.
Scrumptious Soby's
All of that walking can make shoppers hungry again. Soby's on South Main Street is the perfect answer to this dilemma. When planning on an evening at Soby's, make reservations. The crowds build around 6 p.m. and the atmosphere suddenly changes when more patrons flood the establishment.
Menu suggestions include the sherry-laced She Crab Soup, Crispy Fried Ashley Farm Chicken and the moist Soby's Meatloaf with Maple Creole Mustard Glaze. While those dishes provide the Southern Comfort one might be looking for here, the serious standouts are the Pecan Crusted Mountain Trout and the Hickory Smoked Grilled Salmon. Both are fresh, tasty and light. There is room for dessert if you choose one of the seafood offerings. The bread pudding is a Soby's favorite.
Great Art
Aside from great food, Greenville has great art. The Greenville County Museum of Art is a user-friendly museum, which is home to the Andrew Wyeth collection and a contemporary collection of art. Legendary artists such as Andy Warhol have made appearances here, as well as several folk artists. The museum's gift shop is impressive with a vast amount of books, including handsome releases about the Charleston Renaissance and renowned South Carolinian artist William Halsey.
The museum resides next to Greenville's vast library and an up-and-coming children's museum. Even though Greenville is already kid friendly with the Reedy River Falls Park, this museum is designed to attract more families.
High-Class Dining
If one must splurge on dining in Greenville, look no further than High Cotton restaurant. Compared to the High Cotton in Charleston, which is excellent in its own right, the Greenville version is modern, spacious and lively. Just like Soby's on South Main, make a reservation and be prepared to experience a crowded bar, welcoming staff, bubbly patrons and live music emanating from the front of the restaurant.
Appetizers including their Butcher Plate, which contains a variety of cured meats, and Buttermilk Fried Oysters get the evening off to a great start. The entr'e selection offers an array of unique dishes including a Pan Roasted Grouper Filet with sweet potato puree and an outstanding Black Pepper and Espresso Rubbed Carved Venison Medallions.
The awesome scenery at High Cotton compliments its top-notch culinary offerings. The restaurant is located in an attractive, sprawling building that overlooks the Reedy River.
Another Revitalized Southern City
Greenville has followed in the footsteps of other Southern cities, which have been able to turn around their image by refurbishing its older structures and constructing architecturally pleasing new ones. Sure there are tacky buildings from the 60s and 70s, but the storefront brick facades and tree-lined streets drown out the drab exteriors to faded white buildings like the structure that houses the town's newspaper.
Whether one is driving, walking or taking the town's trolley, getting around town is easy. Even for the "navigationally-challenged," it's tough to get lost in Greenville. Another advantage to making a visit here is that it is affordable. Visitors don't have to visit eateries like High Cotton everyday. There are plenty of places to dine for a low price. Cheap, delicious meals can be experienced at Soby's on the Side. Located behind the main Soby's restaurant, Soby's on the Side offers affordable breakfast, lunch and brunch dishes.
Its restaurants, hotels and thoroughfares are examples of how Greenville, South Carolina came alive in the past decade.
Robert J. Nebel is a journalist whose works have appeared in several newspapers and magazines.
????????