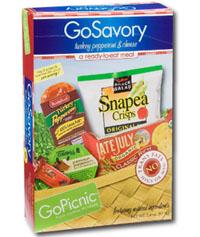 If you're on the go this summer, don't let your nutrition (or ease of convenience) suffer! The company GoPicnic offers nutritious, ready-to-eat food options. In other words, you can skip the French fries!
The meals require no refrigeration or heating, and are ready to eat anywhere and anytime you're hungry (and they are all individually wrapped). And you can feel confident giving to the kids because the food is made with natural ingredients, and are free of trans fats, high fructose corn syrup and MSG.
At prices as low as $2.50 per meal, GoPicnic offers more than 25 different options for adults and kids, including vegetarian, gluten-free and even kosher options.
DeluxePicnic: a hearty meal featuring Italian salami slices from Daniele, St. Dalfour pasta & vegetable salad, Mariani apricots and Dolcetto wafer cookies
AnywhereBreak: a light meal great for anytime featuring Corazonas tortilla chips, Ortega salsa, Old Wisconsin turkey stick, and a Copper Cowbell white cheddar cheese slice
GoEnjoy: a delicious snack that includes Geraldine's baked parmesan cheese straws, Mariani apricots, Mrs. May's cashew crunch, and Swiss Delicato dark chocolate.
Kids can choose from six peanut & tree nut-free MightyMunch options,including:
SportsMunch: featuring Bridgford turkey pepperoni slices, cheddar multigrain crisps, Sweet Perry Orchards cinnamon applesauce, and allergen-free chocolate chip cookies.
AquaMunch: includes Sungold Sunbutter sunflower seed spread, Bonne Maman Strawberry Preserves, organic crackers, and a cinnamon pastry twist from Barry's Bakery.
All kids meals come complete with a surprise temporary tattoo for added fun, and feature games, jokes, and fun food facts on the inside of each box.
You can learn more about GoPicnic and purchase meals at www.gopicnic.com — Enjoy!