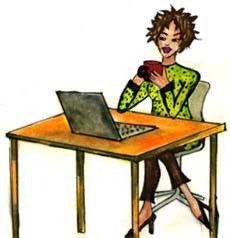 Last week we explored the value of keeping a journal and this week we'll delve into how to adapt our journal into a blog. A blog is an online diary; its initial use as a simple and casual written record about daily life has matured into a medium that engages readers and keeps them coming back for more.
Think of a blog as a platform somewhere between a personal journal and a Web site; its style is more conversational, while it can be global and far-reaching with limitless potential. It is also distinct from a message board in that message boards have a "bulletin board" quality, while blogs are more interactive and often much more "newsy." If the notion of blogging sounds complicated to you, it isn't. This is by no means an exhaustive guide, but should help equip you with enough of the basics to get you started.
With the evolution of the Internet, "journalers" realized people were interested to know their opinions on certain issues. This led to the advent of the Weblog, and the popular activity now known as "blogging." Today there are more than 490,000 new blogs created each week.
BlogAds (www.blogads.com), an online advertising network, conducted a recent survey of thousands of blog readers and found the following similarities among them:
Most blog readers are Web savvy and not intimidated by such functions as online shopping and online banking
Blog readers see blog writers as experts
More than 75 percent of blog readers make more than $45,000 per year
Blog readers click ads and make informed buying decisions
Another study of blogging in the United States, released by the Pew Internet & American Life Project in July 2006, found that 12 million adults (8 percent of U.S. Internet users; 4 percent of the U.S. population) kept blogs, while 57 million adults (39 percent of Internet users) read blogs. Thirty-seven percent of bloggers used blogs as personal journals, but 50 percent said their major reason for blogging was to record their personal experience; 54 percent were under age 30; men and women used blogs equally; 60 percent were white, while 74 percent of all American users of the Internet were white.
One of the reasons blogs have become so widespread is because they offer the ability to engage readers in an instant discussion. Bloggers have an audience of like-minded individuals who share the same passions and interests and enjoy a Web community of folks devoted to keeping up with every updated post. Another reason for the rapid craze over blogging is because there is no need to hire a Web designer or technician. You can create your own since blogging software is not complicated and most services walk you step by step through your blog design.
There is a variety of software and services to make it simple to publish your entries and manage your blog. With pre-written, pre-designed templates to display your online journal, blogging is now easier than ever. Although Blogger was the first journaling system released in 1999, the largest was LiveJournal. Blogger was originally designed to be a personal journaling system, and today many people still use it for that function; however, since its inception, it had less of a "community" feel than systems like LiveJournal and Xanga. LiveJournal and similar sites (MSN Spaces, Journal Home, etc…) provide members with an easy to use interface. Although most journaling and blogging systems run off specific software (be it Blogger, LiveJournal, WordPress, or others), the platforms are limited in their ability to provide users with much creative liberty. But it's a trade-off; that's why they're simple to use.
Most journaling systems offer these basics:
Writing and editing posts
Displaying posts in reverse chronological order (most recent first)
Allowing comments and feedback about entries
Limited control of layout and template
Although blogs and Journals are very similar, blogging systems offer advanced controls journaling systems sometimes can't. Most blogging services offer these additional functions:
More control over layout and design
The ability to create a topical index
The ability to add plug-ins that enable advanced functionality
The ability to earn money from their sites
If your goal is to attract readers, blogs can often be more effective than an online journal or even a Web site. Search engines can find blogs faster than they can most Web sites because blogs generally have more incoming and outgoing links, which elevates page ranking. Also, the structure of the blog, and the simplicity of its underlying HTML coding makes it simple for a search engine to "crawl" though and index.
Blogging has enabled people to test new ideas and receive instant feedback. It offers camaraderie between people who have similar affinities. It allows businesses to present their ideas to a global market and enables them to build a PR buzz about their products. (For more ideas about how blogging can help your business, visit www.businessblogbasics.com.)
The two most popular hosted blogging solutions are Blogger, and TypePad. Blogger is free, but offers a little bit less control. TypePad has a monthly fee, but offers better control and more features.
The two most popular site-based solutions are WordPress and Moveable Type. WordPress is completely free and easier to use, customize and manage. But because WordPress is free, it contains a few glitches and support is offered only through a message forum. Moveable Type is fee-based, but allows multiple blogs, and multiple users under a single installation. Since it is a paid system, support can be obtained via e-mail and over the telephone, which is convenient when you frantically need help. Both of these latter site-based solutions require you to have your own Web site.
It is widely recommended that if you're a beginning blogger, you start with TypePad (www.typepad.com). All you'll need to do is register for an account and start blogging. Pretty soon you'll be a pro and move on to things like "moblogging," which is making mobile blog entries when you're not at your computer. (But that's a lesson for another time.)
A blog's entries are called posts, with the most recent usually displayed on the front page and the previous listed in reverse chronological order beneath. Most blogs have a "blogroll," which is a listing of that blogger's favorite sites and blogs. As a blogger, you'll want to encourage your readers to "link" to your blog. This allows their readers exposure to your blog, while in turn, your readers can check out theirs. Again, more community, and a fool-proof way to get more search-engine attention!
If you want to read other blogs before you start your own, check out www.feedster.com and www.technorati.com. These sites monitor millions of blogs and provide tips, reports and a host of resources.
If you decide to pursue a blog, don't give up on your personal journaling, they are not mutually exclusive; both are creative outlets that have distinct therapeutic and purpose-driven value. Consider blogging to be your public voice while journaling is self-reflective, and feel free to use both to enlighten yourself as well as the rest of us!
To learn more about blogging, check out these useful sites:
www.easybakeweblogs.com;www.blogarama.com; www.andywibbels.com; www.Live.com; www.blogdex.net; www.typepad.com; www.blogpulse.com; www.blogstream.com; www.pluck.com; www.expressionengine.com
And before you get started, be sure to visit this legal guide for bloggers: www.eff.org/bloggers/lg