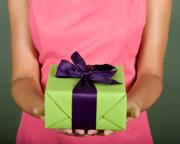 Trying to organize your holiday wish list? WishList.com is the coolest Web site for this! It is a personal online gift registry where you can put all your wishes in one place, allowing you to give and receive the perfect gift every single time. No longer do you need to keep a ton of lists out there on every single Internet retailer you frequent!
WishList.com is 100% free and has a fabulous host of features to make gift giving easy, efficient and fun. Though the site first pioneered personal online registries back in 1998, they have re-launched with social networking features that let you change up the way you gift your friends. The concept was just way ahead of its time – but now that social networking is the norm, gift givers everywhere are ready for all that WishList.com has to offer.
The site is powered by PriceGrabber.com; so it helps you find the most competitive prices and highly recommended products, but you can also add retailers of your own choice. So, if I'm not feeling the specific Prada bag that PriceGrabber pulls up, I simply can go to Prada.com and add them as a retailer, using the site's "Bookmarklet" function or by adding the product manually.
Once you've added your ideal products to your WishList, you can share your list with your friends and family (you add them by searching for them using their name or email address, or importing the contacts of your email account address book) so they know exactly what you want, what your sizes are, color preferences, etc. (And, after they sign up, you know theirs, too.)
Whether your friends are members are not, they can still "reserve a gift" off your WishList and purchase it for you. It's a lot more fun if they are members, though, because after they join, you can track each other's wishes, post comments, recommend products, swap entire WishLists and products, and do lots of other fun actions.
You can create WishLists for any occasion you desire: Christmas, Hanukkah, your birthday, housewarming, graduation, bachelorette, or even a bad mood! You can create an unlimited number of WishLists, each with as many products as you desire.
Another unique aspect is that WishList.com allows you to "browse" rather than shop for specific items, helping you stumble upon innovative new products.
The site was created by serial entrepreneur Keith Kraemer, who was inspired during the wedding planning process when he married his wife, Gina. They realized there was no way to make an all-encompassing list; at the time, most engaged couples were limited to choosing a store or two and registering there.
At its inception, the concept was very ahead of its time. With the re-launch of the feature-rich site, the WishList.com team expects the number of users to increase exponentially. "With the tremendous growth of social networking, it's now a seasoned marketplace, ready for the improved functionality and myriad features of WishList.com," Keith noted.
Through another entrepreneurial venture Keith founded and managed, an Educational Software company called Edukeen, which provides public school districts with enterprise email and group software, Keith realized an opportunity to make charitable giving an integral function of WishList.com. "Once I became aware of the immense scholastic needs of the public schools system in California, I realized that WishList.com could also be a platform to fulfill these needs" he said.
WishList.com is creating strategies and partnerships to work not only with the public school systems but with a wide range of charities and nonprofit organizations that can benefit from the platform WishList.com can provide.
"We have barely scratched the surface of what is possible," said Andrew Grant, Director of Product Development. "Despite the current economic state, people are still going to buy presents. We're providing this tool free of charge to save people money – they won't buy the wrong gifts or cause someone to have to take time out to make a return. It's incredible that we can do the same thing for charities across the nation."
More information can be found at WishList.com.
Chaton Anderson is a Writer and the Publicity Director for TheSavvyGal.com. A product and pop culture addict, she is always looking for the coolest, hippest things on the market, as well as the newest health and fitness trends to hit the scene. Email her at Chaton@TheSavvyGal.com with questions or leads on products and services on the cutting edge.