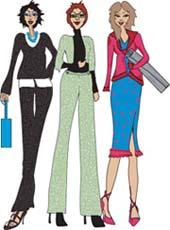 It's true — the girls have grown up — but we're still seeking new and exciting ways to have fun. One way to keep the excitement in our lives is to take vacations with our girlfriends.
In a recent poll conducted with 246 travel agents who work for American Express agencies, 66 percent reported "gal-pal" vacations are an increasing trend. Women are finding these vacations offer time to catch up, reconnect and have some soul reviving time with the important women in their lives.
Tracking this Trend
Leslie Berland, spokeswoman for American Express Travel explained: "We poll our travel agents on a regular basis and through this survey, we learned that girls-getaways have gone upscale and extend beyond the traditional weekend escape. The poll also revealed that women traveling together are seeking more luxurious, active and enriching vacations."
AAA Travel also conducted a survey in July about this same topic and discovered, "Twenty-four percent of American women have taken a girlfriend getaway with female family and friends in the past three years, and 39 percent of American women plan on taking one in the next three years".
And the girls are getting away for more than a couple of days. Their vacations are at least 4 to 7 days, replacing the weekend getaways of the past. Women are also making their vacation plans fit their active lifestyles. The spa, beach and, of course, shopping vacation locations are still a hot trend, but agents are seeing an increase in vacation packages that include golf, skiing, scuba diving and biking.
And women are invested in taking more luxurious vacations, as well. Many, (42 percent) are traveling first class and 35 percent of agents polled find women are now spending between $2,600-$5,000 on girls retreats. The top destinations for vacations are the Caribbean, Mexico, Europe, Canada and South America.
Reconnecting
In a companion poll conducted with 470 women, it was apparent the reconnecting with friends was a big reason for these vacations. Eighty-eight percent of the women polled said it was about the reconnection, as well as to "relax and recharge."
"Betsy" and her pals have known each other since their single days in California. Betsy said, "We all hung out together and always had a great time." Then their lives took them to other states, they got married, had children but still wanted to stay in touch.
The women have stayed in touch and get together for "girls-getaways"; they've visited a number of locations. "We have gone horseback riding on the beach, skiing and, of course, shopping," Betsy said. "We do talk about our families, but it's so much fun being with friends."
For some women this is an opportunity to spend some quality time with a family member. "Brenda" and her mother decided to take a vacation to Europe together. Brenda had always wanted to visit Europe and suddenly discovered she had the time to take the adventure she had always wanted. She explained, "I found myself between jobs, and my mother was also at an intersection in her life. I knew that she had also always wanted to go to Europe and I though this would be the best time for both of us, let's do it."
The two embarked on a journey that not only allowed them to visit a variety of countries, but also got to spend time talking and getting to know each other. Brenda summed up the trip this way, "It is definitely something I will always remember and I appreciate that I got to have this time with my mom."
Other Benefits to Gal-Getaways
One message this poll emphasized was that women realize they need this time with each other. Ninety-two percent reported feeling guilt-free about taking the time away. The women surveyed (86 percent) also said they never check in with the office while away. These vacations are a time to "relax and recharge." They also reported, "not having to take care of anyone else" or "get dressed up and put on make-up" as added benefits of girls vacations.
"Shelly" and her friends go away for a mountain retreat every year. They enjoy visiting the town, but find the best part is hanging out, watching movies and working on scrapbooks. Shelly said, "We use this time to have fun and not worry about getting kids where they need to be, or what to cook for dinner."
Betsy said, "Sometimes the best part is just sitting on the couch and reading magazines while we watch a chick-flick or talk."
Solo Adventures
The American Express poll also showed an interesting increase in women traveling alone. Forty-eight percent of agents polled stated they saw an increase in women traveling alone and 84 percent of these women were between the ages of 31-55.
AAA reported this trend, too. The AAA Hoosier Motor Club's Richmond, Indiana office offers bi-monthly "Traveling Women" sessions, which are intended to meet the leisure travel needs of women who struggle to find others who share their passion for travel. The sessions, purposely structured to be social in nature, provide visitors with opportunities to share travel tips, stories and destination recommendations while potentially getting to know other female travelers who have similar interests.
Many of the trips women take on their own are to wellness and self-improvement places like spa resorts and yoga retreats. Women who travel alone also visit cultural centers in the areas they visit, museums and local attractions, such as ancient ruins.
Future Trends in the Industry
With the increased interest in gal-pal vacations the industry itself is looking for ways to make sure it's meeting the needs of women. And many of the travel packages by both American Express and AAA offer spa inclusions, cooking classes or cultural activities.
Both Betsy and Shelly look forward to their yearly adventures with their friends and are happy to see the travel industry is responding to the growing interest in gal-pal adventures. Shelly said, "We value this time with our friends and it's nice to see that we could put together a unique vacation, something that we will always remember."
Keeping our friendships strong can make life much more enjoyable, and gal-pal trips can do this while also, maybe, rediscovering a circle of friends!