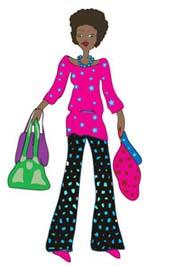 "No eating out, shopping or using your credit cards for 7 days."
What would you do if you had to take this challenge? You are not the sum of your stuff. I invite you to look at the state of your own economy and be the change you want to happen today. Are you ready to consider how you have been doing things may not be how you want to do it anymore?
Here are a few questions I would like you to try to answer:
Do you shop every day?
Do you have more than you can deal with in your closet?
Do you feel overwhelmed and feel you have nothing to wear?
Do you shop on sale because it's such a deal?
Do you continually buy the same shape over and over?
Do you buy clothing just to return?
Do you have price tags or unworn clothing in your closet right now?
Do you feel you're trying to keep up appearances but have no idea how you would like to look?
If you answered even one "yes" to any of these questions, no worries. You can change. You can live a happier, less stressful life if you know how to create your outer appearance in line with your inner you.
One thing I was taught as a young girl I use everyday in my business today is how to make the clothing that my parents purchased each season into many different outfits. My mother also taught me not to look at labels — but to look for style.
If you think that you would like to learn how to use what you have, learn how to make your clothing dollars stretch, then you might want to try this simple exercise this weekend.
Here is your challenge: I want you to go into your closet and get real with yourself. Summer is around the corner – so it is time to clean up your old thought patterns and create new ones.
Grab a large garbage bags for alterations, donations and resale. Your clothing has value and the longer you hold on, the less value it has. If you never thought about selling your clothing, start now. It's the most "eco-nomical" way to feed your shopping habit. Clothing isn't an investment; but how you buy it and when you sell it is.
Get ready to change. If you've had clothing longer than 3 years for a women and 5 years for a man, take a VERY hard look at each item. Does it still have value in today's trends? Keep in mind that staying current and ageless has nothing to do with being trendy. Accessories last much longer in your wardrobe while clothing has a shorter life span especially for women.
Are you attached? Did you spend a lot of money on an item? Consider your local high-end resale stores and begin buying and selling regularly each season. FYI-There is nothing more green for the planet than recycling your clothing.
How do I know if my clothing is out of style? Great question. Pick up your favorite fashion magazine: Do you own anything on the pages? This is the best way to figure out if you need an update. If you do have similar styles as seen on the pages of your favorite mags, GREAT NEWS. You simply need new ways to look at what you already own before you go out and consume. Know thyself and know what to do with your wardrobe.
I'm here to help you through the process. And, therefore, I invite you to send me 4 pictures of you in your favorite outfits.
1. Work
2. Weekend
3. Evening
4. Shlep
These 4 pictures are like having a crystal ball. Immediately, I will know what to suggest to get you on your way. You will be shocked by the results …
Barbra Horowitz is a professional personal stylist working all over the country. While Barbra does work with celebrities — it's the role of "the people's stylist" that gives her the most joy. Barbra is the Special correspondent for British Vogue.com and the author of the book/dvd "Closet Control" by Sterling press.
Comedian Chelsea Handler and Styx Frontman Tommy Shaw can be seen on Barbra's you tube channel-closet "Control"– http://www.youtube.com/closetcontrol, which has been viewed 130,000 times and climbing. In the past, Barbra has interviewed fashion luminaries such as Cameron Silver from Decades, Supermodel Tracey Ross, Josie Maran-Daniella and Gilby Clarke and many others.
Visit her blog, "So you Think you have Nothing to wear" at http://www.barbrahorowitz.com/girlsblog, which serves up the best fashion at prices you can afford.