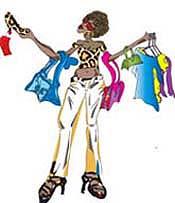 A new Web site, ShopItToMe.com, has changed online shopping as we know it. Now, I know there are so many Web sites available, especially on which to shop, so it is a little overwhelming to know where to start. Plus, before you know it, you've spent hours online and probably didn't even find what you were looking for in your size!
ShopItToMe.com will change all this for you — this innovative site acts like your own personal online shopper. It is easy, user-friendly and you can score great bargains, too!
The (free) site allows you to create a profile with all your favorite designers (i.e., Theory, Prada, BCBG), sizes and the looks you like, and then, in turn, sends you e-mails when items that meet your criteria go on sale. Basically, it scours all the leading retailers (think Nordstrom, Banana Republic, Saks, Gap) and online shopping destinations for deals and forwards them to you, so all you have to do is check your e-mail. Who doesn't like having their work done for them?
I have to admit, I'm totally addicted. At whatever frequency you request, you'll receive an informative e-mail displaying all your faves, from trusted retailers only. You're the first to hear about deals and steals, so you can really limit the time spent shopping online, searching for the best prices. You don't need to constantly dodge your boss while trying to see if the blouse you want at Bloomingdales is finally marked down.
I initially set up my account to receive alerts on a weekly basis, since I already get so many emails, but then quickly changed it to daily delivery so that I wouldn't miss a single deal!
ShopItToMe.com's selection of apparel brands is vast. Headquartered in San Francisco, ShopItToMe.com was created by entrepreneur Charlie Graham, after missing out on one too many online sales. With a vision of creating a more convenient and fun way to shop online, ShopItToMe was founded, and now, shopping will never be the same.
Visit ShopItToMe.com to create your profile and get this party started!
Chaton Anderson is a Writer and the Publicity Director for TheSavvyGal.com. A product and pop culture addict, she is always looking for the coolest, hippest things on the market. Email her at Chaton@TheSavvyGal.com with questions or leads on products and services on the cutting edge.