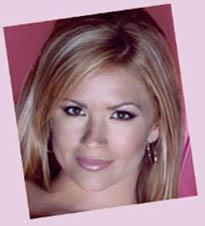 Talk to her for thirty minute and she can shatter all your preconceived notions about celebrities. Surrounded by super stars, opulence and the typecast Hollywood way of life, you might presume Nancy O'Dell has fallen prey to a self-centered and insincere existence.
Yet with one of the most recognizable faces on prime time television, the celebrated co-host of NBC's popular entertainment news magazine, "Access Hollywood," has been virtually untarnished by the proverbial LA mind-set. Nancy is the antithesis of the perceived stereotypic Hollywood personality. Her kindheartedness and dedication to the people in her life mark her as a woman who navigates with a strong sense of self and an unadulterated devotion to the principles by which she lives.
Born in South Carolina, Nancy was raised in Myrtle Beach by parents who taught her to lead a balanced life with an optimistic attitude. "I have always been extremely close to my parents; they have always been encouraging and supportive," she said.
And with her sensible upbringing, she learned to refute the age-old idea a woman can't be attractive and smart. Nancy graduated Valedictorian of her high school class and went on to attend Clemson University in South Carolina, where she graduated summa cum laude. Armed with a degree in marketing, her first job in Myrtle Beach was in television sales and soon she was asked to do some reporting on the side. Shortly thereafter, a bigger station in Charleston offered her a position and from there she joined NBC in Miami where her television career quickly accelerated.
Relocating to Los Angeles, she began to work on the entertainment section of "A Current Affair," and in 1996 was offered the coveted post at a soon-to-be-released entertainment magazine program to be titled, "Access Hollywood." In addition, Nancy has hosted a number of other entertainment-oriented shows including the Oscars, the Emmys and the Golden Globes pre-shows, and has conducted hundreds of notable, exclusive interviews with Hollywood's top celebrities. She has been a co-host for NBC's network coverage of the Tournament of Roses Parade since 2000 and has co-hosted the Hollywood Christmas Parade in 1999, 2000 and 2002. In 2003 and 2004 she co-hosted ESPN's ESPY Awards Red Carpet Show and in 2004 she co-hosted NBC's broadcast of Christmas in Rockefeller Center. Since 2004, Nancy has served as co-host to the Miss USA Pageant for NBC as well as the Miss Universe Pageant in 2005 and 2006.
While most viewers consider Nancy's job to be one of the most glamorous in television, she revealed, "Yes, getting dressed up for the Oscars is fun, but really, it's just another day for me." Clearly, her strong, southern value system has enabled her to rise above the stereotypic surrealism of Hollywood to preserve a realistic outlook of people in the midst of all the flash and glitz. This southern belle at heart has adapted to the rapid Southern California pace, despite her laid-back upbringing. "What's important to me are people and sometimes the pace in LA is so fast that they get overlooked," she said. Reflecting on her hometown, she added, "Grocery store clerks in South Carolina have the time to ask how you are. It's a stark contrast from the hurried way of life in LA. I find the distinction to be an interesting study in human behavior."
To say her life is hectic is a gross understatement. Not bound to a "nine to five" job, Nancy is virtually on-call at all times. Events are so sporadic and screenings occur at so many different times that her schedule is undeniably demanding, particularly during sweeps, when ratings are measured. Furthermore, "People don't realize the amount of research that goes into every interview I do, and I always do my own homework even though I have a staff of people who pool information for the show," Nancy said. "But that's the part of my job I love most; I'm constantly learning." And she's a big believer in homework; clearly evidenced by her academic honors and achievements.
For her hard work, Nancy has been honored with three Associated Press Awards, two Society of Professional Journalists (SPJ) Awards and is a seven-time Emmy Award nominee. She was also nominated two years in a row for the prestigious ICG Publicists Guild Press Award, which honors excellence in entertainment reporting.
Along with vast professional and personal accomplishments, the measure of a person still lies in how they serve others. This is where O'Dell's big heart shines through. In addition to her demanding work schedule, she is and has been devoted to a variety of charity efforts. She is most recognized for the "Blue Jeans for Babies" campaign for the March of Dimes in which she employs a creative way to bring public awareness to the prevention of birth defects. She has promoted this crusade by wearing the color blue or blue jeans in every cameo appearance she makes in films and on television. With more than 20 appearances to her credit, Nancy has played parts on such noteworthy shows as "Ally McBeal," "Melrose Place," "The Simpsons," "Just Shoot Me" and "Malcolm & Eddie." Her goal is to break Alfred Hitchcock's record of 37 cameo appearances, with all profits donated to the March of Dimes. Nancy also serves as a board member for "Best Buddies," a nonprofit organization designed to support people with mental retardation and she serves on the National Celebrity Cabinet for the American Red Cross.
Considering her varied work and philanthropic commitments, it's hard to imagine how Nancy finds the time to look so great. Her svelte, 5'10" figure can be indisputably credited to her genetic make-up, but she is also indebted to a devoted trainer who comes to her home and is dutifully flexible, given her unpredictable schedule. She also hates chocolate and loves chicken, which is obviously how she maintains her enviable shape.
Amid a host of awards and achievements, Nancy revealed her enduring philosophy: "It doesn't matter what accolades you get if you don't have anyone to share them with." Happily married and expecting her first baby, Nancy is clearly at the top of her game personally and professionally. Her endless optimism, impressive accomplishments and remarkable personal standards characterize her as an extraordinary woman who gives new meaning to the term, "more than just another pretty face."
For more on Nancy O'Dell check out her Web site: www.nancyodell.com.
For more information on how to get involved with the March of Dimes, call 1.888.MODIMES (663.4637).