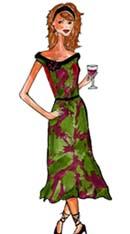 French wine has a reputation of being both snooty and expensive. By learning a few techniques for choosing a bottle, however, even the most novice wine drinker can be the toast of any party, with French wine in hand. You can even throw around a few, choice vocabulary terms to impress your fellow partygoers. Whatever your future wine decisions may be, remember: the purpose of wine is pleasure.
The Basic Question: Red, White, or Rose?
There is a common assumption about all wines: beef requires red wine; chicken and fish require white. But really, there are no rules about drinking wine, just guidelines. One such guideline is that you don't want the food to overpower the wine. Thus, it is better to drink a delicate wine with delicate food (and vice versa), but this doesn't necessarily mean, for example, you should just stick with whites when eating salmon (because a light red may even work better).
Light-bodied Wine for Light Food
Because a rich red wine might be too intense for a fish such as grouper, look for something with a light and dry feel on your cheeks and tongue, either a white or rose. Wines that fall under this category include dry champagne and sparkling wines, sauvignon blancs and Muscadet from the Loire Valley, Chablis (the region in Burgundy producing crisp chardonnay) and dry roses. Some of these bottles tend to be more expensive — $20 and up — but there are also plenty of less expensive finds. One good rule of thumb is to look for Vin de Pays wines, which is a term appearing on the bottle itself. If you have trouble deciphering the language on the label, which can sometimes be confusing (and in French!) or are not sure about which white or rose has the lovely dry sensation, ask someone who works at your local wine shop. Chances are, they love wine and love to talk about it.
Full-bodied Wine for Robust Food
When eating steak or any other red meat, you want to drink a wine to match the dish in fullness of flavor; something light will just disappear. Plus, you shouldn't have any trouble finding delicious reds for very little money. Look for the following types of red wines: Bordeaux or anything from the Bordeaux region, Cote du Rhones (which tend to be softer and less tannic than Bordeaux), Cahors (a little more obscure, but often inexpensive and rich), and anything from Provence. A little tidbit to bring to your next cocktail party: all of these robust reds come from the south of France because the warmer weather leads to a later harvest and, thus, a riper grape.
Demystifying Rose
Rose, the beautiful pink-colored wine, is often thought of as a wimpy drink. However, it is anything but wimpy. Its pink hue comes from the winemaker's removal of the red grape skins partway through the fermentation process, which is a technical way of saying that not all roses are fruity and sweet tasting. Most French roses are actually quite dry. The benefits of drinking rose are surprisingly abundant: it's often inexpensive, it's easy to drink, and it's the perfect summer-time wine (especially since there are more roses to choose from in the late spring and early summer). Dry French roses, which your retailer can help you find, can be enjoyed with any of the foods that you would pair with dry whites.
Useful French Vocabulary
The following are a few terms to help you as you begin your journey into French wine:
Acid: Acid is that mouth-puckering feeling you get from drinking, say, a crisp white wine or a red Burgundy. But a wine should not be too acidic – it must have other flavors, such as fruit, to balance it out.
Region: A wine map of France is divided into regions. On most French wine bottles, you will find the name of the producer's region or village (a more specific area) and not the names of the grapes in the wine.
Tannins: Tannins give your mouth an astringent feeling, such as when you're drinking a full-bodied red wine that begs for a bite of a protein-rich food.
Terroir: Literally translated as "soil" (and pronounced tear-waar), terroir is an umbrella term used to describe the geography and climate of the wine-growing region. For example, a chardonnay from France tastes distinctly different than a chardonnay from anywhere else in the world.
While you are exploring the world of French wine and figuring out what you like, don't hesitate to ask your trusted local wine guy or gal questions. And most importantly, have a good time!