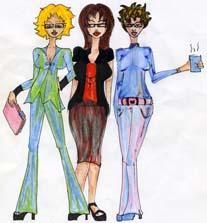 As many of us have heard, Forbes came out with their list of the 100 Most Powerful Women. And, of course, many of us also heard about Oprah making the list at number 21 and Hillary Clinton at number 25.
We also recognize other names, too: Ruth Bader Ginsburg, the only female on the U.S. Supreme Court, holds the number 20 spot; Margaret Whitman, CEO and president of eBay comes in at number 22; Queen Elizabeth II takes the 23rd spot; and Melinda Gates hits at number 25.
But who are some of the other women, whose names most of us don't recognize, making up the rest of the list? Many are in government; some are running major corporations …
At the top of the list, for the second year in a row, is Angela Merkel, Chancellor of Germany. Merkel holds a doctorate in physics and is also the youngest person to hold the position of Chancellor since WWII. Besides being referred to as a "strong woman," throughout her career, Merkel is also the third woman to serve on the G8 (Margaret Thatcher and Kim Campbell were the first two) and the second woman to chair, when she did so in 2007, among other accomplishments, of course.
Coming in at spot number two is Wu Yi, vice premier of China, who faces the challenge of improving the country's social, legal and economic infrastructures when China is in a position to become the world's third largest economy.
Rounding out the top three is Ho Ching, Chief executive of Temasek Holdings, her country's state-owned investment company in Singapore. She is also the wife of the prime minister, yet ironically rarely makes appearances. But it is her decision-making garnering attention; she is credited with raising the net value of Temasek's portfolio from $80 billion the previous year to $108 billion.
Yes, of course, we recognize the name Condoleezza Rice, Assistant to the President for National Security Affairs; but it is worth noting she holds the number four position on the list this year. Rice deals with problems in Iraq, Iran, Afghanistan and North Korea, with what most say, grace and class. And despite being part of the low-ranking Bush administration, appears to consistently rank as well favored.
The number ten spot goes to Patricia Russo, the CEO of Alcatel-Lucent. After turning around Lucent in 2004 so the company saw black ink instead of red, she is now leading the merger of Lucent with Alcatel (a telecom equipment company), which came together in a $10.7 billion deal in 2006.
Mary Sammons, Chair(gal), CEO and president of Rite Aid, is at the number 15 position this year (she was in the top spot in 2003). Even with the "drop" in ranking, she still has her hands full with an expected purchase of Eckerd and Brooks chain for $3.4 billion this year.
New Zealand's prime minister since 1999, Helen Clark, is in at number 38. Especially noteworthy of her goals is her desire to bring her country to be the first completely sustainable nation by looking to lower greenhouse gas emissions and increase sustainability.
And in the "middle" of all these women is Tarja Halonen, president of Finland, at spot number 50. Perhaps "best known" to the U.S. public for the Conan O'Brien bits on his show (due to their resemblance in appearance), this leader is a pacifist who brings attention to human rights issues. Incidentally, her cabinet is comprised of the most females in one spot within government; 12 of the 20 ministers in Finland's cabinet are women.
Other recognizable names in next list of 50 include Meredith Vieira of the "Today" show at #55; Ann Moore, chairman and CEO of Time, Inc. at #57; First Lady Laura Bush in at #60; news anchor Diane Sawyer at #62; news anchor Katie Couric at #63; CNN correspondent Christiane Amanpour at #74; President of Disney Anne Sweeney in at #77.
Sharon Allen, Chair(gal) of Deloitte & Touche, makes the list at number 64. When she took the position as head of the board she was the highest-ranking woman in the history of the company. Wearing many hats within the world of business, she is also a member of the Women's Leadership Board at the John F. Kennedy School of Government at Harvard University.
Over at Ernst & Young, Beth Brooke is helping run the show in her position of global vice chair(gal); she takes the number 70 spot on Forbes' list. Starting her career in the Indianapolis area, she was first woman within the Indiana office. She sits on other various nonprofit boards, including the White House Project and the National Women's Leadership Hall of Fame Advisory Council.
At the even 100 spot, last but not least, is Ellen Johnson-Sirleaf, president of Liberia. As the first female president of an African nation, she is making a difference within a country plagued by years of civil war.
Visit Forbes for the entire list and to read about more fascinating women.
*Source: Forbes; biographies paraphrased