Finding Your Strengths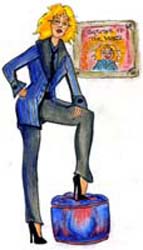 We all have good qualities. Heck, to be successful, we obviously have many good qualities. So, do you know what your strengths are — meaning can you name them? And, do you capitalize on those strengths?
Gallup researchers and co-authors of "Now, Discover Your Strengths," Marcus Buckingham and Donald O. Clifton, Ph.D., asked more than 1.7 million employees from 101 large organizations in 63 countries: What percentage of people truly feels their strengths are in play every day on the job? It was revealed only 20 percent of employees feel that their strengths are being utilized every day.
Most people (and companies) spend time naming weaknesses; their goal is to strive to be better, which means determining the 'weakest' points and working to turn those into strengths. And that's okay — wanting to be better. But, Buckingham, co-author of the national bestseller, "First, Break All the Rules," and Clifton, former Chair of the Gallup International Research & Education Center, propose a unique approach: focusing on enhancing people's strengths rather than eliminating their weaknesses to become "better."
The two created a revolutionary system to help people not only identify strengths, but to gain momentum from them and therefore, capitalize on them. It seems like a basic approach, yet at the same time, extremely novel. Find out your strengths and make them even stronger; be successful in those areas where your strengths can be completely utilized.
How do you discover your strengths? Each book contains a unique number that allows the reader to take a Web-based Clifton Strengths Finder Profile on the Internet. The questions are answered quickly and on first instinct. (It's kind of fun, because the timer is ticking and you truly have to pick your first choice.) The Internet interview analyzes your responses and immediately presents you with your five most powerful signature themes.
There are thousands of combinations. Knowing your strengths, and if you're a manager, your employees' strengths, you learn to create a "strengths-based organization." The company, or you as an individual, understand strengths that are present and capitalize on the traits.
For example, after learning your strength is WOO (Winning Others Over), you come to understand that WOO as a strength means, among many things, that you want people to like you and you enjoy the challenge of meeting new people. There is no loss of words for you. So if you're in a position where WOO is highly regarded (maybe sales), success follows.
Other strengths include developer, activator, communication … there are 34 positive personality themes in total. Many ask if they should take it with a "work personality" or a "laying on the beach personality." But because the questions are so everyday, simple and real, you can't help but answer as who you are. It genuinely analyzes your personality overall.
The first couple of chapters in the book are thorough in explaining why this is a great idea (using your strengths as a springboard to become even stronger in certain areas). It also addresses fear of failure and not being afraid of your weaknesses.
After about a quarter of the way into the book, it's time to take the interview. Once you learn your profile, you spend the rest of the time reading the chapters that pertain to your five strengths. (All 34 strengths have an explanation chapter in the book.)
If you're a manager and do this with your team — you not only learn your own strengths, you learn those of the employees that will make your department or company stronger. If the quiet employee who sits in the back room and files has the strength of Ideation (thinking outside the box consistently) or the strength of Strategic, you probably don't want them sitting in the backroom much longer. So, it's a great way to analyze the team, put your heads together and find in success in everyone. The book offers tips and case studies on developing employees' strengths.
It's important to note that according to the Gallup Web site, you can't be "too talented." There is a great deal of power in becoming aware of your talents to confirm you (and your employees) are in the right field, the right job, the right company. Because understanding and then utilizing those strengths has the potential to propel us into success after success.