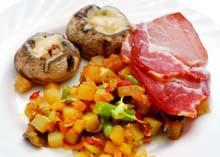 I recently had the pleasure of visiting my grandmother Ruth in London, England, which I am lucky enough to do once a year. Although it's quite the schlep to get there and the jetlag is absolutely BRUTAL, it is worth every minute of it. Although I am generally a good sleeper, there is no place I sleep as soundly or as deeply than at my granny's.
In psycho-babble terms, I would say that my grandparents' home has always been my "safe place." My grandparents were my rock as a child — they rooted me squarely into the earth when life with my parents was filled with constant chaos and trauma. I am deeply indebted to these four fabulous individuals who constantly reminded me of how lovable I was, where I came from, and what I could become.
Sadly, the only living grandparent I have today is down to one — my adorable, all-knowing, all-loving 86-year-old granny Ruth. She lives alone in a flat she shared with my grandpa Mel up until his death nine years ago in northwest London. It's a fabulous spot to star-gaze as she lives very close to Helena Bonham-Carter (too many films to mention), David Walliams ("Little Britain"), Anthony Hopkins (you know him), and many others. Have I actually seen any of these folks strolling along the sidewalks near granny's place? Uh, no … but it could happen. I've looked into their windows and seen the cars they drive …
As is always the case, I learned something profound on my latest trip to England. It's really very simple: People appreciate it when you take the time to make them a home-cooked meal.
Yes, a wee reminder from granny Ruth was very helpful indeed. I come from a family of "foodies" and granny Ruth is no exception. She grew up in Latvia and has lived in many different lands and acquired some fabulous recipes along the way. What struck me on this particular trip is how mindful my granny is when it comes to planning, shopping, preparing and eating her meals. No detail is left out and food is a pleasurable, yet serious business in her house and her guests are forever grateful.
So I'd like to end this musing with ten things about eating, breaking bread and entertaining that I learned from my dear granny (who is reading this by the way — thanks granny — I love you).
1.    Make other people home-cooked meals on a regular basis – this is important because it makes them feel special, appreciated, and loved.
*FYI, I have made a commitment since I've been back to do more of this and made friends a wonderful meal last weekend and it was a huge hit and we had a great time!
2.    Ask people what they like to eat and attempt to make their favorite dish — this one is a winner indeed. Granny made me and hubby two such dishes — fish pie (sounds weird but is drool-inducing-picture salmon wrapped inside puff pastry) and her famous Linzertorte (raspberry jam pie with almond crust — OMG!)
3.    Set the table nicely. Let everyone know they have a place at your table by providing them with cutlery, napkins, and a glass. Simple, but lovely.
4.    Rebel against potluck mentality! Granny doesn't believe in expecting people to bring anything as part of the meal and when I think about it, neither do I unless it's clearly a potluck and everyone is contributing. How wonderful is it to be invited to dinner and not be expected to bring a thing and to do the same for others? Try it — it's delicious!
5.    Get rid of "food fascism." My husband and I eat very differently at home than when we were at granny's, but ate whatever was served to us (except meat for moi) to make things easier for everyone and to show respect to our host. Guess what? We didn't die or get sick! In fact, we developed some new tastes (you should try my granny's lemon cake — yummers!). The sky didn't fall on our heads because we weren't eating green smoothies every day and we didn't even put on weight (this part confuses me and yet is delightful as well).
6.    Have interesting dinner conversation. My granny is the best hostess I know! The key? She's interested in everything and everybody and keeps up with what's going on in the world. Hint: people really enjoy it when you ask them about themselves and seem genuinely interested.
7.    Don't think about calories. This is what I love about Europe. You don't see any low-fat, tasteless "food" anywhere! Granny eats fatty cheeses, meats, and even dessert! She's tiny by the way … quality, not quantity seems to be her motto.
8.    Take time to eat your food. An average meal at my granny's took at least 45 minutes — much longer if we had extra company. Meals were eaten slowly, with pleasure, and peppered with lots of interesting conversation.
9.    Enjoy your food! Marvel at the tastes, textures and temperature of the food you are consuming and talk about it. This is fun! You should have seen my granny's face when she bit into a chocolate we brought back from Switzerland — it was delightful.
10.    Eat real food. You will never find any synthetic processed food in my granny's kitchen — just your basic food groups — fruits, vegetables, grains, dairy, and meat. C'est toute. I think this is one of her secrets to being a vibrant, witty, sharp-as-a-tack 86-year-old. She's eaten real food all her life and avoided processed foods like the plague.
Happy eating and happy entertaining!
Esther Kane, MSW, Registered Clinical Counselor, is in full-time private practice as a psychotherapist in Courtenay, B.C. Esther has more than a decade of experience counseling women and their loved ones with a multitude of presenting problems. Her main focus is helping women to become free of barriers which keep them stuck so that they can become all that they dream of being.
She is the author of the book and audio program, "It's Not About the Food: A Woman's Guide To Making Peace with Food and Our Bodies" (www.endyoureatingdisorder.com) and "Dump That Chump" (www.dumpthatchump.com), and "What Your Mama Can't or Won't Teach You" (www.guidebooktowomanhood.com). To learn more about Esther's services, please visit her website, http://www.estherkane.com