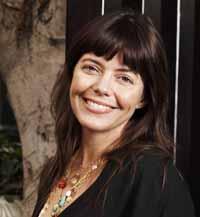 In honor of Earth day, we're profiling the founder of EcoStiletto.com (www.Ecostiletto.com), Rachel Lincoln Sarnoff.
Rachel is an absolute inspiration to women everywhere, especially to those working to make a difference for the environment.
A writer, producer and spokesperson who represents eco-friendly living, Rachel co-founded GreenGirlGuide.com in 2007 and in 2008 founded EcoStiletto.com, an online magazine dedicated to eco-friendly fashion, beauty and lifestyle.
Now a powerhouse in the eco-friendly community, EcoStiletto is a truly innovative site that features green picks in beauty, health, fashion, parenting and other relevant areas of life. It shows you how eco-friendly choices can help turn your carbon footprint "from a ginormous Ugg into an oh-so-slender Manolo." It's packed with information that provides green alternatives and shows you how to make a difference without giving up what's most important to you.
Rachel was always careful about the environment, even as a child. "My father teaches Native American Studies at UCLA, so I grew up going to Pow Wows and thanking the plant every time I cut a flower," Rachel said. Her cautious nature turned into a serious passion when she was pregnant with her third child in 2006. "I discovered Healthy Child, Healthy World and really started understanding how important it is to put your money where your mouth is," she said.
"I learned about the links between asthma and cleaning products, breast cancer and parabens in beauty products, and that it takes one third of a pound of pesticide to make enough cotton for one t-shirt. That was a downer."
Thankfully, Rachel started discovering all the amazing "green" options and began sharing them with others. "There are so many options — organic cotton, cheap eco-friendly cleaners you can make from vinegar, totally gorgeous makeup without chemicals!" Rachel said. "I started using them and talking about them with my friends and that started a conversation. Then I started writing about them and the conversation got bigger. Now I'm chatting with 30,000 women a month!"
Rachel's mission is to spread the word about all the amazing eco-friendly options out there and to prove to doubters that green fashion and beauty is just as chic and stylish and sexy and gorgeous — not to mention affordable — as anything else on the market. "The word is getting out there but sometimes I feel like I'm preaching to the choir," she said. "I want to grow my readership to the point where just as many people are reading EcoStiletto in Des Moines as in Los Angeles or New York!"
When asked if she faced any obstacles as a woman starting a business, her answer is one that many women can relate to. "I think the biggest challenge as a woman is that I started this process when I was pregnant with my third child. What was I thinking?" she said. "Obviously, having small children is a challenge in itself. But that's so common among women.
We don't stop for anything!" Her advice to other women … "Follow your dreams! Don't be afraid to sacrifice for them."
Rachel was a reporter for PlanetGreen.com and Treehugger.com, and wrote the "L.A. Story" column on Sprig.com. Her "Mommy Greenest" blog on greener parenting is hosted at Yahoo's Shine. As a small-screen environista, Rachel has guested on eco-lifestyle "Extra," "Hollywood Green," "Good Day L.A." and TV Guide Channel's "The Fashion Team" segments, as well as appearing in EcoStiletto and GreenGirlGuide video segments. She has alson spoken on behalf of the national non-profit, Healthy Child, Healthy World, and Whole Foods' Whole Body department. A green living television show co-written by Rachel is in development.
Rachel spent 10 years as a magazine reporter and editor, beginning with an internship at Paris City Magazine while living in France in 1993. She was editor-in-chief of Children magazine and West Coast beauty trade editor for Fairchild Publications. As a freelancer, she wrote the beauty pages for Spa magazine and special sections for Daily Variety, while also contributing to WWD, among others. Her six-page article on green beauty appeared in SELF May 2008, and she's working on an eco-parenting book called Mommy Greenest.
A graduate of UCSB, Rachel worked as a publicist while completing her masters degree in journalism at USC. She left Fairchild Publications in 2002 to found Sugar Public Relations, where she created nuanced marketing campaigns and event planning for clients such as the Step Up Women's Network, benefiting disadvantaged women and girls nationwide.
Rachel also consulted with clients on "greening" their product lines, with results such as the organic line of Lilyfield Cakes. In this emphasis on environmental and social awareness, Sugar came to reflect Rachel's personal code of ethics.
In 2008, Rachel closed the company to focus on other projects. A mother of three, Rachel and her family reduce, reuse and recycle in Los Angeles.
Read more about Rachel and her GIVEAWAY(!) at http://www.ecostiletto.com/