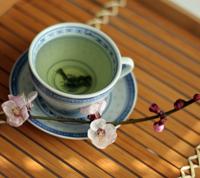 Tea often receives rave reviews for being healthful. The reason, however, is directly due to its antioxidant properties that boost metabolism, fight aging and improve overall health. Below are a few reviews of some of my favorites, as well as a new product by internationally renowned dermatologist, Dr. Fredric Brandt, that gives you similar benefits.
The three healthiest types:
White tea. One cup of this extremely potent type of tea is said to have the antioxidant properties of 10 glasses of orange juice. Traced back to Chinese royalty, white tea is a favorite due its light, delicate flavor. Made from uncured, unfermented tea leaves, white tea is minimally processed; it's simply picked and air dried. Recent studies show it may have more cancer-fighting polyphenols than green tea. The highest-quality white teas are Silver Needle and White Peony.
Green Tea. Touted for its weight loss and metabolism boosting effects, green tea is picked and quickly heated by steaming or pan firing. Its active ingredients are theanine, saponin and catechin (a polyphenol), which has anti-inflammatory, antiviral and cancer fighting properties. There are huge selections on the market, with all types of flavors infused to provide options for even the pickiest drinkers.
Oolong Tea. Like white and green tea, oolong tea boasts substantial health benefits with its tremendous amount of catechins. The leaves and buds are dried in the sun and often rolled after picking, allowing the essential oils to react with the air. This process turns the leaf darker and produces a distinct aroma before it's roasted. It is only slightly fermented, so it has a smoother taste than most and just a tiny bit less antioxidant properties.
The best brands:
Adagio Teas. This brand offers a variety of gourmet tea bags and loose leaf teas; I liked every single flavor I tried, and can't wait to try some of their new ones, like Honeybush teas from Africa. I fell in love with their Dragon Well green tea bags, and their loose leaf Citron Green, Ti Kuan Yin Oolong and Silver Needle White. Their site has everything you need to start this healthy habit, including pots, teaware and tons of information and tips. www.adagio.com
Sunrider Calli Tea. Sharon Stone recommended this tea, and since she looks so amazing, I decided to give it a try. I absolutely love this brand. It is very cleansing, but in a subtle way (hope I don't have to explain this). The mint flavor is especially refreshing and energizing. Sunrider was created by Dr. Te-Gu Chen, who studied herbs as a child in Taiwan, and then later in medical school. Dr. Chen really knows his stuff — every product is formulated to work in harmony with the body and support its natural processes. Calli teas are available in regular, mint, cinnamon and night flavors. www.sunrider.com
Teavalize. This innovative system makes drinking loose-leaf tea incredibly easy. It comes with a patented travel infuser, which has a filter at the top to keep you from drinking the leaves. The daily plan includes Teavalize Oolong Boost for the morning, and Pu'er Essential tea for after meals, to cut down the oil and fat in the foods we eat. It's a super cool way to incorporate tea into your life, with minimal thought and effort. www.teavalize.com
Triple Leaf Tea. For those on a budget, this brand is a no-brainer. Reasonably priced tea bags come in an array of delicious flavors. My favorite is their Jasmine Green Tea, but I also really like their regular and decaf blends, as well as their detox tea. They are all mild tasting and have no bitterness to them, so it's easy to down several cups a day. Buy it at www.tipleleaf-tea.com or find them inexpensively priced at The Vitamin Shoppe.
Dr. Brandt's Antioxidant Water Boosters. These definitely make life easier for those on the go or too busy to brew tea — one dropper of this stuff is equivalent to 15 cups of green tea. It's 100 percent natural, so the taste took some getting used to, but after a few weeks, my skin looked clear and glowing. I tried both pomegranate and blueberry and got the same results. Added bonus: it has no calories or caffeine. www.drbrandtskincare.com