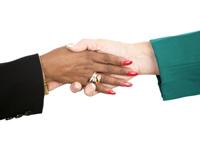 Most of us love the holiday season and the cheer it brings to family and friends. But for others of us, this season is a glaring reminder of hardship or misfortune. With the focus on gifts and abundance, it can make those who struggle with lack, loss or adversity face their difficulties head on.
Thankfully, there are some special heroines whose personal ambition is to make this, as well as the rest of the year, less sorrowful for those dealing with challenging circumstances. We honor them as our Movers and Shakers this week and extend our appreciation to them for their devotion to the service to others. We send a collective "thank you" to each one for being model women who set exemplary standards for the rest of us to follow.
Doris D. Cutler, Divine Images Network, Inc
Doris is Founder and CEO of Divine Images Network, Inc., a nonprofit Women's Empowerment & Image Consultant Group, The ILS Empowerment Training and Resource Program, The Smart Women's Series and The Carver Hall Family Strengthening Center all for Women and Children. Divine Images Network, Inc., based in Prince George's County Maryland, is where Doris currently lives with her family.
In 2003, Doris resigned from her position as a Detective with the Metropolitan Police Department in Washington, D.C. and has since become an adviser, motivational speaker, life-coach and writer. She is also a contributing author to the prominent book, "100 Words of Wisdom for Women: A 31-Day Exercise in Empowerment."
As an advocate against domestic violence, she has conducted extensive research on the effects of violence in relationships, its impact on children, adolescents and adults. She helps women work through the psychological and spiritual challenges many of them face in today's cultural climate. "If I can help women and their children deal with their emotions, make sense of what is happening to them in the midst of traumatic situations, I have made a difference," she says.
She played a vital role in the installation of the Metropolitan Police Department's Family Violence Prevention Unit and premiered as the lead detective in their training video. Although she left MPDC as a sworn member in 2004, she occasionally returns to lend a hand in educating about victims of domestic violence and sharing about her experience as a detective.
Doris facilitates countless training seminars and workshops for organizations including: Trinity Youth Services, GrassRoots Coalition for Social Empowerment, Prince George's County Youth & Adolescent Program, Prince George's County Public Schools, Leah Joppy & Associates, Fi-Tech Business Solutions, LLC, Unlimited Services Systems Management & Consultants, Inc., True Beauty Consultants, LLC, inSpire Unlimited, LLC, Not My Kids Foundation, The Metropolitan Police Department, United States Attorney's Office, The Center for Child Protection, The WDC Mayor's Violence Against Women's Advisory Commission, My Sister's Place & House of Ruth Battered Women's Shelter, WDC, Prince George Community College, American, Howard, George Mason, George Washington Universities and The University of the District of Columbia, a host of local hospitals, churches, other non-profit and faith-based organizations.
She is a commendable illustration of how a savvy woman stretches beyond herself to service the lives of others.
Sara O'Meara, Childhelp USA
Since 1959, Sara has provided leadership in humanitarian service to children throughout the world. As co-founder of Childhelp, USA, a nonprofit organization dedicated to helping victims of child abuse and neglect, Sara has been dedicated to the prevention, intervention and treatment of abused children. Along with co-founder Yvonne Fedderson, she has put a national focus on the problem of child abuse in America and has helped to initiate viable solutions.
Sara has received more than 100 awards for her service to children, including the Arizona Foundation for Women's Sandra Day O'Connor Award received in 2004. Others include an award for international collaboration to prevent child abuse presented by the Queen of England; a U.S. Department of Justice award presented by President Ronald Reagan; the Kiwanis World Service Medal and an award from the National Federation of Business and Professional Women's Clubs. She has been the recipient of several awards in Washington, DC, including the National Caring Award and The Hubert Humphrey Memorial Award at the Touchdown Club, and the Lifetime Achievement Award at the National Charity Awards Dinner. Most recently, Sara, along with co-founder Yvonne, has been nominated for the third time for the Nobel Peace Prize. Endorsements for the prestigious nomination include letters from U.S. Supreme Court Justice Sandra Day O'Connor and former first lady Barbara Bush, along with numerous politicians, educators, and corporate executives.
Sara has served on the boards of international organizations concerned with child welfare. As a board member for the International Union for Child Welfare, she was the sole United States representative among First Ladies and ministers of numerous nations. She has also served as chairman of the International Alliance of Child Abuse and Neglect.
Yvonne Fedderson, Childhelp USA
For more than four decades, Yvonne has devoted her life to helping needy children. As Childhelp, USA co-founder, Yvonne is a fearless advocate against child abuse in the U.S. Her main focus is on developing and supporting the organization's more than 25 chapters and auxiliaries. More than 2,500 volunteers nationwide organize fundraising events in their communities, which raise more than $2 million annually.
Since 1994, Yvonne has also served as president and CEO of her late husband's company, Don Fedderson Productions.
Her responsibilities include managing the rights of the television programs he produced, including Family Affair, My Three Sons, and The Betty White Show. Yvonne has also been active in a number of humanitarian organizations including the Assistance League, and the Mary and Joseph League, as well as several professional organizations. She also has served on the board of directors of Children to Children, Inc., the International Alliance on Child Abuse and Neglect, and is an honorary board member for The Dyslexia Foundation.
Yvonne has received more than 100 honors and awards for her service to children, some of which include the National Children's Alliance's Champions of Children Award, the State of California's Legislature's Woman of the World Award, and the Women's International Center's Living Legacy Award. She and Mrs. O'Meara have been given the Kiwanis World Service Medal, the American Ireland Fund Humanitarian Award, The University of California Riverside Chancellor's Founder's Award, and Family Circle Magazine's "Women Who Make a Difference
Sara O'Meara and Yvonne Fedderson have given selflessly to ensure that children who are ravaged by abuse and neglect have a chance to live happy and well-adjusted lives.
Ruth Elizabeth Knapp, Lincoln Center Department of Programs and Services for People with Disabilities
As the founder and coordinator of an organization devoted to assist people with disabilities at any performing arts organization in America, Elizabeth has made some disadvantaged people very happy.
She was chiefly responsible for making Lincoln Center's Walter Reade Theater the most accessible theater for the handicapped in the country. She has helped launch large type and Braille services at Lincoln Center and has organized a program to bring volunteers with disabilities together for outreach to the community.
Elizabeth has helped to bring a national awareness to the problems that people with disabilities face, and she has been a hands-on, solutions oriented advocate of this issue. Her acclaimed "Passport to the World of Performing Arts" program, which provides young people with disabilities and their families the opportunity to participate in arts performances and workshops, has become a model for other cultural organizations around the country.
She also serves on many committees including: NY State Board of Regents Select Commission of Disability and the Media, Health and Safety Commission of the US Institute for Theater Technology, and Capitol Projects Advisory Panel of New York State Council for the Arts.
Other notable women include:
Maureen Cavaiola, of Severna Park, MD., founded "Partners in Care," an organization to help older and disabled adults remain independent in their own homes.
Tara Church, of New York City, co-founded the world's first youth environmental nonprofit, "Tree Musketeers" at age eight.
Kathy Goldman, founder and executive director of the Community Food Resource Center, has been working on city, state and federal levels to address food, hunger, nutrition and low-income issues in New York City.
Millicent "Mama" Hill, of Los Angeles, established Mama Hill's Help, providing tutoring for more than 125 neighborhood youth in South Los Angeles.
Gayle Hutchens founded Paws & Think, which matches underserved youth with shelter dogs to enhance the lives of adults and children with special needs.
Wendy Masi founded The Love Jen Fund, which provides emergency financial assistance to families who have a child sick with cancer.
Eva Payne of Lincoln, Neb. founded Camp Kindle, a summer camp for young people impacted by HIV and AIDS.
Bea Pedersen is the Chicago Director of Development for Feed My Starving Children, an organization that seeks to alleviate child hunger around the world
Karen Stark, of Oklahoma City, founded the HUGS Project, a nationwide troop support effort.