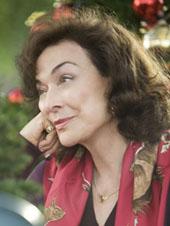 Like every year, Dixie Carter is in her native state of Tennessee, for the holidays. This time she's arrived earlier than usual, because the auditorium that bears her name, The Dixie Carter Center for the Performing Arts and Cultural Advancement, is holding a national reading celebration called "The Big Read," in the town of Huntington where she went to high school.
"To watch children come off the bus to enjoy the cultural events in the Center is heartwarming," Dixie said. "I'm so thrilled to be a part of this significant effort." She describes her dedication to the event with the same passion she applies to every role she plays, whether in the community or on television.
Dixie has starred in more than six television series and is a frequent guest-star on today's most popular shows. In 2007, Dixie received an Emmy Award nomination for her guest-starring role as Gloria Hodge on ABC's "Desperate Housewives." Although best known as tough attorney Randi King on CBS's "Family Law," and prior to that as independent design diva, Julia Sugarbaker on the long-running hit series "Designing Women," Dixie now takes on the delicate role so many of us can relate to: The plight of the blended family during the holiday season.
"Our First Christmas," (on the Hallmark Channel) stars Dixie Carter as loving grandma Evie who, having recently lost her son, is still committed to upholding the holiday traditions she has shared with her grandchild. The problem is that her daughter-in-law has remarried and with the holidays just around the corner, the newlyweds are determined to make the new blended family's first Christmas perfect.
Unfortunately, both families bring conflicting traditions to the table, and there's no way everyone can do both. This holiday tale explores what happens when the season of giving invades a freshly blended family and their respective long-standing traditions. Ultimately, everyone will have to realize that giving up old traditions doesn't mean forgetting what they represented, and maybe having a new family calls for starting new traditions.
"I feel for my character," Dixie explained to TheSavvyGal.com. "It is, after all, her son who has died." The story spotlights Evie's experience as a very alone woman who finds joy in her involvement with her family. It exposes the conflicting emotions most blended families experience as they begin to walk forward in their newly revised reality.
Dixie's portrayal of a woman actively juggling her convictions with her personal desires was a delicate undertaking for the actress. She sought to demonstrate Evie's strength while simultaneously representing her softer side. "But I learned a long time ago that if we want an audience to empathize we mustn't ever whine or cry," so a big job for Dixie was to not feel too pitiful. "I had such a good talking to with myself to avoid a 'poor me' situation."
While the issues of sacrifice and compromise are a given in a blended family environment, Dixie believes that to make it work, trust and good faith play a vital function and must be exercised by each member of the family. "There is a strong message in the story about our power to withhold happiness from others," Dixie noted. Although her character, Evie, feels disenfranchised and marginalized, she is a spirited and intelligent woman who prevails.
Dixie shares how she and husband, actor Hal Holbrook, have reflected on the core subject matter of "Our First Christmas," and they concluded that the blended family experience affects almost every home in the country either directly or indirectly.
"For this very reason, viewers will find this story touching as well as thought-provoking," Dixie said.
"Our First Christmas" also features two-time Emmy nominee John Ratzenberger ("Cheers," "WALL-E"), Steven Eckholdt ("Secret Santa") and Julie Warner ("Tommy Boy"). It is a Hallmark Channel Original Movie airing Saturday, December 20 (9/8c).